The Character Everyone Forgets Sarah Paulson Played In Grey's Anatomy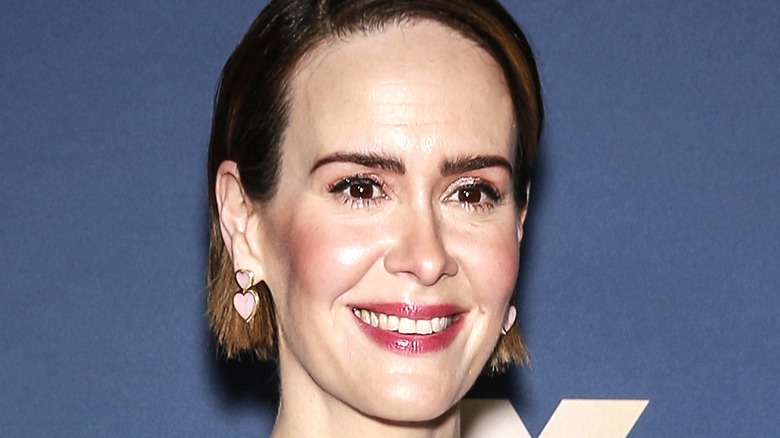 Ovidiu Hrubaru/Shutterstock
"Grey's Anatomy" is undeniably one of the most popular TV shows of recent years. Having premiered in 2005, "Grey's Anatomy" has been on the air for — at the time of this writing — a whopping 18 seasons. The series follows the titular character of Meredith Grey, played by Ellen Pompeo, as she progresses from an intern at the fictional Seattle Grace Hospital to a successful doctor and even gains the position of the Chief of General Surgery. Throughout the series, we see Meredith, along with the hospital's other doctors and interns, deal with balancing their personal lives on top of their professional hurdles.
The series is notable for its huge assortment of guest stars — some of whom only appeared in minor roles on "Grey's Anatomy" before becoming big stars in their own right. For instance, one of the show's most notable guest stars is "American Horror Story" actress Sarah Paulson, who appeared in a Season 6 episode of "Grey's Anatomy" back in 2010. At the time, Paulson already had quite a few acting credits to her name, including a nine-episode stint on "Deadwood" and a starring role in the short-lived comedy "Studio 60 on the Sunset Strip," and was just a year away from making her first appearance on "American Horror Story," which aired its first season in October 2011. 
With the popular FX horror series premiering so shortly after it, her "Grey's Anatomy" appearance has likely been overlooked by Paulson's fans, many of whom may not even remember who she played in the ABC medical drama. For that reason, it's worth reminding fans of the actress exactly who Sarah Paulson played in "Grey's Anatomy."
Sarah Paulson played a young Dr. Ellis Grey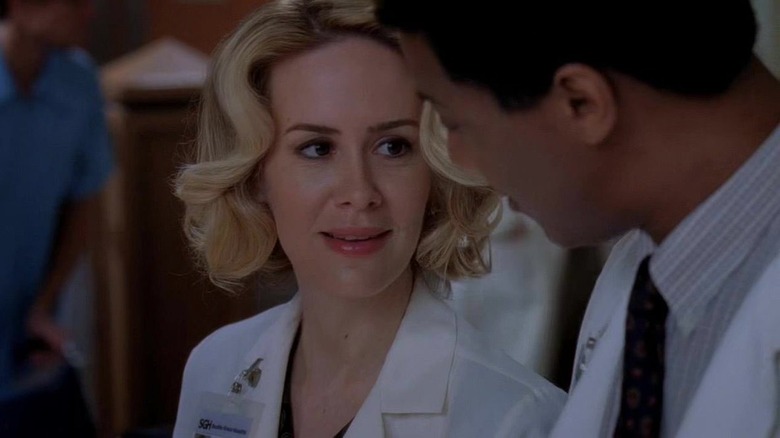 ABC
In her brief "Grey's Anatomy" appearance, Sarah Paulson plays quite a pivotal character: Dr. Ellis Grey, Meredith Grey's mother. The "American Horror Story" actress plays a younger version of Ellis during a flashback in the Season 6 episode titled "The Time Warp."
In the episode, Richard Webber (James Pickens, Jr.) — who once had an affair with Ellis — tells a story set in the early 1980s when he and Ellis were working together to help a patient with AIDS at a time when not much was known about the condition. In the flashback, we see the two of them face pushback from the patient who doesn't want to admit to being gay, which leads to their superior putting them on probation after the patient threatens to sue for slander. Eventually, the patient admits he is gay and that Richard and Ellis were right about their conclusion that he has AIDS. They successfully perform surgery on the patient, but he ultimately dies eight months later when he comes back to the hospital with pneumonia.
The flashback also sees Ellis and Richard grappling with their affair. Ellis, notably, thinks that they should leave their respective spouses so they can be together, but Richard insists that he won't be able to leave his wife. As "Grey's Anatomy" fans likely know, Richard never does leave his wife, despite Ellis leaving her husband for Richard.
Unfortunately for "Grey's Anatomy" viewers, Paulson appears in just one episode of the medical drama (via IMDb), but she still manages to make quite the impression with her turn as the younger Dr. Ellis Grey.