Dwayne Johnson's Surprising Admission About Beef With Vin Diesel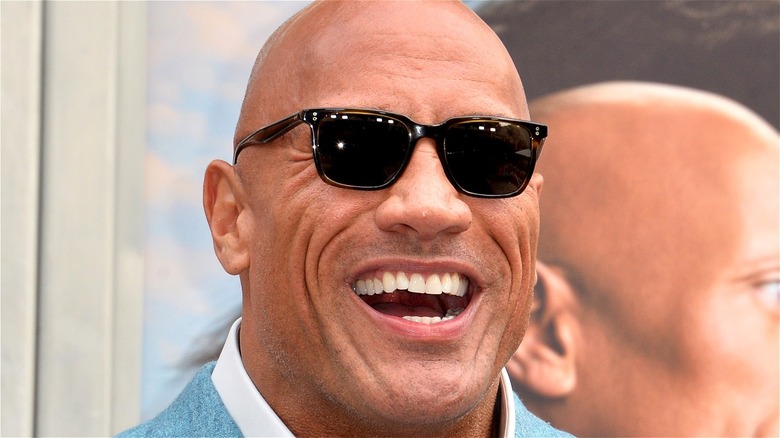 Featureflash Photo Agency/Shutterstock
At this point, it looks like even when the Earth becomes an inhospitable wasteland and all civilization has faded away, two of cinema's most popular living titans will continue to do battle in the most time-honored of ways: by taking shots at each other in the press.
Okay, so maybe the long-running Hollywood squabble between stars Dwayne Johnson and Vin Diesel isn't some eternal battle that will outlast us all. But it certainly feels that way sometimes. Their feud, ignited on the sets of the various "Fast and Furious" films they made together before exploding into public view during the production of "The Fate of the Furious," has gotten plenty of attention from the press but has technically only been out in the open since 2016 (via Vanity Fair). The feud doesn't seem to be showing any signs of dying out anytime soon either.
The latest shot across the bow has been fired by Johnson. In a cover story for the November 2021 issue of Vanity Fair, the actor addressed the conflict, revealing what he sees as its root cause as well as the one moment related to the feud that he wishes he could take back.
Dwayne Johnson wishes he hadn't taken his and Vin Diesel's feud public
While tensions between Dwayne Johnson and Vin Diesel behind-the-scenes were rising for a long time (via People), their feud broke out into the open in 2016 when Johnson made (and later deleted) a post on Instagram calling out one or more of his male "Fate of the Furious" co-stars shortly before the end of production.
Johnson recently told Vanity Fair that the post wasn't made in response to a specific incident, but rather the wear and tear of a long pattern of conflict and frustration between him and Diesel. However, while he stands by the sentiments expressed in the post, he says he regrets that his anger led him to air them publicly. "I shouldn't have shared that," Johnson said. "Because at the end of the day, that goes against my DNA. I don't share things like that. And I take care of that kind of bull**** away from the public."
Johnson confirmed that the pair did attempt to address the issue together away from the public in a meeting that was conducted on the set soon after he published his Instagram post. "I wouldn't call it a peaceful meeting. I would call it a meeting of clarity. He and I had a good chat in my trailer, and it was out of that chat that it really became just crystal clear that we are two separate ends of the spectrum. And agreed to leave it there."
Vin Diesel recently commented on the feud while promoting F9
As fans of the franchise will already know, the rift between Vin Diesel and Dwayne Johnson had a major effect, notably, on the very franchise that brought them together in the first place. Johnson chose not to return for "F9" in 2021, opting to instead headline the 2019 spin-off "Fast and Furious Presents: Hobbs & Shaw" alongside Jason Statham.
Meanwhile, during promotions for "F9" earlier this year, Diesel told Men's Health that stoking Johnson's frustrations was a deliberate choice he made in order to improve the on-screen rivalry between their characters. "At that time, I could give a lot of tough love," Diesel said. "Not Fellini-esque, but I would do anything I'd have to do in order to get performances in anything I'm producing." When Vanity Fair brought up the quote to him, Johnson's first reaction was reportedly one of intense laughter.
The good news for Johnson is that the public appears to have taken his side, and he seems to have come out on top in the feud. We'll have to check back in five more years though, and not only see how everyone's feeling about it, but also what new things the pair have said about one another between now and then.