Twitter Has Taken Sides In The Rock And Vin Diesel Feud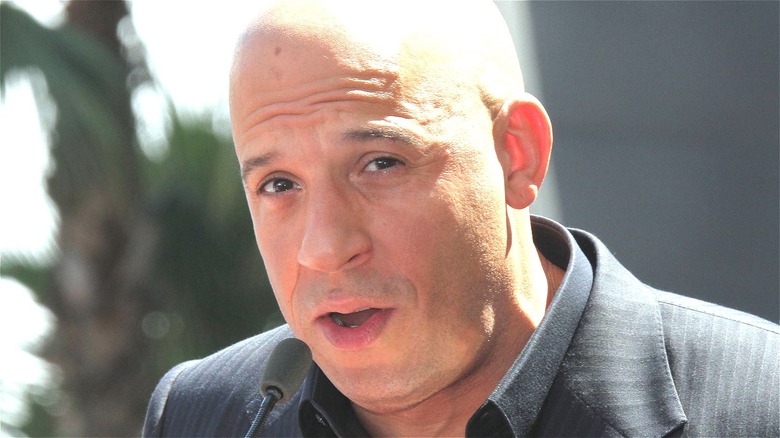 Shutterstock
There are nine main franchise films in the "Fast & Furious" franchise and a spin-off film in the form of "Fast & Furious Presents: Hobbs & Shaw." And since "Fast Five" came out in 2011, Dwayne Johnson has been a constant figure in the franchise. Just as constant — the ongoing feud between Johnson and "Fast & Furious" star Vin Diesel.
The feud between the two actors was never squashed, but talk of it had quieted down a little bit over the last few years. Three things, however, heated things up again. One, Johnson was not in the most recent "Fast & Furious" film "F9." Two, Diesel gave an interview in Men's Health passing the feud off as "tough love." Three, Johnson responded to Diesel's comments in an interview by saying he "laughed hard" and "I wish them the best of luck on 'Fast 10' and 'Fast 11' and the rest of the 'Fast & Furious' movies they do that will be without me."
In short, The Rock is apparently done with the "Fast & Furious" Franchise, the feud flame is glowing bright, and it's reignited exactly enough for people online to weigh in over which side they are on.
Rock, Paper, Scissors? Too easy. Try Rock, Diesel, Family.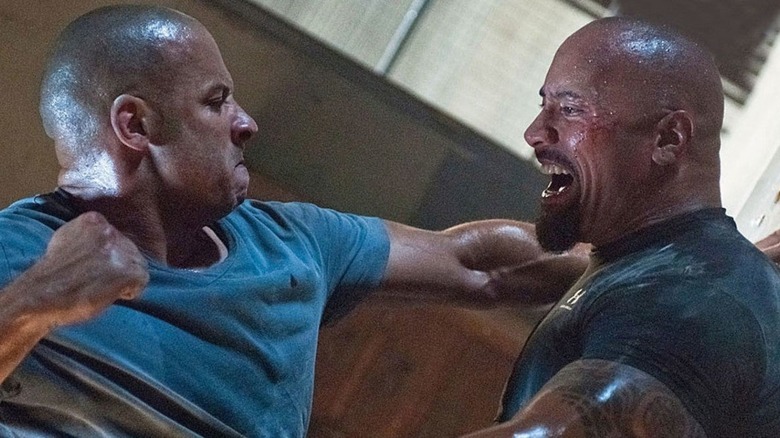 Universal Pictures
Slash Film put a poll up on Twitter beginning July 21 with a simple question: whose side are you on in the feud between Dwayne Johnson and Vin Diesel? The three options to vote for are Team The Rock, Team Vin Diesel, and, of course, FAMILY. The results thus far seem pretty definitive. As of this writing, Team Vin Diesel only has 9.2% of the vote, with FAMILY coming in at the No. 2 spot with 37.3%. Team The Rock is simply dominating this poll with 53.5%. Even if you counted every "family" vote as one for Diesel, Johnson still comes out ahead — and that's pretty telling.
Perhaps it's Diesel's recent comparison between himself and Italian filmmaker Federico Fellini, maybe it's because Dwayne Johnson is just so darn likable, but it almost feels like The Rock should play The Thing instead of Black Adam — because this is absolutely clobberin' time and Johnson is clobberin' like no other. What impact this will have on the supposed final two "Fast & Furious" movies in the long term is anyone's guess, but in the short term, The Rock rules the day.
As of this writing, neither Johnson nor Diesel has commented on the poll.