The AHS Characters With The Most Screen Time In The Whole Series
FX
"American Horror Story," which has been running since 2011, is an insane blend of camp, horror, superb acting, and absolutely shocking scenes. Forged by popular creators Ryan Murphy and Brad Falchuk, "AHS" — which originally started with the "Murder House" season — is known for an anthology format that keeps many of the same actors, but changes venues and timelines each seasons. All are interconnected, with various crossovers (both big and small) occurring over the course of the show. "Freakshow" blended with "Asylum," for instance, while "Apocalypse" bled over into both "Coven" and "Murder House."
Each season is punctuated with standout performances by regulars, often including the likes of Jessica Lange, Evan Peters, and Sarah Paulson, and augmented by rotating actors like Wes Bentley, Leslie Grossman, and Lady Gaga. It is also important to note that not every actor appears in every season, and some actors have even taken on multiple roles per season. 
However, which specific character has the most screen time across all seasons? The answer might surprise you.
It looks like Kai Anderson has the most screen time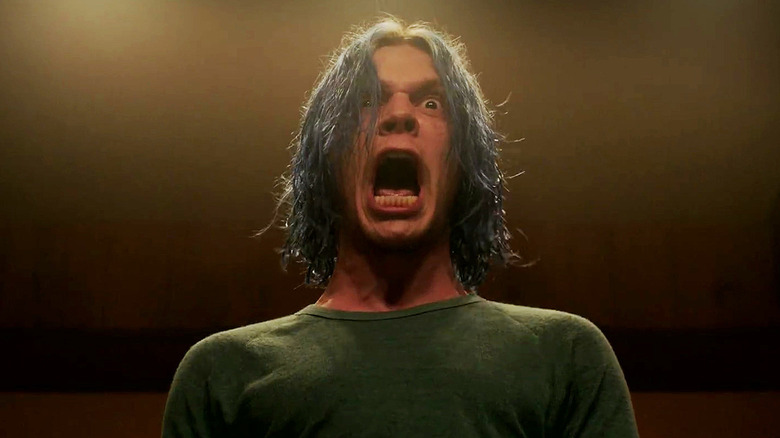 FX
While there's no official confirmation of the screen time for every character, at least one internet sleuth on IMDb, ninewheels0, underwent the challenging task of recording the screen time of every major "American Horror Story" actor per season up until November 2018. And according to their homework, it appears that the character with the most screen time is Evan Peters' Kai Anderson from the "Cult" season, with a grand total of 165.15 minutes. Peters also played other characters in that season, as well, netting him an additional 10 minutes. The next runner-up was Sarah Paulson's Ally, also from "Cult," with 160.30 minutes. The next two characters were both played by Jessica Lange — with Elsa Mars from "Freakshow" earning 148.30 minutes and Fiona from "Coven" with 144.45 minutes. Rounding out the number five position is Wes Bentley's character from "Hotel," John, with 139.15 minutes.
"Cult" is an underrated season that divided fans with its heavy focus on politics and the cult of personality. Peters' character, Kai, starts off as a gifted — yet troubled — individual who slowly forms a destructive bond with his neighbors and family. He terrorizes his own town as he manipulates all those around him. It is no wonder why Evan Peters required so much screen time in order to drive the season forward. As one Reddit user noted in 2021, "Evan Peters carried that season, 100%."