The Emily Osment Sitcom That's Got Netflix Subscribers Falling In Love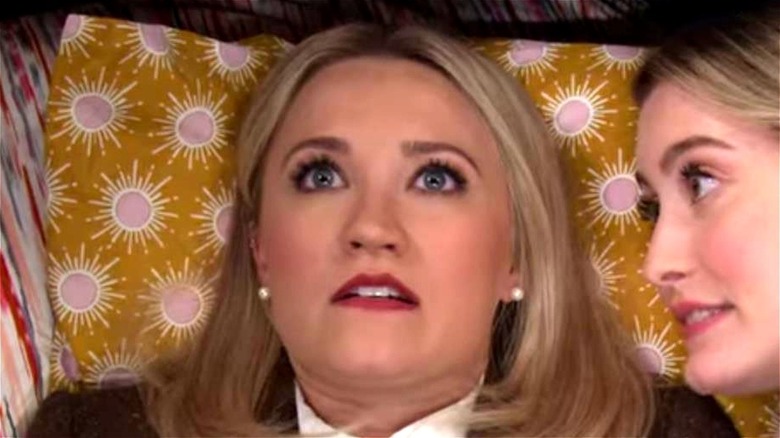 Netflix
While its subscribers may love all the new, intense dramas that Netflix has to offer, they also seem to always be happy when the streaming giant brings them something more light-hearted but equally binge-worthy — and the new sitcom "Pretty Smart" definitely fits the bill.
Emily Osment stars in "Pretty Smart" as Chelsea, a woman new to L.A. who moves in with her sister Claire and her roommates. What is supposed to just be a weekend visit predictably turns into a more permanent stay, and Chelsea, a highbrow academic, has to learn to deal with her less-scholarly new roommates, all while rebuilding her relationship with her sister.
"Pretty Smart" may be a new sitcom, but it has strong roots in the genre, with its creators, Jack Dolgen and Doug Mand, having previously written on shows like "How I Met Your Mother" and "Crazy Ex-Girlfriend." While wacky roommates and familial tension are common sitcom tropes as well, "Pretty Smart" still has plenty of charms of its own.
Pretty Smart's great cast makes watching it a refreshingly joyful experience
The cast of "Pretty Smart" cast is impressive enough to warrant checking it out. Emily Osment has, for starters, been beloved by millennials ever since her days playing Lilly Truscott on "Hannah Montana." In more recent years, she's starred in the Freeform comedy series "Young & Hungry," which follows a food blogger who gets in over her head at a new job. Olivia Macklin, known for her work on "The Young Pope," also stars in "Pretty Smart" as Claire, with Cinthya Carmona and Michel Hsu Rosen playing fellow roommates Jayden and Solana, respectively.
Of course, no sitcom is complete without a love interest, and "Pretty Smart" is no exception to that rule. Gregg Sulkin, who has previously starred in popular teen shows like "Pretty Little Liars," "Runaways," and "Faking It," fills that role as Grant, the frequently shirtless ex-boyfriend and current roommate of Claire. However, despite Grant and Chelsea's teased romance, Osment recently told The Hollywood Reporter that "the heart of the show is about two sisters." 
Although laugh-tracked sitcoms aren't quite as big as they were in past decades, Netflix subscribers will no doubt welcome the return of a more nostalgic, low-key viewing experience. After all, as Gregg Sulkin told The Hollywood Reporter, "Pretty Smart" is "like comfort food," which makes it the perfect antidote for viewers' often stressful daily lives.