Why Claire From Pretty Smart Looks So Familiar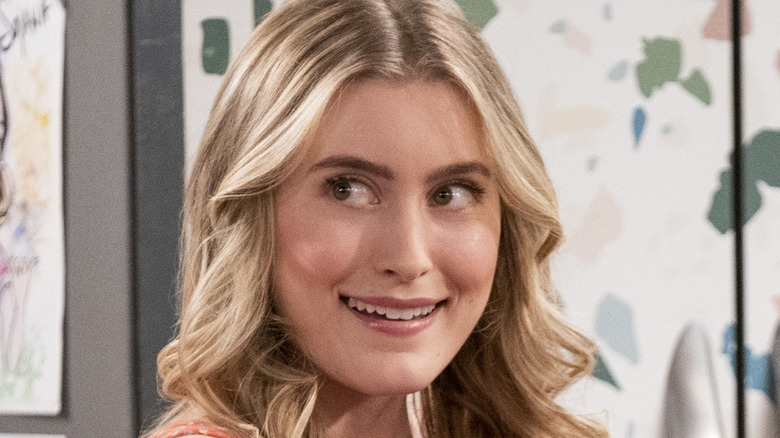 Netflix
Premiering on the streaming platform on October 8, 2021, the new Netflix original series "Pretty Smart" stars Emily Osment as Chelsea, an intellectual with a degree from Harvard who dreams of being a novelist. When things don't go according to plan, Chelsea moves in with her younger sister, Claire, played by Olivia Macklin, who lives in a nice house with three beautiful and seemingly shallow roommates, Grant (Gregg Sulkin), Solana (Cinthya Carmona), and Jayden (Michael Hsu Rosen). The first season of the new comedy series has 10 episodes total at around 25 minutes each. 
While most people who tune into "Pretty Smart" are probably already familiar with either Osment or Sulkin, who have both had relatively popular roles in the past, they might be surprised to feel a sense of recognition when they see Macklin as well. The young star only started logging professional screen credits in 2016, but she's already made quite the impression with multiple notable roles in various television series.
Here's why the actress who plays Claire in "Pretty Smart" looks so familiar.
Olivia Macklin played Madre in The Young Pope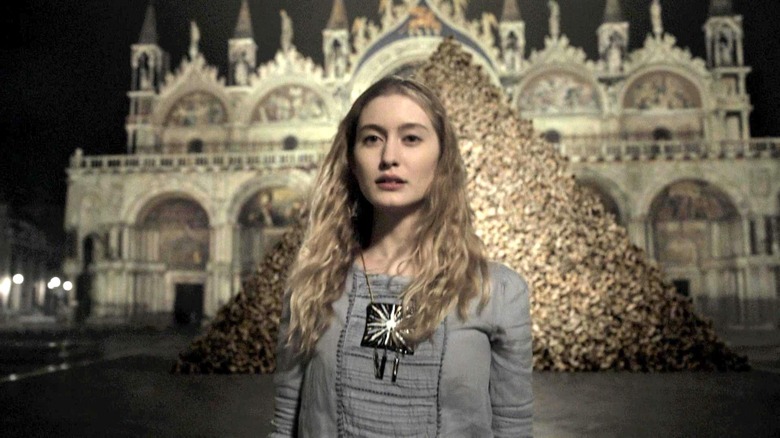 HBO
Shortly after she began her acting career, Macklin nabbed an important role in the first season of the drama "The Young Pope" on HBO, which stars Jude Law as Lenny Belardo, a cardinal elected as Pope Pius XIII, who decides to take the Catholic Church in a destructive, conservative direction. The series also stars Diane Keaton as Sister Mary, the nun who raises Belardo and guides him to his high position, becoming his main advisor. 
In "The Young Pope," Macklin plays the role of "Madre," or Belardo's biological mother in flashbacks. Belardo's relationship — or lack thereof — with his parents is very important to his character arc. Despite being abandoned by them as a child, he still wishes to find and reunite with them. But as seen in the flashbacks, Macklin's character is very troubled, and Belardo's father isn't any better. The feeling of abandonment from his parents is one of the main things that drives Belardo to become Pope Pius XIII in the first place.
Macklin portrayed Paula in Radium Girls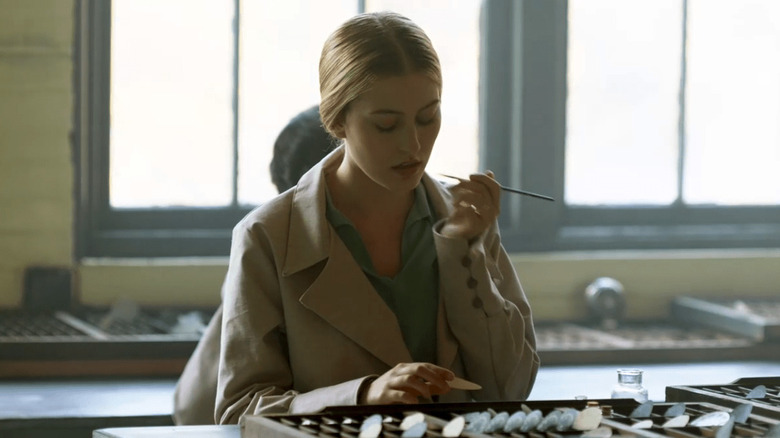 Juno Films/Netflix
In 2018, Lydia Dean Pilcher and Ginny Mohler directed the film "Radium Girls," which tells the story of the young women from the 1920s and who eceived radiation poisoning from working with self-luminous paint that was originally made with radium to paint watch faces. While their employers tell the girls that the paint is non-toxic, the companies know the risk, encouraging the young women to even lick their brush between dips into the radium-filled paint. 
The film stars Joey King and Abby Quinn as the Cavallo sisters, Bessie and Josephine, who work at American Radium in order to make money and have some independence. But soon enough their happy lives are disrupted as they start getting sick, along with many other young women at their work. Macklin plays another woman at the factory named Paula who experiences the same radiation poisoning as Bessie and Josephine. Together with other affected women, they all take the fight to the company and go to court, hoping to shut down the factory and stop the use of radium in painting watches and clocks. 
The actress starred as Nichole in LA to Vegas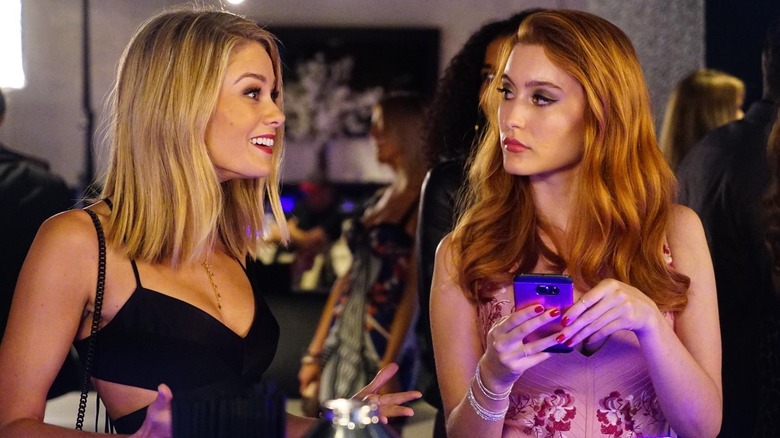 Fox
After "Radium Girls," Macklin turned to comedy with a role in the Fox series "LA to Vegas." The series, which only ran for one season in 2018, stars Dylan McDermott as Captain David "Dave" Pratman, a commercial flight pilot who leads a crew of misfits flying back and forth from Los Angeles to Las Vegas. With his dreams of being an Air Force pilot squashed after he is honorably discharged, Dave uses drugs, women, and humor to hide from his personal issues.
Also on the crew are flight attendants Veronica "Ronnie" Messing (Kim Matula) and Bernard Jasser (Nathan Lee Graham), while a couple of their frequent travelers are Colin McCormack (Ed Weeks), an economics professor who works at UCLA and starts up a romance with Ronnie, and Macklin's character Nichole Hayes, a woman who works professionally as a stripper and uses the crew's constant flights between LA and Las Vegas to travel for work. Her character is beautiful and fun, and she constantly keeps the crew on their toes. Unfortunately for fans of Macklin's performance, the show was canceled before it could really take off.
Macklin played Becky Monreaux in Filthy Rich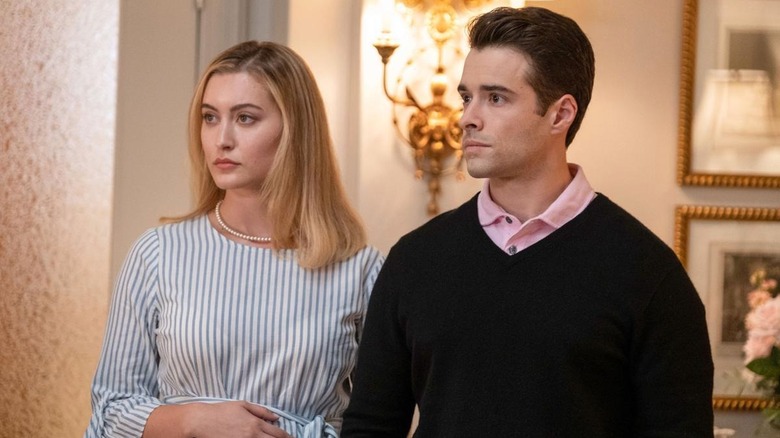 Fox
Most recently, before starring in Netflix's newest comedy, Macklin played the role of Becky Monreaux in the Kim Cattrall-led comedy "Filthy Rich." The Fox series is based on the New Zealand show of the same name and is about a super rich Southern family who gained their wealth and power from their Christian television network called the Sunshine Network. When Eugene Monreaux (Gerald McRaney), the founder of the Sunshine Network and a conservative icon, dies in a plane crash, his wife Margaret (Cattrall) reveals to the rest of the family that her husband was anything but a religious, faithful man. Three new people enter the picture, illegitimate children Eugene had from past affairs, who all want some of the wealth their father promises them in his will. 
Macklin plays a character named Becky who is the wife of Eric Monreaux (Corey Cott), the VP of the Sunshine Network and the one expected to take over the family business in the future. Becky is pregnant at the beginning of the series and has a posh, privileged attitude, but over the course of Season 1, it is revealed that just like everyone else in the family, she has her own secrets to protect. While "Filthy Rich" had a great cast and an interesting plot, the show was unfortunately canceled after only five episodes aired.