What The Creators Of The Sopranos Have Been Doing Since It Ended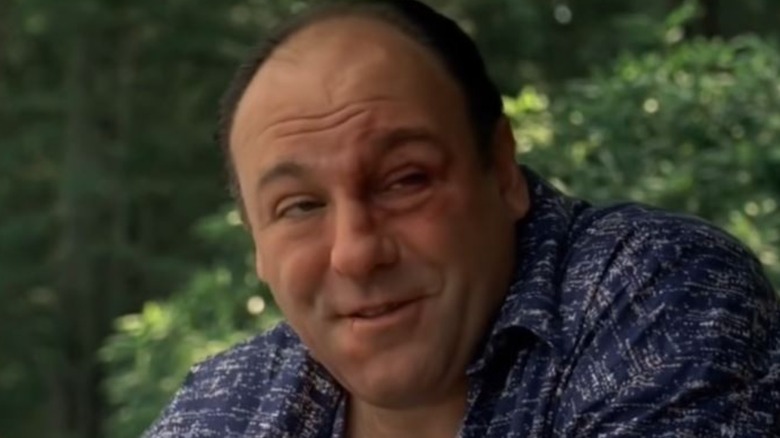 HBO
"The Sopranos" is considered to be one of the greatest television shows of all time, but creator David Chase can't take all of the credit for how good it turned out. Television is a collaborative medium by necessity, so Chase had to hire many talented people to execute his vision. He would wind up firing some of those people too. Many of the show's writers would be given the opportunity to create their own shows and some of its directors would make feature films. 
We disagree with Chase when he says that it would be tough to make "The Sopranos" today because the main character is "too crude." If "The Sopranos" were made today, Chase just wouldn't be able to get away with only hiring one female director to make only one of the show's 86 episodes. But let's take a look at all of the people that Chase did hire and what they've been able to accomplish by selling themselves as someone who worked on "The Sopranos."
Creator David Chase made the criminally under seen Not Fade Away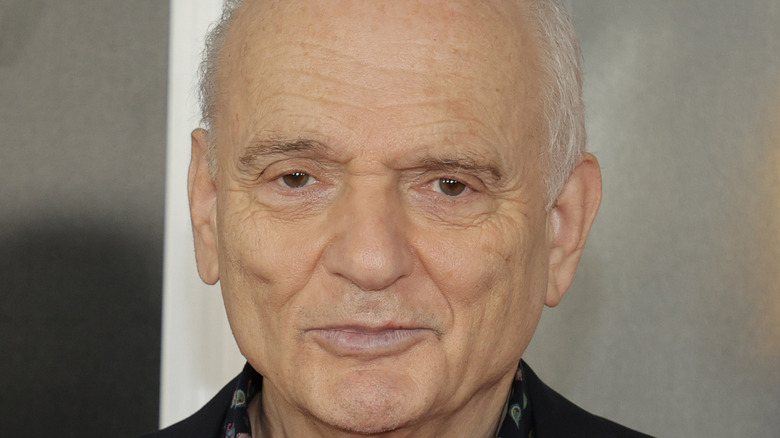 Jamie Mccarthy/Getty Images
David Chase only directed two episodes of "The Sopranos" himself: the pilot and the series finale, but his talent as a filmmaker was still evident. So it's only natural that he wrote and directed the film "Not Fade Away," though it's unfortunate that the underrated film didn't find a larger audience. The story of some friends in New Jersey who form a rock band in the wake of the success of The Beatles and The Rolling Stones came and went quickly, which Chase blamed on the lack of marketing in an interview with UPROXX. James Gandolfini is terrific in one of his last performances as the main rocker's father, particularly in a dinner scene where he tries to make amends with the son he disapproves of. 
Chase would have directed "The Many Saints of Newark," the prequel movie to "The Sopranos," but had to step back after suffering a heart attack. It's too bad that Chase hasn't done more since "The Sopranos," but he's just signed a first-look deal with WarnerMedia so we're sure to see more from him soon. 
Writer Terence Winter created Boardwalk Empire and wrote The Wolf of Wall Street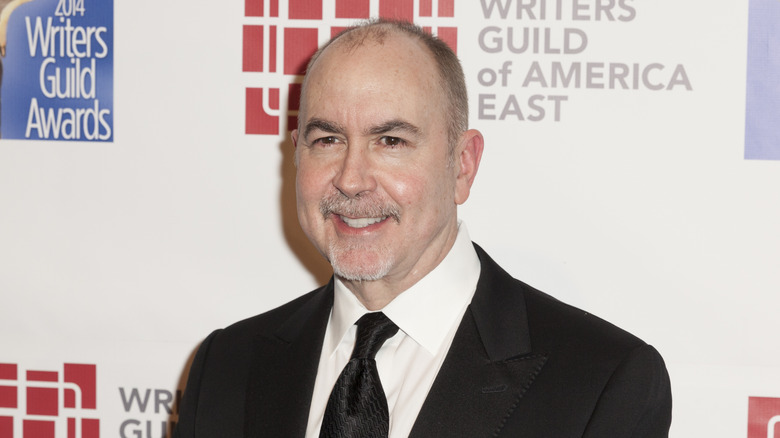 lev radin/Shutterstock
Terence Winter started as a writer and co-producer for "The Sopranos" during Season 2 and would become instrumental in its success, eventually earning enough promotions to become an executive producer by Season 5, and having a personal hand in the scripts of 25 of its episodes including in the Emmy Award-winning "Long Term Parking" (Season 5, episode 12) and "Members Only" (Season 6, episode 1). This earned him enough clout to create and executive produce his own gangster show "Boardwalk Empire," which starred Steve Buscemi, featured the late Michael K. Williams in a strong supporting role, and even attracted Martin Scorsese to direct the pilot.
Winter adapted "The Wolf of Wall Street," white collar criminal Jordan Belfort's memoir, into a movie directed by Scorsese, which was massive box office success. Less successful was the next show that Winter created, "Vinyl" — where he once again got Scorsese to direct the pilot. Unlike "Boardwalk Empire," which lasted five seasons, "Vinyl" was cancelled after a single season.
Steve Buscemi directed several Tina Fey shows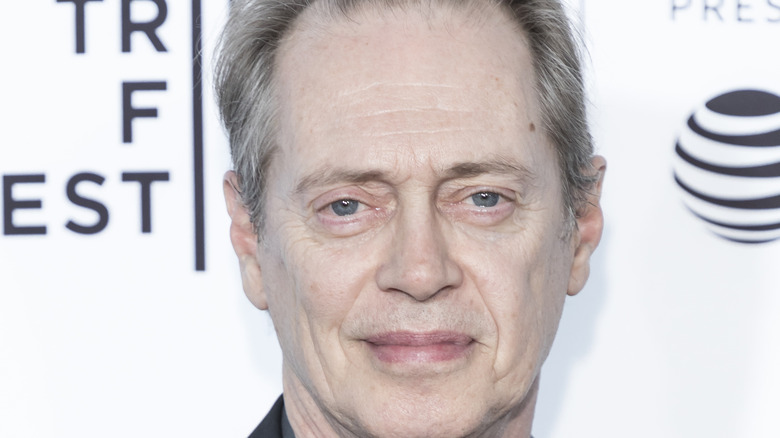 Sam Aronov/Shutterstock
Who can forget the Terence Winter-written episode "Pine Barrens" (Season 3, episode 11), which stranded Christopher and Paulie in the woods? Fans never stopped asking "What happened to the Russian?" and the show's lack of closure for that plot line was far more memorable than if he had just died. Often regarded as one of the shows' best episodes, it was directed by none other than Steve Buscemi. Buscemi would join the cast in Season 5 and has continued directing for television on shows like "30 Rock," "Unbreakable Kimmy Schmidt," and "Portlandia." 
Of course, he's still known primarily for his acting, which he's continued to prolifically do. Aside from "Boardwalk Empire," he's also appeared in "Miracle Workers," where he played God in the first season and plays different characters in subsequent seasons. In Armando Iannucci's black satire "The Death of Stalin," he played Nikita Khrushchev dealing with the hilarious fallout of the titular death. And the real-life firefighter who helped out after 9/11 played a firefighter in "The King of Staten Island." He has too many credits to list, but needless to say he's continued to remain active even if it's not always behind the camera.
Director Alan Taylor made big-budget films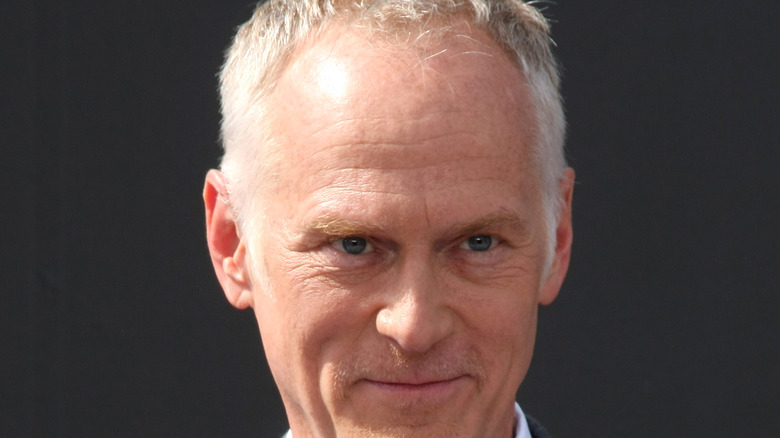 Kathy Hutchins/Shutterstock
Alan Taylor came to be known as HBO's "executioner" when he was hired for episodes that killed off major characters in shows such as "Rome" and "Deadwood," and "The Sopranos" episode "Kennedy and Heidi" (Season 6, episode 18). This episodes featured the unexpected death of Christopher Moltisanti. This work got him the job of helming the last two episodes of the first season of "Game of Thrones," which would earn that show its reputation for killing its main characters. 
Those "Game of Thrones" episodes would land him the job of making big-budget blockbusters like "Thor: The Dark World" and "Terminator: Genisys." He revealed to The Hollywood Reporter that he wasn't happy with how those films turned out — saying that "I lost my will to live as a director" — but he's back in the world of "The Sopranos" as the director of "The Many Saints of Newark."
Writer Matthew Weiner created Mad Men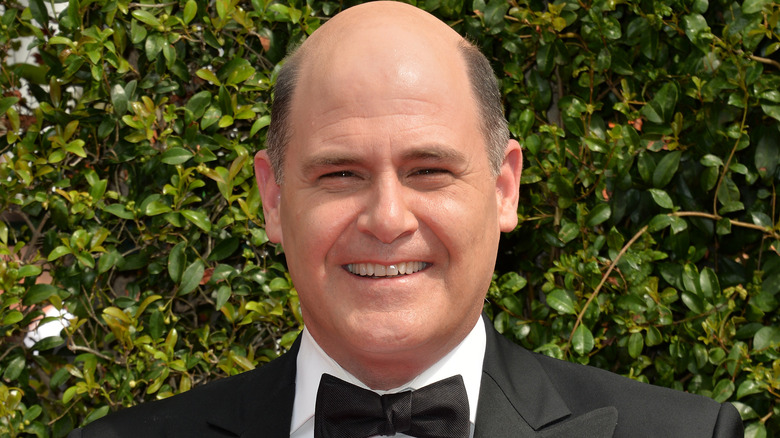 Featureflash Photo Agency/Shutterstock
Tony Soprano and Don Draper have very different occupations but are often compared when discussing television antiheroes. In fact it was Matthew Weiner's unproduced script for the pilot of "Mad Men" that got him hired to write for "The Sopranos." Weiner gives credit for how "The Sopranos" influenced his writing, telling The Daily Beast, "I wrote the pilot for 'Mad Men' around the same time 'The Sopranos' came on the air, and it was encouraged by its existence. I saw it right after I wrote the pilot in 1999, and David paved the way for letting the economic powers know that the audience was interested in this non-formulaic, real-life story." 
Furthering the connection to "The Sopranos," he hired Alan Taylor to direct the pilot. Since then, Weiner wrote and directed the film "Are You Here" and created the Amazon Prime show "The Romanoffs," but it seems inevitable that anything he does will be compared to "Mad Men."
Director Peter Bogdanovich helped finish Orson Welles' last film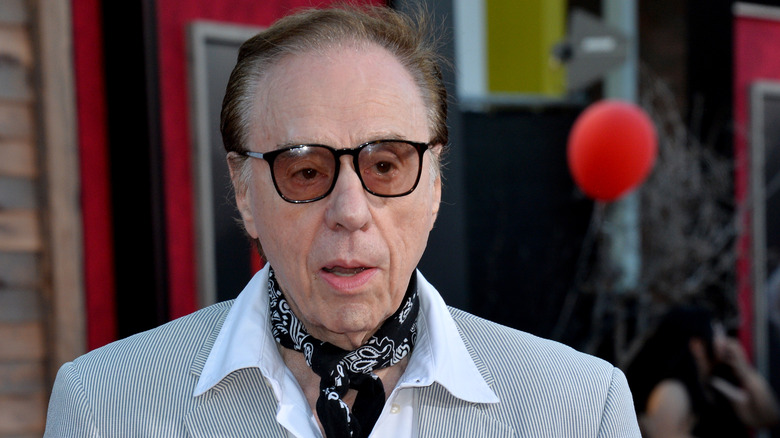 Featureflash Photo Agency/Shutterstock
Peter Bogdanovich had a recurring role on "The Sorpanos" as Dr. Elliot, the therapist that Dr. Melfi sees for her own treatment. But if you have a good relationship with the director of "Targets," "The Last Picture Show," "What's Up, Doc?" and "Paper Moon," why not ask him to direct an episode? And so he did, though only once with the Matthew Weiner-written "Sentimental Education" (Season 5, Episode 6).
His 2015 film "She's Funny That Way" wasn't a huge hit, but Bogdanovich did help complete Orson Welles' final film "The Other Side of the Wind." It was released by Netflix in 2018. Welles started filming in 1970 and cast John Huston as a legendary director and Bogdanovich as a young up and comer. After Welles died in 1985, many thought his last work would never be seen, but Netflix finally came through with the necessary funding. Welles never recorded the voiceover that he planned on doing himself, so Bogdanovich recorded it in character and came up with a fictional reason why the mockumentary was never released: his character didn't like how he came across. He played yet another director loosely based on himself with a fun little cameo in "It: Chapter Two."
Writers Robin Green and Mitchell Burgess created the long-running Blue Bloods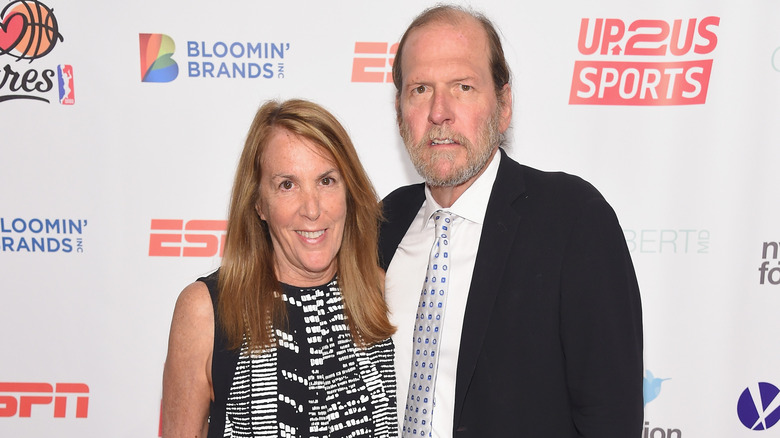 Michael Loccisano/Getty Images
The married writing team of Robin Green and Mitchell Burgess had quite the run on "The Sopranos," working on all six seasons of the show, including the Emmy Award-winning episodes "Employee of the Month" (Season 3, episode 4) and "Whitecaps" (Season 4, episode 13). They then created the long-running show "Blue Bloods," a CBS drama about a family of cops. However, they haven't been executive producers of the show since its first season as they were fired for creative differences with CBS and star Tom Sellick. 
They were also fired from "The Sopranos" for creative differences, though they still received credit for their work on "Live Free or Die" (Season 6, episode 6). It's a shame that this has happened to them more than once, but in all likelihood it means that they're artists who stand up for what they believe in.
Writer Todd A. Kessler created Damages and Bloodline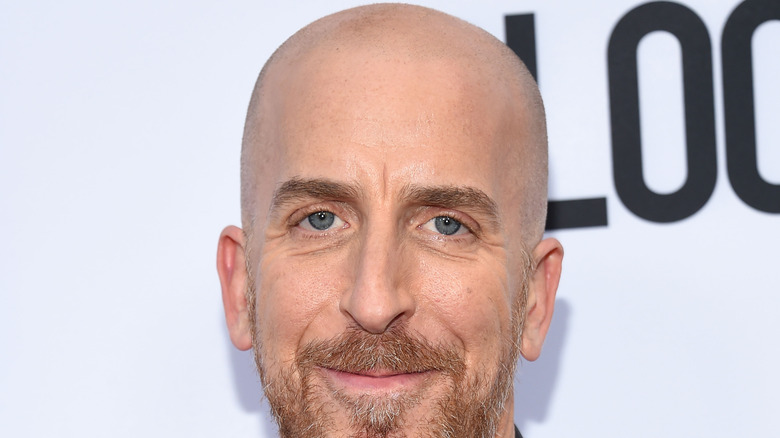 DFree/Shutterstock
Todd A. Kessler joined the writer's room of "The Sopranos" in Season 2 and co-wrote "Funhouse" (Season 2, episode 13) with David Chase, earning the two of them an Emmy nomination. That wasn't good enough for Chase, though, who fired Kessler on the same day that the nominations were announced. 
Kessler got the chance to make his own show and co-created "Damages" with his brother Glenn Kessler and Daniel Zelman. The show, about an older lawyer played by Glenn Close and her tumultuous relationship with a young novice played by Rose Byrne is at least partially based on Kessler's relationship with Chase. The award-winning show was cancelled after three seasons due to low ratings, but was able to finish its run with two additional seasons on DirecTV. The trio of Kessler, Kessler and Zelman then created "Bloodline" for Netflix, which received critical acclaim for its first season, but mixed reviews for its second and third seasons and was cancelled due to its high production costs (per The Hollywood Reporter).
Writer James Manos Jr. created Dexter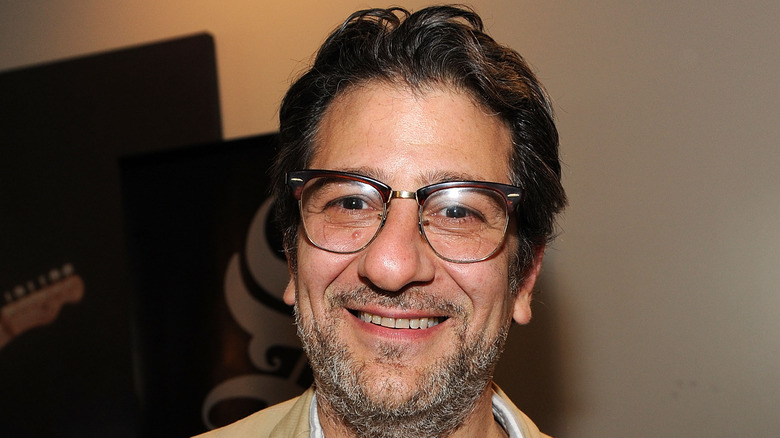 Kevin Parry/Getty Images
James Manos Jr. may have only worked on one episode of "The Sopranos," but it was a memorable one. Before "College," (Season 1, episode 5) "The Sopranos" was a pretty good show, but that one episode showed the first sign of all the greatness that was to come. It earned enough critical praise to win Manos and co-writer David Chase the show's first Emmy for writing. 
Since then, he also wrote the pilot for "Dexter" which he adapted from Jeff Lindsay's book "Darkly Dreaming Dexter." He didn't write any subsequent episodes, but served as an executive producer for its first season. Manos hasn't had the most prolific career since then, mainly just serving as an executive producer on the shows "South of Hell' and "Ice," but he's yet another example of how working on "The Sopranos" can open the door to a writer getting to create their own show.
Director Allen Coulter made the movies Hollywoodland and Remember Me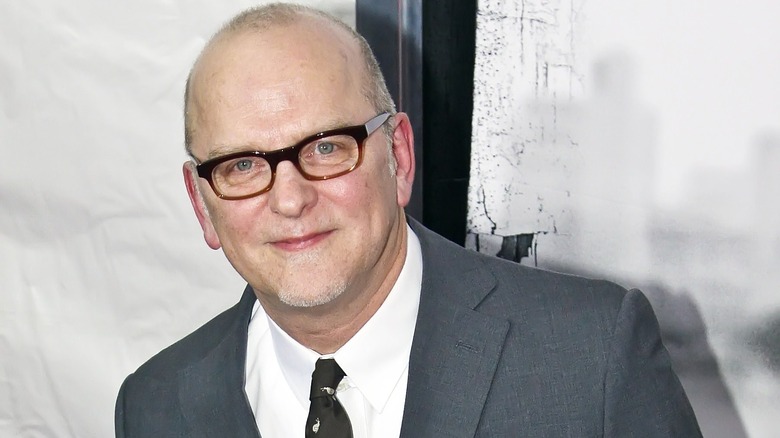 Debby Wong/Shutterstock
James Manos Jr. wasn't the only one who got attention for the "College" episode of "The Sopranos." The episode's director Allen Coulter was also able to use it to get work for other projects of note. In 2006, he made "Hollywoodland," about an investigation into the mysterious death of actor George Reeves, where Ben Affleck got to play Superman a decade before he would play Batman. In 2007, he directed the "Damages" pilot for Todd A. Kessler where the titular line of the episode "Get Me a Lawyer" only makes you want more. 
He made "Remember Me" in 2010, which was marketed as a romance with Robert Pattinson, but turned out to be about something else entirely with a truly bizarre twist ending. Coulter hasn't made a feature film since, but he's still found steady work on television including on "Boardwalk Empire" and "Vinyl," so he hasn't completely disappeared.
Director Rodrigo Garcia brought In Treatment to American audiences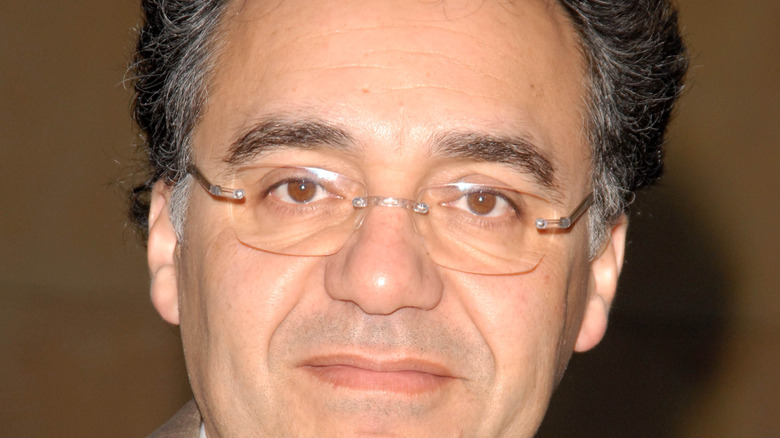 s_bukley/Shutterstock
Season 5 of "The Sopranos" hired a number of film directors to do an episode including Steve Buscemi, Peter Bogdanovich, Mike Figgis, and "Things You Can Tell Just by Looking at Her" director Rodrigo Garcia. Garcia only did one episode: "All Happy Families..." (Season 5, episode 4), but it was part of his working relationship with HBO that started with "Six Feet Under" and continued with the pilot of "Big Love." 
He would go on to develop "In Treatment" for the network, which was based on the Israeli show "BeTipul" about a therapist and his patients. Not only that, he directed 21 of the first season's 43 episodes himself. The show featured a breakout performance from Mia Wasikowska, who Garcia would later direct in "Albert Nobbs," a film about a woman played by Glenn Close who poses as a man to work as a butler. And Garcia also cast Ewan McGregor as Jesus in "Last Days in the Desert," which predated the meme where people would pretend that Ewan McGregor from the "Star Wars" prequels is actually Jesus.
Cinematographers Phil Abraham and Alik Sakharov have directed for Mad Men, Daredevil, and Ozark
The cinematography of "The Sopranos" was one of the reasons why HBO was able to use the slogan "It's Not TV. It's HBO." The show ushered in an era where you could expect high-quality visuals straight out of a film on a weekly series. The show's cinematographers Phil Abraham and Alik Sakharov were key to its look and would go on to become directors as well. 
Abraham directed one episode of "The Sopranos," shot the "Mad Men" pilot directed by Alan Taylor, and later directed 15 episodes of "Mad Men." He also directed the first two episodes of Netflix's "Daredevil," helping redeem the character from the ill-received 2003 film. Sakharov has worked on "Game of Thrones," "Black Sails," as well as "Ozark," which Abraham has also worked on. The two of them have also done the cinematography on feature films, like "I Love You, Beth Cooper" for Abraham and the "Straw Dogs" remake for Sakharov.