The Ring Actress You Didn't Know Was In Lilo And Stitch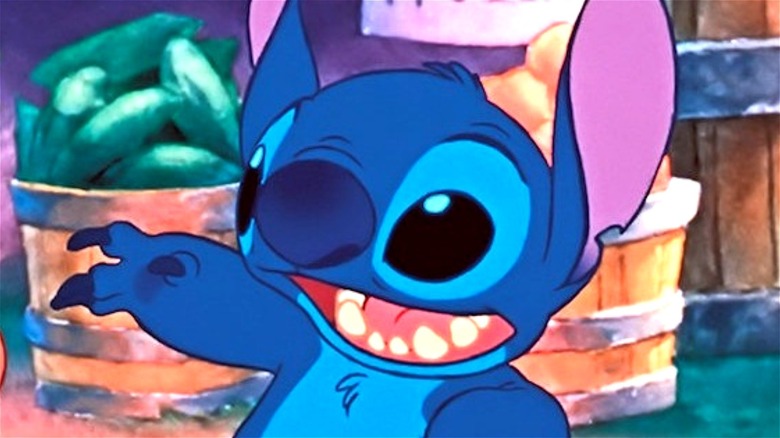 Disney
Anyone who was a fan of horror movies in the early 2000s can't help but remember "The Ring," a chilling tale of a videotape with a deadly curse that results in the death of anyone who views it precisely seven days later.
"The Ring" was an impressive commercial success, earning nearly $250 million worldwide on a budget of $50 million, via Box Office Mojo, and managed to impress critics as well, holding a solid 71% on Rotten Tomatoes. The film is memorable for a few reasons, one of which is the passionate performance of Naomi Watts as Rachel, a mother who views the tape and tries to protect herself and her son before the seven-day timer runs out. Of course, the image that was stamped indelibly on most viewers was that of a young girl with long, stringy hair crawling out of the TV set and towards her victims.
That iconic moment left a mark on a generation of horror fans, but what viewers may not know is that the same actress who terrified them in "The Ring" had an uplifting role in one of the most underrated Disney films released the very same year.
Daveigh Chase played Samara in The Ring and Lilo in Lilo and Stitch
The vengeful spirit of the young girl in "The Ring," Samara, was played by Daveigh Chase. The year that the horror film terrified theatre-goers, 2003, was also the year that Chase charmed them as Lilo in the well-received animated Disney film, "Lilo and Stitch."
Fans of both films can certainly be forgiven for not realizing that the two actors were one and the same. After all, Chase did a remarkable job transforming herself from part to part as a young actress, and is now unrecognizable from her role as Samara in "The Ring." Chase's voice work in "Lilo and Stitch" was widely praised, even earning her an Annie Award, and the young actress helped establish one of the greatest friendships in Disney animated movie history.
Chase continued to voice Lilo in several of the related projects that followed, including the original's two sequels, "Stitch! The Movie" and "Leroy and Stitch," as well as the two-season follow-up TV show, "Lilo and Stitch: The Series."