The Little Girl Who Played Samara In The Ring Is Unrecognizable Now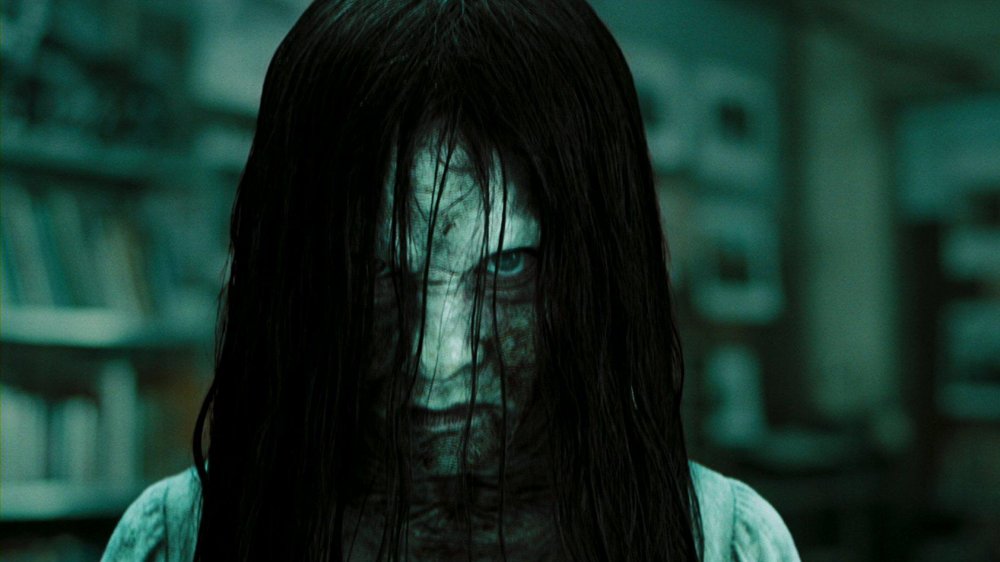 DreamWorks
In 2002, actress Daveigh Chase played the iconic horror character Samara in the film The Ring, about a strange video tape that causes viewers to die a week after watching it. The movie was based on the original 1998 Japanese film Ring, which was in turn based on the 1991 book of the same name by author Koji Suzuki. Even though Chase was only 12 at the time, her Samara became a national sensation, with the movie still regarded as a horror classic almost 20 years later.
In the film, Samara is the ghost of a girl who had special psychic abilities that drove her insane. Her adoptive parents locked her up, and after she willed her mother's beloved horses to kill themselves, her mother (Shannon Cochran) suffocated Samara and pushed her down a well, where she died seven days later. A journalist named Rachel (Naomi Watts) uncovers this history when her niece dies a week after watching the videotape supposedly created and cursed by Samara after her death.
The Ring did pretty well with critics, who praised the subtlety and lack of gore, with the film relying instead on the disturbing story and atmosphere to scare audiences. Chase even won the award for Best Villain at the MTV Movie and Television Awards. A sequel came out in 2005 called The Ring Two, but Chase did not return as Samara for that film, or any later installations. So what exactly does the creepy Samara look like all grown up?
The Ring's Daveigh Chase 18 years later
The same year Chase played Samara, she voiced the main character Lilo in Disney's Lilo & Stitch, and continued to play the role in the sequels and cartoons that followed. She also voiced the character of Chihiro in the English dub of Spirited Away, which came out a year earlier in 2001. One of her other most prominent roles was the same year, when she played Samantha Darko in another creepy classic, Donnie Darko.
Since then, Chase has acted in many different films, a handful of them revisits to the horror genre. She also has an extensive role on the television series Oliver Beene, which had two seasons in 2003 and 2004, and later on the 2007 animated show Betsy's Kindergarten Adventures, on which she voices the title character. In addition, Chase played Rhonda Volmer on the long-running HBO series Big Love, about a polygamist (Bill Paxton) and his three wives. Her character, Rhonda, is a selfish, pathological liar, who is the 15-year-old bride of the town's supposed prophet.
Now 30 years old, Chase has had a couple small run-ins with the law, but nothing substantial, and she most recently lent her voice to the video game Let It Die, which was released in 2016. She had another small voice role in 2018, but with nothing since then, Chase seems to be taking a break from acting for now.