The Big Clue Everyone Missed Early In The Others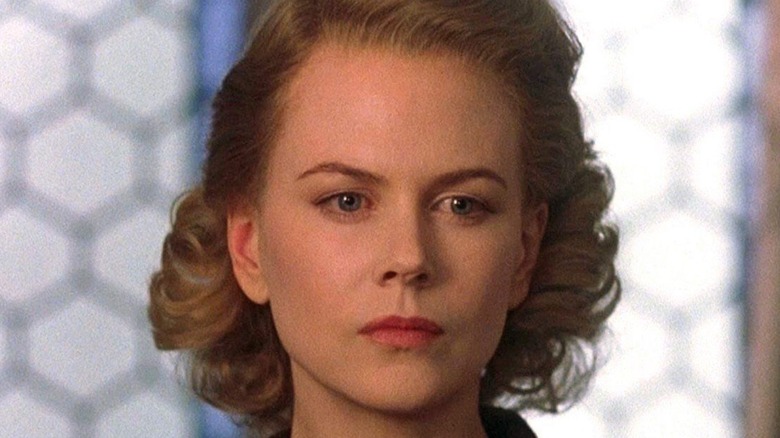 StudioCanal
In the last two decades, the arrival of filmmakers like James Wan, Jordan Peele, Leigh Whannell, and Mike Flanagan has had an incredible effect on the horror genre. Production companies like Blumhouse seem to have a direct line to our fears, knowing exactly how to terrify an audience in the right way that leaves them wanting more. Because of this, some older horror movies from the early 2000s often get overlooked, thanks to other popular franchises that steal the spotlight. One of the creepiest classics is Alejandro Amenábar's "The Others" — which was a box office success at the time, raking in over $209 million (via Box Office Mojo).
It follows Grace Stewart (Nicole Kidman), who lives with her two young children, Anne (Alakina Mann) and Nicholas (James Bentley), in a large house on the island of Jersey. She's under the impression that her husband Charles (Christopher Eccleston) is away fighting in World War II. But the family quickly realizes that they're not alone in the house and there are "others" who keep appearing around the creepy house and its surrounding land. And not to ruin a two-decades-old film, but the plot twist reveals that Grace and her children are all dead, because Kidman's matriarch suffocated them with pillows before dying by suicide. The "others" are actually a new family that has moved into the house. Spooky.
It's a twist that works well because there's nothing to explicitly suggest that they're ghosts right up until the reveal. Or is there? A big clue about the twist is revealed pretty early on in the film.
The children's disease hints at the twist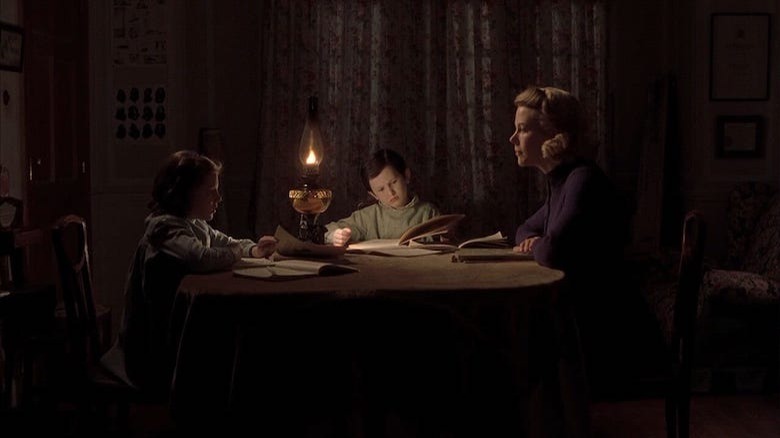 StudioCanal
"The Others" quickly establishes that Anne and Nicholas have a unique disease that makes them extremely sensitive to sunlight, one that finds them screaming in pain if they step into daylight. This immediately sets up a rule that they can't really go outside (unless it's dark) and they don't know what the rest of the world is like aside from the house and its grounds. Isolating the family to one strict area that they can't leave should've been a dead giveaway that something isn't quite right with the Stewart family. They can only move around the house in darkness — much like the way ghosts "typically" come out at night in the horror genre.
Anne and Nicholas' allergy to sunlight is a result of the trauma they went through when Grace killed them because "Mummy went mad." Once the family realizes what's really going on and that they're ghosts, the twins find that they can play in the sun without being in pain anymore — because they're free of the repressed experience they went through. It's not a neat explanation, but it still makes sense. Clearly, horror fans loved the story, since the film boasts an 83% critic rating and a 77% audience score on Rotten Tomatoes.