The Real Reason Paula Patton Was Only In One Law And Order: SVU Episode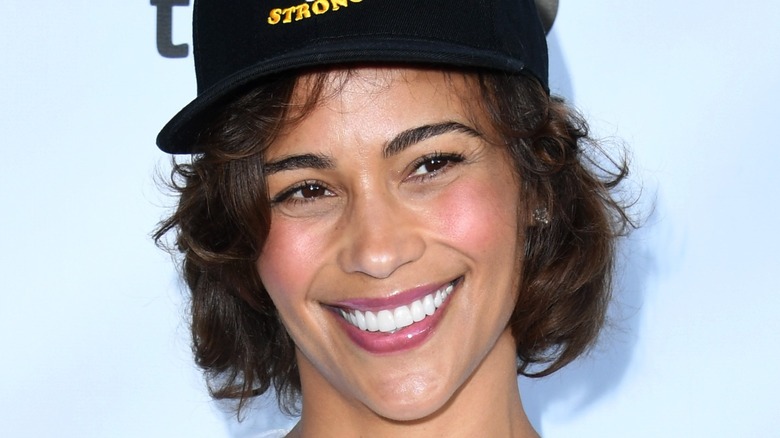 Jon Kopaloff/Getty Images
As "Law & Order: SVU" continues its record-breaking run as TV's longest-running, scripted primetime live-action series (via Deadline), producers are celebrating the show's upcoming landmark 500th episode with the return of a beloved character: Nick Amaro (Danny Pino), Benson's partner after the departure of Christopher Meloni's iconic Elliot Stabler (who also recently returned to the franchise after a decade-long hiatus). Of course, saying hello and goodbye to new and old characters has become par for the course on "SVU," with various cops and attorneys regularly cycling in and out of the revolving doors of the show's casting department.
Indeed, more than a few characters have left the cast after short runs on the show, including Season 9's Detective Chester Lake (Adam Beach) and Season 10's A.D.A. Kim Greylek (Michaela McManus). But while those characters spent just one season on the show, they are longtime veterans compared to the "SVU" performer whose time on the series lasted just one episode.
The actress in question? None other than Paula Patton ("Precious," "Warcraft," "The Do-Over"), who played assistant district attorney Mikka Von in the "Law & Order: SVU" Season 12 episode titled "Wet." The original behind-the-scenes plan was for Patton's character to stick around for quite a while, but the actress was ultimately gone by the end of her first hour on the show. Taking that into account, we're forced to ask: Why did Paula Patton's "Law & Order: SVU" character only last one episode?
Paula Patton left Law & Order: SVU for Mission: Impossible
Don't worry, this isn't the story of someone's bad behavior or attitude getting them fired. Instead, Paula Patton was actually released from her "Law & Order: SVU" contract for a very good reason. It turns out that the then up-and-coming actress had already signed onto the long-running NBC series when she received the opportunity of a lifetime by securing a major role in a "Mission: Impossible" movie. In fact, Patton was just about to start shooting her first "Law & Order: SVU" episode when she got the call to screen test for "Mission: Impossible — Ghost Protocol," the fourth entry in the blockbuster film franchise.
Neal Baer, who was serving as the "Law & Order: SVU" showrunner at the time of Patton's casting, opened up to TV Guide in 2010 about the actress' short-lived time on the show. "Right before Paula started her first episode — which she's shooting right now — she was offered a test for 'Mission: Impossible: 4,'" Baer said at the time. "We had a contract, but I don't want to stand in someone's career path if they're going to be in a huge feature film with Tom Cruise. So when she got that role, we recast ours."
Actress Melissa Sagemiller (who has since appeared on both "Chicago Fire" and "Chicago P.D." as Detective Julia Willhite) finished out "Law & Order: SVU" Season 12 as A.D.A. Gillian Hardwick, while Patton's character was fired for unethical behavior by the end of her first episode. Fortunately, Patton's own "SVU" exit was done without bitterness from either her or the show's creative team. 
That said, it's hard not to wonder what might have been. The good news? "Law & Order: SVU" is still going strong, and with Stabler and Amaro returning to the fold, who knows what the future might hold for A.D.A. Mikka Von.