Why Tim From The Guilty Sounds So Familiar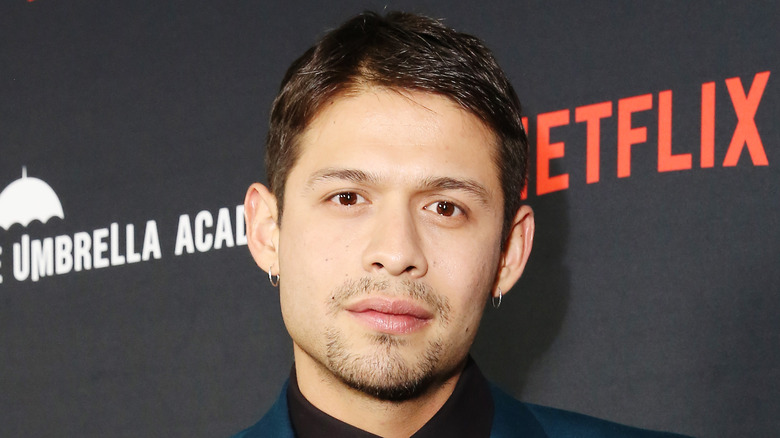 Rachel Murray/Getty Images
Jake Gyllenhaal stars as an LAPD police officer named Joe Baylor in the new Netflix thriller "The Guilty," directed by Antoine Fuqua, which follows his character one night working as a 911 operator who takes a frantic phone call from a woman named Emily (Riley Keough), who says she's been kidnapped. Throughout the film, Joe talks to coworkers, highway operators, Emily's family, and more over the phone, trying to figure out what's really going on and how to save Emily. 
While there are a few other characters that show up on screen in "The Guilty," most of the characters aside from Joe are just voices on the phone. That includes Joe's former partner Rick, played by Eli Goree, Sergeant Bill Miller, played by Ethan Hawke, and Emily's ex-husband Henry, voiced by Peter Sarsgaard. Although you can't see these actors' faces, you're bound to recognize their voices, as they have all been in quite a few major projects in the past. That includes a character named Officer Tim Gervasi, who is played by David Castañeda. Officer Gervasi shows up about halfway through the film, talking to Joe on the phone as he checks in on Emily's young daughter and son, only to find a unexpectedly grisly scene. 
For those who hear Officer Gervasi's voice and know that they've heard it before, this is why the character from "The Guilty" sounds so familiar.
David Castañeda played Jorge Castillo in Switched at Birth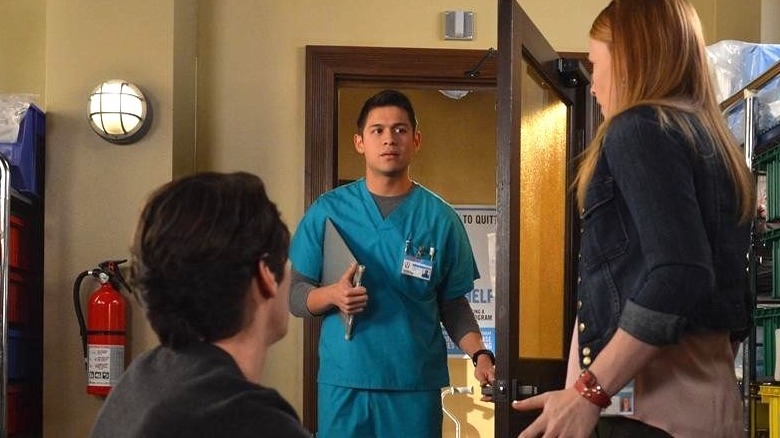 Freeform
In 2011, ABC Family (the channel is now Freeform) premiered a new series called "Switched at Birth," about two young women named Daphne (Katie Leclerc) and Bay (Vanessa Marano) who find out that they were accidentally switched at the hospital right after they were born and have been raised by the wrong families. Once they discover this truth and meet, the two families merge and drama starts as they adjust to the life-changing news. 
In the first episode of Season 3, a new character named Jorge Castillo is introduced to the story. Daphne is serving community service at a free medical clinic when she meets Jorge, a caring nurse who is her supervisor. The two become close and Jorge reveals that he has romantic feelings for Daphne, even though she is going back and forth between him and another guy. In order to better communicate with Daphne, Jorge even takes an ASL class on his own time, but in the end, Daphne choses to pursue a relationship with the other guy instead of him. 
Castañeda portrayed Nicholas in Jane the Virgin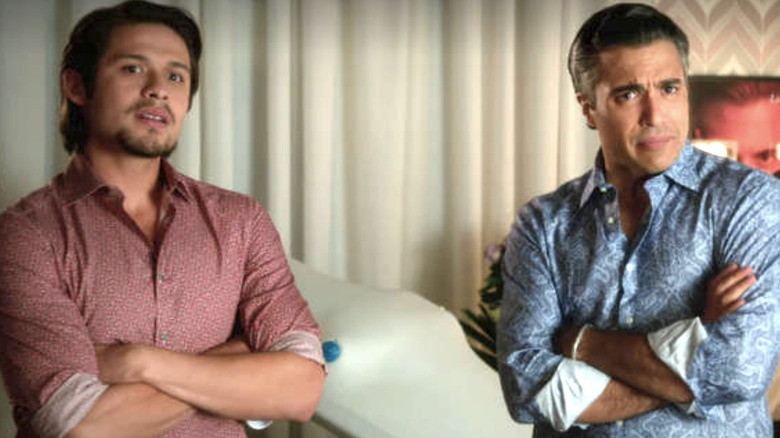 The CW
Castañeda also appeared in three episodes in Season 1 of The CW's hit show "Jane the Virgin," which premiered in 2014 and stars Gina Rodriguez as a woman who is accidentally artificially inseminated and becomes pregnant with the baby of someone she's never met. Castañeda is introduced in the fifth episode of the season as Nicholas, the assistant to Rogelio De La Vega (Jaime Camil), Jane's estranged father who is attempting to reconnect with her, on the set of his soap opera called "The Passions of Santos." 
But the charming young man isn't as he seems, and instead of helping Rogelio as he is supposed to, Nicholas attempts to sabotage the actor. Out of jealousy and a desire to become a famous soap actor himself, Nicholas tries to use his position to get himself a part on the show. As you'd expect, it doesn't go exactly as he plans, and Nicholas only appears in episode 5, 11, and 12 of "Jane the Virgin" Season 1. 
The actor was Hector in Sicario: Day of the Soldado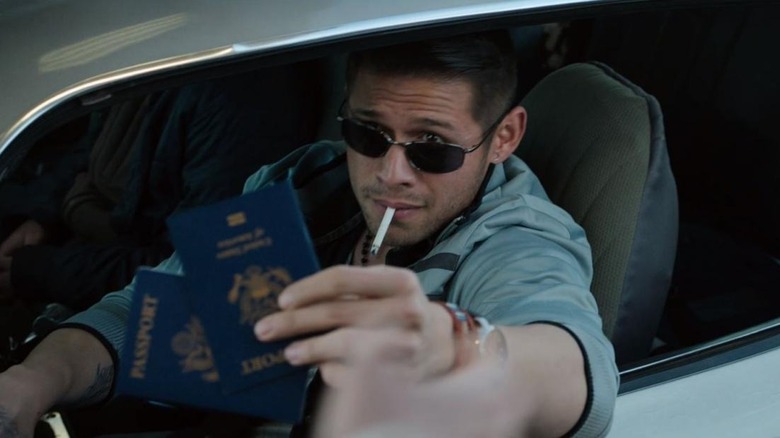 Sony Pictures
In 2018's "Sicario: Day of the Soldado," the sequel to the popular action thriller "Sicario," which came out in 2015, Josh Brolin stars as a CIA officer named Matt Graver who works alongside CIA assassin Alejandro Gillick, played by Benicio del Toro, to fight against the cartels in Mexico. In the film, the CIA's plan is to start a war between two different cartels, hoping that they will get rid of each other for them. 
As Matt and Alejandro begin their mission, a boy named Miguel (Elijah Rodriguez) who lives in Mexico skips school to hang out with a man named Hector, played by none other than Castañeda. Hector paints himself as Miguel's friend in order to influence him, asking Miguel to join his cartel as they sit together, talk, and smoke weed. Miguel takes Hector up on that offer, and along with some other cartel members, Hector shows Miguel the ropes and drops him right in the middle of the cartel's gritty business, eventually crossing paths with Matt and Alejandro.
Castañeda stars as Diego Hargreeves a.k.a. Number Two in The Umbrella Academy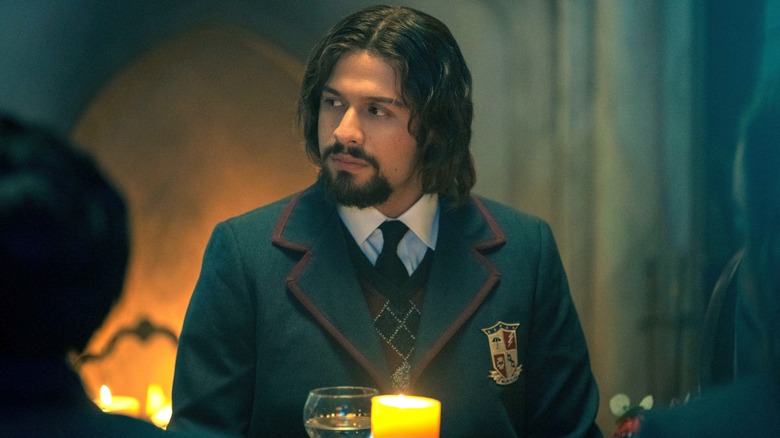 Netflix
Castañeda's biggest role to date is another Netflix Original like "The Guilty," an off-kilter superhero series called "The Umbrella Academy." Based on the graphic novel series of the same name written by Gerard Way and illustrated by Gabriel Bá, the television series centered around a family of seven adopted siblings who have superpowers. Castañeda's character is Diego Hargreeves, also known as Number Two, whose superpower is the ability to manipulate the trajectory of thrown objects, though it's possible that there is more he can do that he is unaware of. 
"The Umbrella Academy" is a hilarious, action-packed series that follows the misfit siblings as they attempt to stop the end of the world. With two seasons out so far, the Hargreeves have not been successful, but maybe the third time's the charm, as a highly anticipated Season 3 is on its way. "The Umbrella Academy" also stars Elliot Page, Emmy Raver-Lampman, Robert Sheehan, Tom Hopper, Aiden Gallagher, and Justin H. Min as Diego's other siblings, along with a huge cast of interesting supporting characters.