Michael Keaton Reveals Whether He Fit Into His Old Bat Suit After Three Decades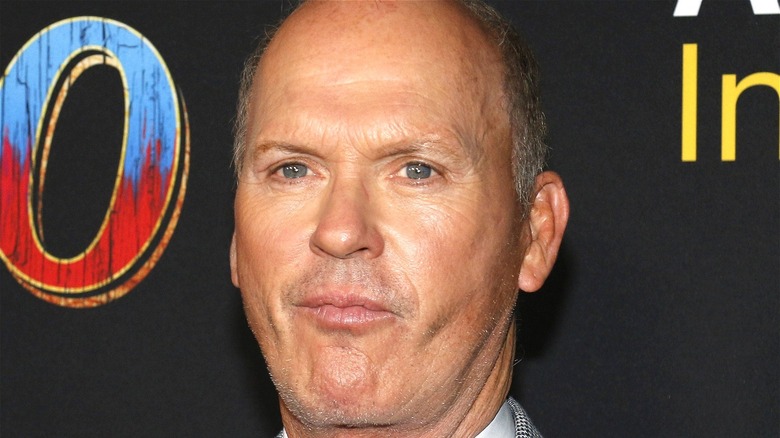 Tinseltown/Shutterstock
Although there have been a gaggle of actors to play the legendary DC Comics character, Batman, over the years, the actor who arguably defined the role for the big screen is Michael Keaton. Starring as Bruce Wayne, aka the Caped Crusader, in director Tim Burton's version of "Batman" in 1989, the film became a worldwide blockbuster, amassing a global take of more than $411.5 million (via Box Office Mojo).
Keaton slipped back into the Bat suit for Burton once again for "Batman Returns" in 1992, but then handed the mantle of the iconic character off to Val Kilmer for director Joel Schumacher's "Batman Forever" in 1995. By the time the movie franchise began to wane (not as in Bruce Wayne) in popularity, George Clooney donned the Bat suit for Schumacher in the widely despised 1987 entry "Batman & Robin."
Batman got his mojo back, of course, thanks to Christian Bale in writer-director Christopher Nolan's blockbuster "Dark Knight Trilogy" from 2005 to 2012; while Ben Affleck donned the Bat attire for director Zack Snyder in "Batman v Superman: Dawn of Justice" in 2016, and "Zack Snyder's Justice League" in 2021 (many fans would just as soon like to erase the memory of Joss Whedon's 2017 version of "Justice League"). Next up to bat, for lack of a better word, is Robert Pattison in director Matt Reeves' "The Batman" in 2022.
Thanks to the DC Multiverse, Keaton has proven that you can go home again. However, did the Bat suit that was awaiting him after three decades need a bit of tailoring?
Michael Keaton says yes, his Batman suit still fits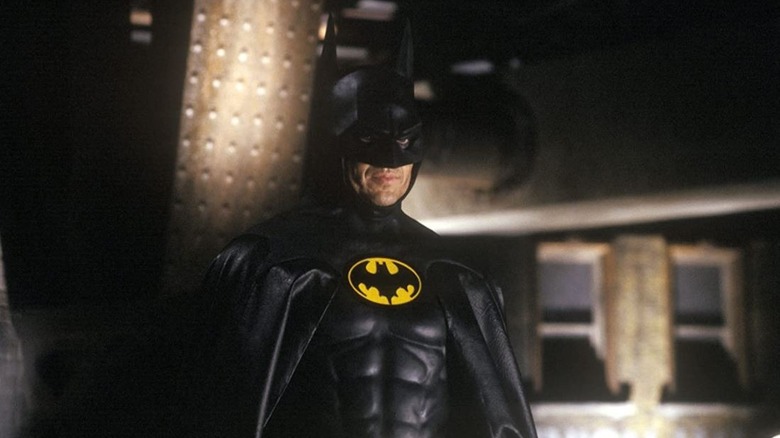 Warner Bros.
Under any other circumstances, the question of whether an actor's costume still fits after 30 years is a non sequitur. People get older and their bodies change, so why try to examine the idea of whether old clothes still fit? Well, Keaton has a good reason because he's reprising the big screen version of Batman that he made famous in director Andy Muschietti's upcoming DC multiverse movie "The Flash" in 2022.
With Keaton as busy as ever — including the recent 9/11-themed film "Worth" and the upcoming opioid drama "Dopesick" — interviewers are taking the opportunity to gather as much intel about the role as possible. Among those inquiring minds is "The Late Show" host Stephen Colbert, who was dying to know how well Keaton's Bat suit fit when he donned it again for "The Flash"  (via The Hollywood Reporter).
Putting speculation to rest, Keaton told Colbert that his body is as "svelte as ever. Same dimensions. Same fitting."
Keaton isn't the only Batman veteran who is hopping into action as the Dark Knight again for "The Flash," where the titular character (Ezra Miller) will encounter his version of the character in an alternate timeline. Affleck will also star in "The Flash," but because it's only a few years that have passed since he first played the character, he's unlikely to face the same questions as Keaton.
Alluding to everyone who has played Batman over the years, Keaton told Colbert during the interview, "I don't know how many there are, like 77 Batmans. They think they should form their own union." Given that Adam West defined Batman for TV and others have voiced the role, Keaton may not be that far off.
"The Flash" is expected to open in theaters on November 4, 2022.