Why Jimmy From Till Death Looks So Familiar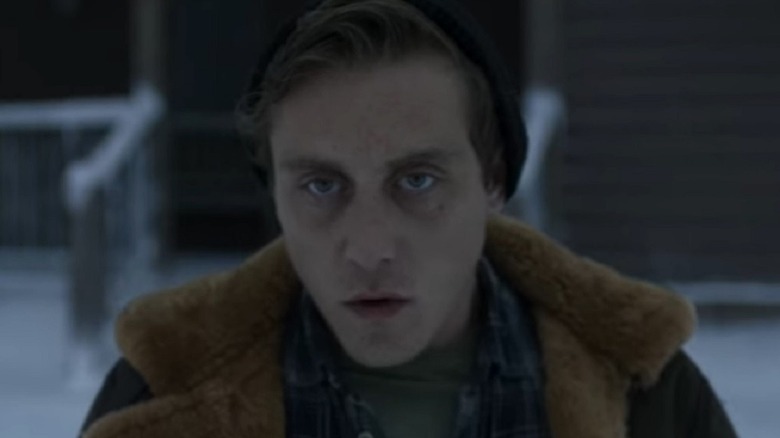 Screen Media Films
The gritty thriller "Till Death" was added to Netflix on October 1 and it appears the film's mix of sinister secrets and pulse-pounding survival drama has struck a nerve with subscribers. At the time of writing, the film was sitting on Netflix's list of the top 10 most-watched movies on the platform. If you are one of the viewers that helped put it there, you might be wondering where else you've seen some of the cast before.
Now, you are likely already familiar with Megan Fox, who plays Emma, a woman who finds herself in peril after an anniversary trip to a secluded lake house turns into a desperate fight for survival. If you're a fan of NBC's "La Brea" or the BBC series "Merlin" you probably also immediately clocked Eoin Macken, who plays Emma's husband Mark, a man living a double life. But what about the rest of the small cast?
One you may not have been able to immediately pinpoint is Jack Roth, who plays Jimmy, one of the men who break into Emma's house with a very specific agenda. Even if you couldn't conjure his name right away, he may have looked familiar and for good reason.
Here's where else you've seen Jack Roth aka Jimmy from "Till Death."
Jack Roth appeared on British TV series like Bedlam and Great Expectations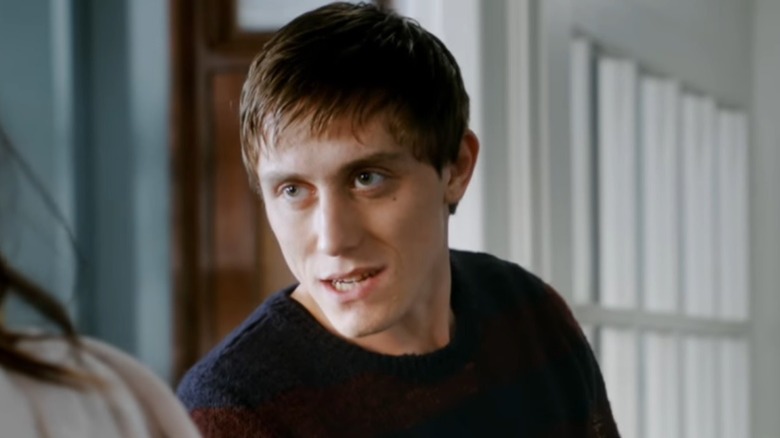 Sky Living
If you're a fan of late 2000s, early 2010s British TV, then Roth is likely a very familiar face. His career kicked off with a guest-starring role on the long-running crime procedural "Waking the Dead." Afterward, he went on to have roles on other shows such as "Midsomer Murders," "Inspector Lewis," and the small-town comedy series "The Cafe," on which he had a recurring part as a character lovingly referred to as Big Issue Frank.
Around this time, Roth also got a few juicier co-starring roles. The supernatural drama "Bedlam" takes place in a haunted former psychiatric hospital that has been converted into an apartment complex. Both seasons focus on the living residents of the building being confronted by the spirits that still dwell there. Roth co-starred on the show's second and final season as Max, a resident of the ghostly apartment complex who has a budding romantic interest in the Season 2 protagonist, Ellie (Lacey Turner).
Roth also co-starred in the 2011 BBC miniseries adaptation of the Charles Dickens classic "Great Expectations." He played the malevolent Dolge Orlick alongside a cast that included Gillian Anderson, Ray Winstone, and Vanessa Kirby.
Us and Them gave Jack Roth a leading role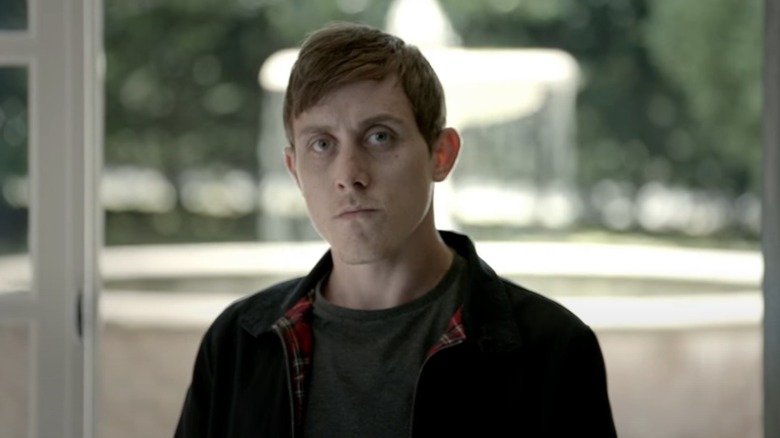 Parkland Entertainment
TV may have given Roth some of the most dynamic roles of his career, but the actor is also no stranger to appearing in movies.
In 2016, Roth had a small part in the spin-off film "Rogue One: A Star Wars Story" as Lieutenant Adema of the Galactic Empire. He also had minor roles in movies like the wild west religious drama "Brimstone," the infamous Michael Fassbender starring flop "The Snowman," recent Paramount+ sci-fi epic "Infinite," and the Freddie Mercury biopic "Bohemian Rhapsody," where he played real-life musician Tim Staffell.
Roth also starred in the crime drama "Us and Them." The film sees Roth playing Danny, a young man raised in the school of hard-knocks who turns his anger at the world toward a wealthy family who made their fortune in the banking industry. He and his friends hold the family hostage and force them to gamble for their lives, the same way their reckless approach to making their money gambles with the lives of working-class people. The British film has shades of home invasion thrillers like "Funny Games" or "The Strangers" (or, even, "Till Death) but with a more prominent message about capitalism and classism at its core. It also gave Roth a meaty leading role to sink his teeth into.
You may have seen Jack Roth in the historic dramas Britannia or Medici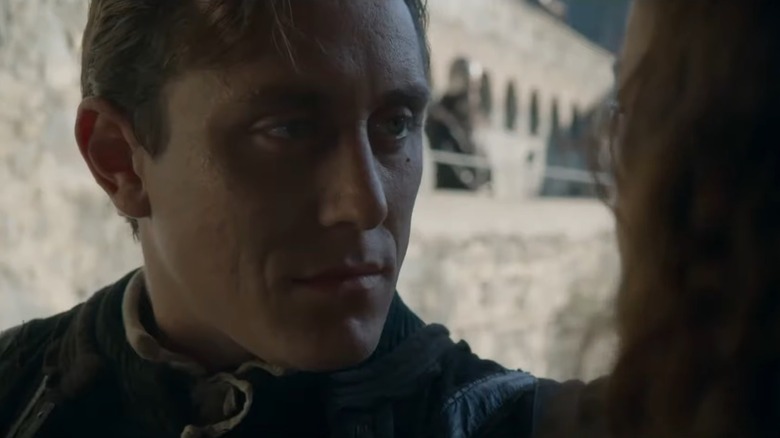 Rai 1
Back in the realm of TV, Roth has appeared in some exciting historical dramas in recent years. The series "Britannia" takes place in ancient Britain during the arrival of Roman forces on the island. A sprawling multi-arc narrative weaves together not just the stories of the struggle between Rome and the native Britons, but also the battles the Britons fight amongst themselves. Roth recurred on the series as Ossian, one of the mystical druids who had powerful political and religious influence over the land.
While his character on "Britannia" was inspired by real figures, on the series "Medici," Roth took on a role straight out of the history books. Season 3 saw him join the cast as Girolamo Riario, a 15th-century Italian nobleman who was the nephew of Pope Sixtus IV (John Lynch) and a perpetual thorn in the side of the Medicis. While Riario does manage to make several decisive strikes against the family, he ultimately ends up paying for his political maneuvering with his life.
"Britannia" is currently streaming on Amazon Prime Video, while "Medici" is available on Netflix.