Is Treat Williams Really Leaving Chesapeake Shores?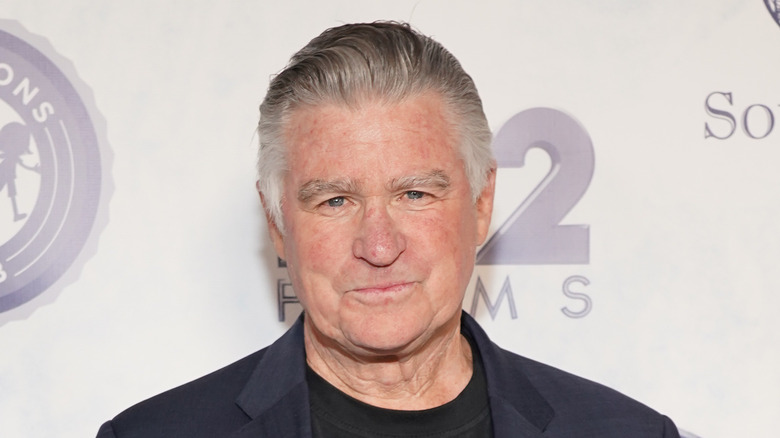 Rachel Luna/Getty Images
Fans of Hallmark Channel's "Chesapeake Shores," which focuses on the drama within the Maryland-based O'Brien family, have had quite an emotional time of it lately, thanks to Jesse Metcalfe's exit this spring. Now, they're starting to wonder if another fan favorite is planning to leave the pristine landscape depicted in the show. 
In the eighth episode of Season 5, O'Brien patriarch Mick (played by Treat Williams) receives a mysterious package. Per the TV Insider recap of Sunday night's episode, an anonymous sender reminds him, "You were a great friend of mine. We got each other through the toughest of times of our lives." The mysterious person then asks him to scatter his ashes over the islands of the Chesapeake Bay, where he had happy times. Mick tracks down the sender but doesn't recognize the name until his daughter, Abby (Meghan Ory), realizes he got the name wrong. The sender turns out to be a bartender named Buzz, who Mick confided in after his wife, Megan (Barbara Niven), left him.
Mick decides to honor his old friend by fulfilling his wishes and sets out on his plane to do so. However, by evening time, Mick's family hasn't heard from him. Even worse, the airfield tells them that his last radio contact was hours ago. This dramatic and mysterious development has left fans on Twitter, like @jmy143, wondering if Williams is departing "Chesapeake Shores."
There's no definitive answer about Treat Williams' future on Chesapeake Shores
It would be a tragedy for Mick — an expert aviator just like Treat Williams (via Aircraft Owners and Pilots Association) — to lose his life after all he's been through with his family "Chesapeake Shores." Intriguingly, signs point to the fact that producers plan to draw this particular storyline out a bit. Only two episodes remain in the short, 10-episode season of the series. In a pre-season interview with Entertainment Tonight, the cast, including Williams, teased a cliffhanger of epic proportions for the season finale. While that doesn't mean that Mick's disappearance is the cliffhanger in question, there's not much time left to set up something else that's equally jaw-dropping. Additionally, the timing of the interview teases the possibility it was filmed near the end of production on Season 5, which could, in turn, offer hope to fans that Williams will appear in the season finale.
If Williams is planning to leave, the cast and crew of the show have to keep it secret until the Season 5 finale airs on October 17. As such, he and others involved in the show are unlikely to say anything before that time. Currently, fans are left to speculate, but no confirmation from Williams or the Hallmark Channel on Mick's fate has been announced.
Basically, at this point, no one knows what fate holds for Mick — and, by extension, Williams — on "Chesapeake Shores." That's true of the entire series because Hallmark has not confirmed the show's Season 6 renewal, which means pretty much everything is up in the air right now.