The Real Reason The Many Saints Of Newark Flopped At The Box Office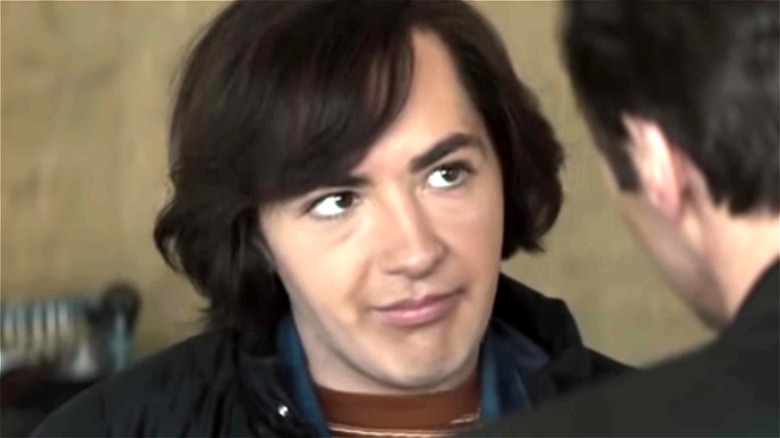 Warner Bros.
"The Many Saints of Newark," the prequel to the classic TV series "The Sopranos" from writer-producer David Chase and director Alan Taylor, is finally out. The movie, which follows the complicated life of mobster Dickie Moltisanti (Alessandro Nivola), including his relationship with young Tony Soprano (Michael Gandolfini), in the '60s and '70s, has so far proven a bit divisive among long-time fans of the landmark HBO series — which is probably not the kind of buzz Warner Bros. was hoping for after finally responding to the clamor for more stories in David Chase's popular mob universe. 
The movie is also the latest experimental offering in the dual-release strategy Warner Bros. has been deploying throughout the pandemic. Some of the biggest, most-anticipated releases distributed by the studio have been thrust out into the world with simultaneous day-and-date debuts in theaters and on the HBO Max streaming service. Thus far, the experiment has been a mixed bag — at least as far as box office returns are concerned. Some of these films have had successful theatrical runs that haven't been entirely cannibalized by their HBO Max releases. "Godzilla vs. Kong" and "Mortal Kombat" certainly fall into this category, but not all of Warner's films have been so successful. "The Many Saints of Newark" sits squarely in the latter category.
According to Deadline, "The Many Saints of Newark" pulled in a paltry $5 million at the box office in its first weekend of release, an underperformance even by the diminished standards of the pandemic era. Box Office Pro projected before the weekend that "Many Saints" would gross somewhere in the range of $7-12 million, for reference.
With all that in mind, there are a couple of reasons why "The Many Saints of Newark" may have underperformed so egregiously, and they can't all be pinned on HBO Max.
The many reasons why Many Saints flopped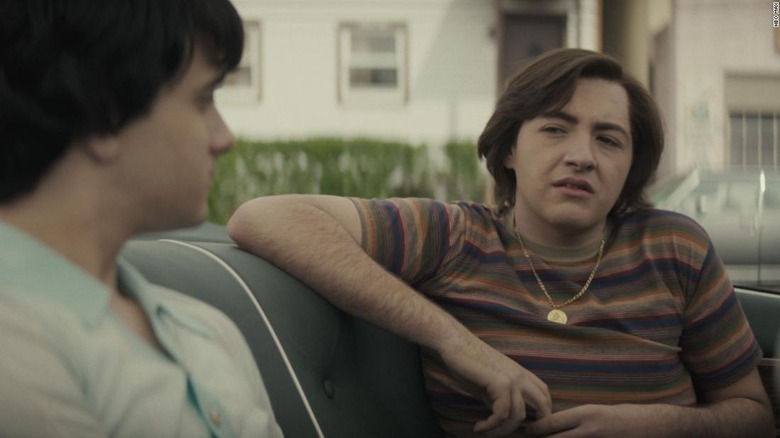 Warner Bros.
There's no smoking gun for why "The Many Saints of Newark" didn't kill it at the box office, but there are a combination of factors that may have worked together to reduce the movie's box office performance.
The main reason, according to Deadline's analysis, is that the target audience for "The Many Saints of Newark" is an older demographic that has been slow to return to theaters over coronavirus fears. The most successful films of the pandemic era have been tentpole films that appeal to younger viewers, like "Black Widow," which grossed $80.8 million in its opening weekend.
It would be interesting to see data on how "The Many Saints of Newark" performed on HBO Max. Enough people may have watched it on the streaming service for Warner Bros. to be happy with it. And HBO just inked a massive new overall deal with David Chase, so they seem bullish on the potential for future "Sopranos" content. We can't say for certain if it's a total flop until we see if HBO Max brags about its performance or not.
The other reason why it might not be crushing at the box office might be word-of-mouth. There are a lot of young "Sopranos" fans, and they didn't show up, either. The movie has a mediocre C+ audience rating from CinemaScore, and has gotten a lukewarm response from "Sopranos" fans on social media. "Sopranos" fans will watch the movie — but they'll watch it at home on the streaming service they already pay for, instead of shelling out for movie tickets, much to David Chase's dismay.
Tom Hardy's venomous symbiote wasn't sharing any weekend oxygen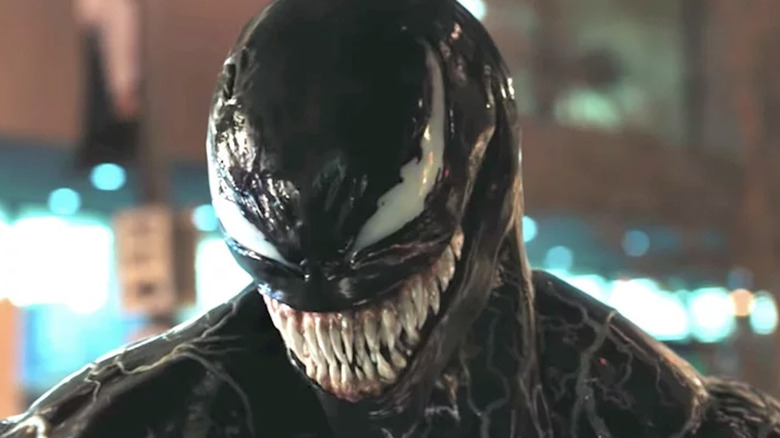 Sony Pictures
It would be easy to point fingers at Warner Bros.' divisive dual-release strategy, but as noted above, it's hard to say that day-and-date streaming releases have had the same deleterious effect on other Warner titles. The lingering Delta wave of the pandemic and the aging "Sopranos" demographic may certainly account for some of the shortfall, but there's a 250-pound symbiote in the theaters that undeniably sucked up a bunch of the available oxygen on this balmy October weekend.
"The Many Saints of Newark" landed in theaters and on HBO Max on October 1 — the same day the Woody Harrelson and Tom Hardy-starring "Venom: Let There Be Carnage" finally executed on a release date after several delays and much fan anticipation. "Venom 2" notably did not receive a day-and-date streaming release from Sony Pictures, one of the major studios most reluctant to embrace the dual-release strategy preferred by Warner Bros. and Disney. Sony's gamble on a pandemic weekend at the theater paid off, as "Venom 2" soared to $90.1 million, dethroning Disney and Marvel Studios' "Black Widow" to become the highest-grossing theatrical release of the pandemic era. With so many moviegoers flocking to see Hardy's Venom square off against Harrelson's Carnage, there just wasn't much market share left for "Many Saints" to claim.