In The Heights Review: A Musical For A Vaccinated Summer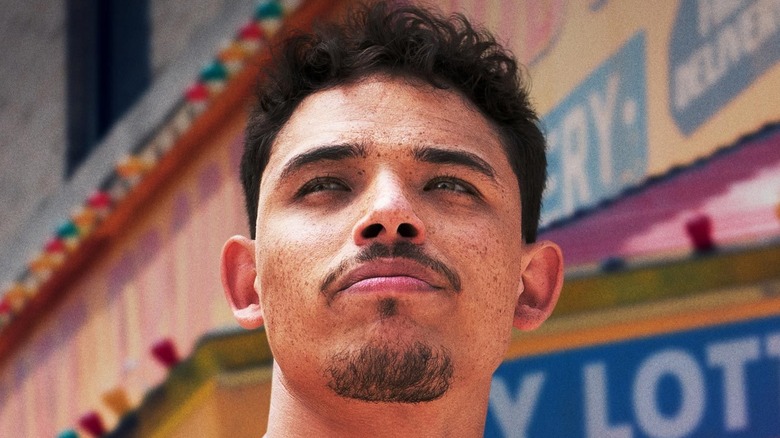 Warner Bros. Pictures
The atmospheric ascent of "Hamilton" rocketed Lin-Manuel Miranda to multi-hyphenate stardom, but it was his earlier stage show "In the Heights" that made that pop cultural behemoth even possible. Now, after 13 years in development, Warner Bros. is releasing the adaptation, directed by "Crazy Rich Asians" helmer Jon M. Chu, into theaters and onto HBO Max. While it's convenient that a film this hotly anticipated will be available at home for anyone who isn't vaccinated yet or otherwise skittish about being back at the movies, "In the Heights" is the perfect theatrical experience to welcome viewers back to the multiplex. It's loud, heartfelt, boisterous, and features a ton of attractive people literally dancing in the summer streets. 
The industry couldn't have planned a better Hot Vax Summer tentpole if it tried.
Whether or not it's a faithful or effective adaptation of its beloved source material is a conversation to be had with a reviewer who isn't a lapsed theater kid, but purely as a piece of popcorn spectacle, "In the Heights" delivers, even to those audience members who might find Miranda's particular mix of show tunes and hip-hop more than a little grating. 
The show, originally conceived by Miranda in college at the tail end of the Clinton administration before making it to Broadway at the end of George W.'s run, has been updated to be timelier, without becoming distracting in its bid for sociopolitical relevance. But most importantly, it's fun. It is a genuinely good time out at the movies. One that doesn't involve any superheroes, video game characters or giant kaiju fighting and toppling buildings. 
A bodega boogaloo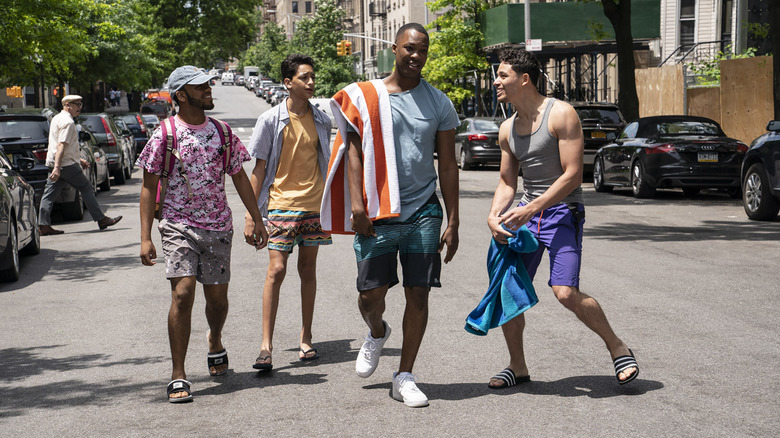 Warner Bros. Pictures
For the uninitiated, "In the Heights" is an ensemble piece centered around the NYC neighborhood of Washington Heights, a largely Dominican area that houses a wide variety of Latinx cultures. Within this little microcosm of the diaspora, Miranda and co-writer Quiara Alegría Hudes present a sprawling narrative about regular (albeit charming) folks just trying to get by day to day. 
There's Usnavi ("Hamilton" vet Anthony Ramos), a bodega owner and the ostensible lead character, if only for his positioning as narrator. Usnavi is saving up to buy back his deceased father's bar in the Dominican Republic, but everyone else he crosses paths with is nursing their own sueñitos, or "little dreams." For Usnavi's love interest Vanessa (Melissa Barrera), a hairdresser who wants to be a fashion designer, it's all about leaving the Heights for something bigger and better. But for Nina Rosario (Leslie Grace), the neighborhood's resident overachiever, a foray out west to Stanford University has her wanting to do the opposite. She can no longer see a dividing line between her own aspirations and the collective dreams of her neighbors who assign their own missed opportunities to her future, her car service owner Kevin (Jimmy Smits) included. 
Every cast member, from the supporting standout neighborhood "Abuela" Claudia (Olga Merediz) to a bit player like Piraguero, the Piragua Guy (Miranda himself, taking a big shift from playing Uznavi in the original show), feels like the star, with their respective dreams and conflicts expanded upon with the same level of sincerity and authenticity. In typical musical fashion, each set piece alternates between outsized numbers designed to show the breadth and density of the neighborhood and more intimate spotlight songs to give each cast member the time and space for their unique story to shine.
At times overly sentimental, "In the Heights" works so well because of the undeniable vitality within its beating heart. Sure, a basic plot summary of the film's story on paper, devoid of songs, wouldn't be dissimilar to, say, Kevin Smith's "Clerks" or similar small-scale, slice-of-life indie dramedies. But the format and style allow for the relatable struggles of its principle characters to stretch and move, to pop off the screen with the vibrant "main character" energy we all feel when experiencing the everyday dramas that comprise life lived on the margins. 
There's a burning urgency to the proceedings that calls to mind a less incendiary take on Spike Lee's "Do the Right Thing," with its tapestry-like view of New York City and positioning as an instant summer staple. But it's an impressive feat to maintain such a soaring, positive tone without having to diminish or paper over the very real concerns of the story's inhabitants. Often blockbuster entertainment has to linger at a fork in the road between "crowd-pleasing" and "challenging" before inevitably wandering off in the direction most likely to yield superior box office returns. "In the Heights" is able to have its cake and eat it too, providing escapism for anyone looking for low stakes, singalong fodder, but refusing to leave out the less saccharine bits that make the choruses hit so hard.
Not for the cheap seats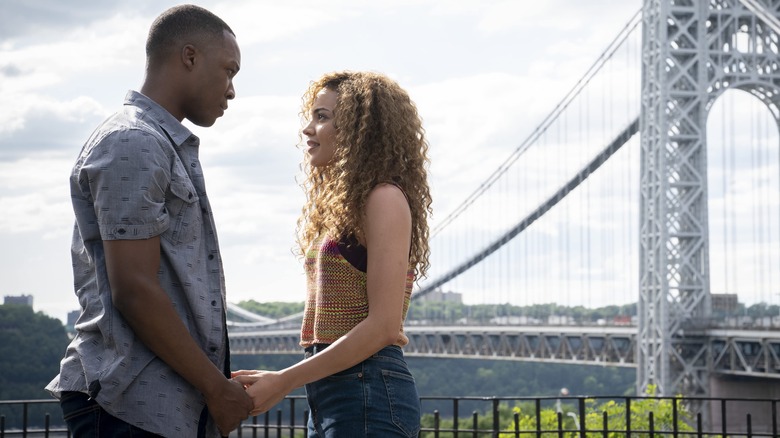 Warner Bros. Pictures
The source material is nothing short of unwieldy from a logistic perspective, but director Chu and the show's original authors do an impressive job of streamlining "In the Heights" for the big screen. Unlike Disney+'s successful filmed adaptation of "Hamilton" that is, for the most part, just the stage show filmed from several angles, this is a genuine feature film, one that leverages the language and rhythms of cinema to enhance the theatricality of the story. 
Chu has a proven track record of translating the dynamism and kinetic energy of non-film material into the movie world, whether it's cartoons ("G.I. Joe: Retaliation"), pop concerts ("Justin Bieber: Never Say Never") or *sigh* the wild world of stage magic ("Now You See Me 2"). But "In the Heights" might be one of his most thrilling outings to date, finding angles to film the block from that imply the cozy comfort of being home while also expanding the corner's scope to encompass an entire world, as it truly is for many of the film's characters. The new framing device that bookends the story, in particular, is indicative of the way a filmmaker is able to play with narrative expectations in a different manner than someone directed for the stage might. 
Also, while Miranda probably made a great Usnavi in the show's original Broadway run, Ramos just possesses far more charisma in the role, making this a real coming-out moment for the performer. 
It's difficult to compare the finished film to any of the original show's productions, but it's been a minute since mainstream movies have given theatergoers an experience comparable to seeing a real, live musical. It just so happens that this film is debuting at a time when audiences are more starved for literally any comforting simulacrum of "outside" than any other time in recent history. Even the Manuel-agnostic among us will have a hard time not tapping their toes or hip-swiveling in their seats by the end of the film's opening number, much less any of the other showstoppers that follow it. 
Sure, at 143 minutes, "In the Heights" is a little long in the tooth, with the third act seeming to go on forever, but once this saga gets its hooks into you, most viewers will be too enthralled to check their watches. It would have been easy for WB to release this later in the year to keep it fresher in the minds of awards season voters, but having it debut now, at a time where more and more people are ready to return to the movies and let the summer heat take their troubles away, was the right call. There'll always be the next Marvel movie or whatever other big-budgeted blockbuster is expected to return theaters to some semblance of normalcy, but "In the Heights" is too thrilling and infectious a viewing experience to count out. 
For a fair amount of folks, its diverse cast and heartfelt exploration of the modern immigrant experience will be transformative, but even for viewers who can't quite relate to that specific cultural touchpoint, the display of craft and pageantry will far outweigh anything else.