What's The Song In Syfy's New Chucky Trailer?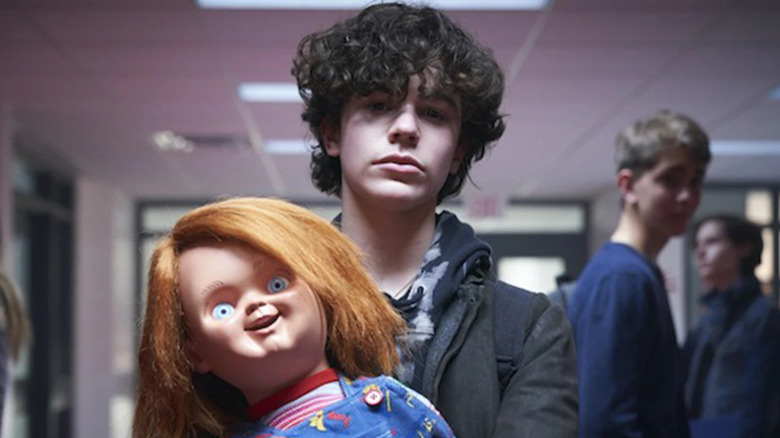 Syfy/USA
The legendary horror icon that left a trail of blood 33 years long is back for more this month, only this time on our TV screens. Everyone's favorite maniacal doll "Chucky," is taking a stab at his own television show, courtesy of Syfy, and the newest trailer has one epic tune playing alongside the terror of it all.
Armed to the teeth with kitchen knives, garden scissors and even a dishwasher, the brand new chapter of the "Child's Play" franchise doesn't look to be holding back. Helmed by Dan Mancini and linked to the original beloved seven films that ended with "Cult of Chucky" in 2017, the series seems to turn things up a notch in chaos and carnage, amplified by the accompanying gem of a song that needs to be added to our music queue immediately. But just what perfectly fitting earworm is playing amongst the possessed doll pandemonium?
Heads will roll quite literally for Chucky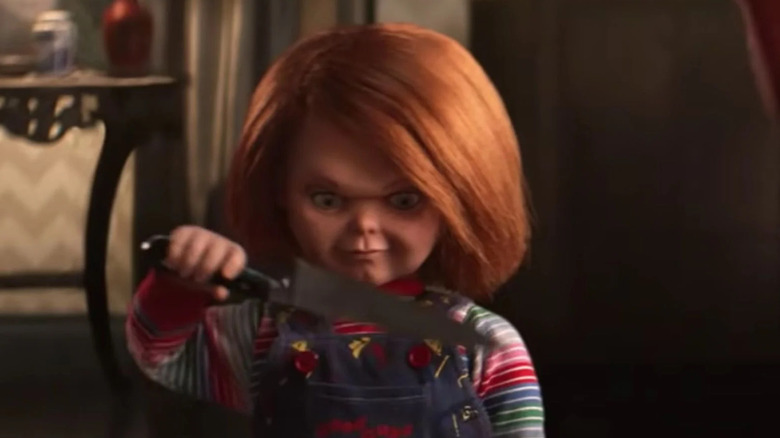 Syfy/USA
The absolute banger featured in the brand new trailer for "Chucky" is "Heads Will Roll" by the Yeah Yeah Yeahs. Originally released in 2009, the single appears on the band's third full-length album "It's Blitz." Besides fitting just right for the trailer (in a terrifically twisted kind of way), the music video itself would no doubt be added to Chucky's watch list. It features the band performing at an underground gig that's crashed by a werewolf-type visitor with dance moves that would make Michael Jackson jealous. Soon, he becomes enraged and tears the attendees to pieces, including the band. The video was directed by "Submarine" director and "IT Crowd" star Richard Ayoade.
The new "Chucky" series has no connection to the 2019 film that attempted to reboot the franchise and is instead linked to the original film series. Brad Dourif is back in action, voicing the evil doll himself, while lonely teenager Jake, who buys Chucky at a yard sale, is played by Zackary Arthur. As the body count starts to pile up, some of Chukcy's old acquaintances resurface, including his old flame Tiffany Valentine (Jennifer Tilly). 
You can see how it all unfolds when the first episode airs October 12.