The Cheers Spinoff You Didn't Know Existed
"Cheers" was one of the most popular shows in the late '80s and early '90s, with its finale being watched by over 90 million people, according to the Los Angeles Times. It took place predominantly in a bar and followed the lives of the barflies and workers who frequented it. Viewers saw the relationship blossom between Sam (Ted Danson) and Diane (Shelley Long), the various quirks of Norm (George Wendt) and Cliff (John Ratzenberger), and the snarky attitude that Carla (Rhea Perlman) took to work every day. 
"Cheers" also had success with spin-offs and other connected series. "Frasier" focused on Dr. Frasier Crane (Kelsey Grammer) — introduced to the parent show in its 3rd season — and became one of the most successful spinoffs of all time with over 100 Emmy nominations. A second sitcom, "Wings," was part of the same universe and featured various characters from "Cheers" throughout its eight seasons. 
Such achievements put "Frasier" in the public eye, and many are familiar with the series. Its accomplishments overshadowed many shows that weren't spinoffs, so it might come as a surprise to know it is not the only spinoff that spawned from "Cheers." 
Here come the Tortellis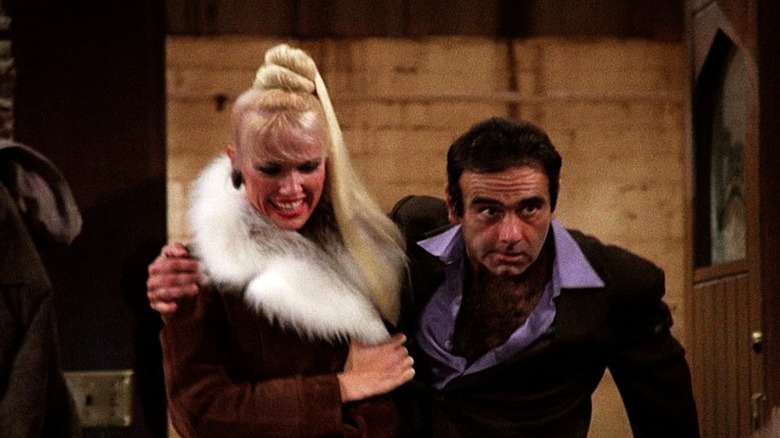 NBC
One of the funniest things about "Cheers" was Carla and her constant complaints about her ex-husband, Nick (Dan Hedaya). Nick and his trophy wife, Loretta (Jean Kasem), make occasional appearances on "Cheers," showing the audiences that he really is as annoying — and overpoweringly romantic — as Carla says. 
Nick's presence and his relationship with his ex-wife were both important to Carla's development. It showed her life outside of the bar, and the struggles she had to face because of his womanizing and deadbeat ways. His visits resulted in humorous situations, such as when Carla and Sam pretend to be together in order to make him jealous. 
Because of this, a spin-off was made in 1987 called "The Tortellis," which dealt with Nick running after Loretta and starting a TV repair business. Though Cliff and Norm meet Nick in Las Vegas, Carla is only in a dream sequence. What made Nick on "Cheers" enjoyable was his interactions with Carla, and without it actually happening in his own series, following his family did not seem as interesting. With that in mind, viewers did not respond well to "The Tortellis," and it was canceled after 13 episodes.