The Episode Of Grey's Anatomy You Didn't Know Denzel Washington Directed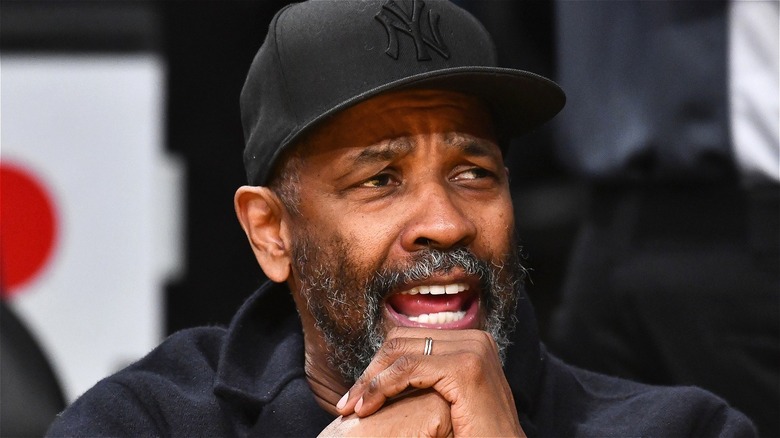 Allen Berezovsky/Getty Images
When one talks about modern cinematic legends, the name Denzel Washington is one that will — and should — come up with little to no prompting. Washington has, after all, spent the past four decades building an undeniably impressive filmography — one that happens to boast both blockbuster hits ("Crimson Tide," "Inside Man") and smaller, more character-driven flicks ("Philadelphia," "He Got Game").
Over the course of his career, Washington has earned a total of eight acting Oscar nominations, including the Best Supporting Actor award he took home for "Glory" and the Best Actor win he scored for his work in "Training Day." If early reviews are to be believed, it looks like Washington may end up being in the awards season conversation again this year as well, thanks to his supposedly stellar work in director Joel Coen's "The Tragedy of Macbeth."
Washington has, of course, earned equal praise for his work in the director's chair. He's directed four feature films to date, but what his fans may not realize is that Washington also dipped a toe into the realm of television in 2016 when he directed a particularly arresting Season 12 episode of ABC's "Grey's Anatomy."
Denzel Washington helmed one of Grey's Anatomy's best Season 12 episodes
Denzel Washington directed Episode 9 of "Grey's Anatomy" Season 12. The episode, titled "The Sound of Silence," finds the staff of Grey Sloan Memorial Hospital juggling an influx of patients who were injured in a major traffic accident. During the ongoing chaos, Dr. Meredith Grey (Ellen Pompeo) finds herself left alone in an exam room with a badly injured patient thought to be unconscious.
Unfortunately for Dr. Grey, the patient wakes up, and due to his medical condition, becomes hyper-aggressive towards his caregiver — savagely beating her to within an inch of her life. After discovering their friend and co-worker near death, the episode sees the hospital's team desperately try to save Meredith's life. They're ultimately successful, but Meredith initially loses the ability to speak and hear as a result of her injuries, and spends the rest of the episode healing both physically and emotionally.
On the surface, that plot might reek of the kind of good old-fashioned melodrama that "Grey's Anatomy" has become known for over the years. But with Washington calling the shots, much of the episode's drama is underplayed. The director, meanwhile, heightens the mood through some clever creative choices (e.g. his use of silence in the episode is particularly inspired) and by eliciting first-rate work from the series' core cast to deliver an hour of television as stylishly executed and emotionally bruising as it is refreshingly hopeful.
All of which is to say: "The Sound of Silence" is undoubtedly one of the series' finest episodes, and it remains Denzel Washington's only television directing credit to date.