The Trailer For Joel Coen's First Solo Feature The Tragedy Of Macbeth Is Finally Here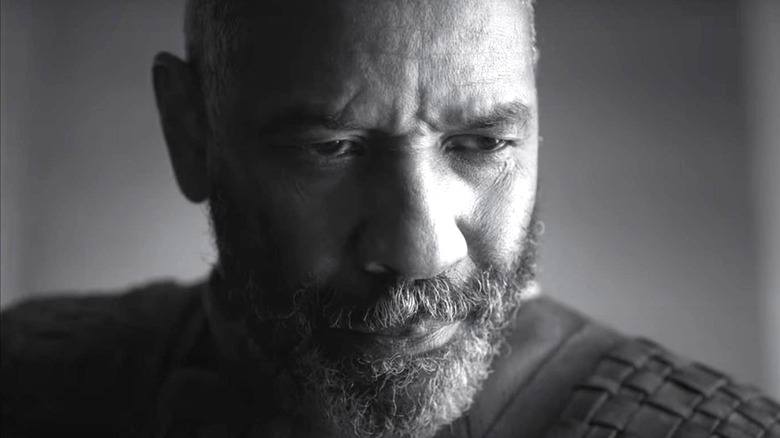 A24
There are few, if any, filmmaking tandems in history who've had as much success or longevity as Joel and Ethan Coen. Since bursting onto the scene with 1984's neo-noir masterpiece "Blood Simple," the Coen Brothers have gone on to craft one of the most revered and diverse oeuvres in the annals of modern cinema. Along the way, they've also conjured a singular cinematic style that can only be described as "Coenesque." So beloved have the works of the Coen Bros. become by cineastes and industry types alike, it's almost unimaginable to believe one of the brothers might a movie without the other by his side. And yet, that's just what's happened with Joel Coen's "The Tragedy of Macbeth," which finds the elder Coen working for the first time without his brother Ethan.
That's not entirely by choice, with Ethan apparently opting to take some time away from the movie biz. It seems Joel has no intention of stepping away from cinema anytime soon, and the new film finds the elder Coen adapting a famed theatrical work from the bard himself, William Shakespeare. Judging from the first trailer for Coen's "The Tragedy of Macbeth," the writer-director has crafted a brooding beast of a film in his first solo effort.
Joel Coen is clearly going big with his first solo effort
Fear not, Coen fans, as "The Tragedy of Macbeth" trailer will be more than enough to get you psyched for Joel's solo project. Said trailer arrives just days ahead of the film's world premiere at the New York Film Festival and portends darkly cinematic delights worthy of Shakespeare's pitch-black source material. It also features some of the familiar faces of "The Tragedy of Macbeth" all-star cast, which includes Denzel Washington, Frances McDormand, Harry Melling, Corey Hawkins, Brendan Gleeson, and Ralph Ineson.
If you're unfamiliar with the Shakespeare play that inspired Coen's film, it tells the twisted tale of the titular Scottish lord (Washington), who's driven to violently overthrow his king by the influence of a trio of witches, and his overly ambitious wife (McDormand). There's naturally more to the story, but if you've never read the play we wouldn't dream of spoiling a single manic moment therein.
As for the trailer, it errs on the side of brief at a mere 55 seconds. Still, the stark black-and-white images within prove the film will be nothing if not a visual stunner. That footage teases a handful of key scenes from the play, and is backed by an eerily percussive soundtrack along with the play's famous line, "By the pricking of my thumbs, something wicked this way comes." That something wicked heads to theaters everywhere on December 25, 2021, and hits Apple TV+ less than a month later on January 14, 2022, so Coen fans can mark their calendars.