This Is How James McAvoy Really Feels About Potentially Returning As Professor X In The MCU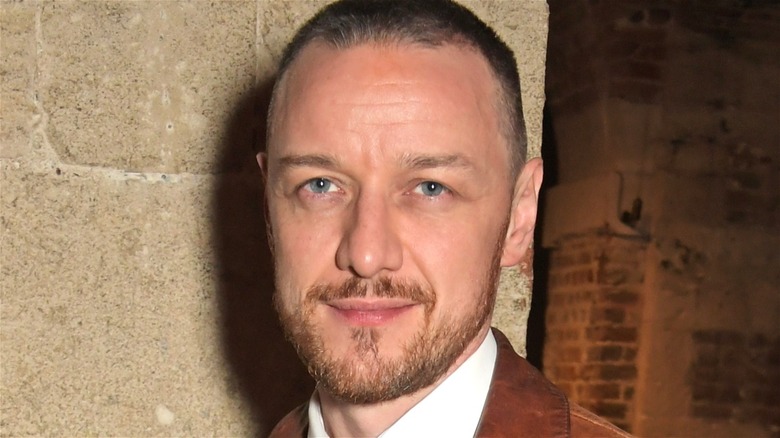 David M. Benett/Dave Benett/Getty Images
As Disney and Marvel Studios prepare to merge the "X-Men" franchise into the increasingly all-encompassing Marvel Cinematic Universe, rumors carrying various degrees of legitimacy have circulated online about what the studio's mysterious plans for the popular Marvel property might be. Right at the center of many of those rumors is speculation about who Marvel will cast in the roles of Professor X and Magneto. Originally played on-screen in the early 2000s by Sirs Patrick Stewart and Ian McKellen, respectively, the roles were eventually taken over by younger stars for a series of "X-Men" film prequels.
The most recent man to play the part of Charles Xavier was none other than James McAvoy, who wowed crowds with his emotionally resonant take on the character across multiple films, beginning with 2011's "X-Men: First Class." However, despite how beloved his performance as the character is by comic book fans, McAvoy's time as Professor X seems to have come to an end with 2019's "Dark Phoenix," which stands as the last "X-Men" film made prior to Disney's acquisition of 20th Century Fox, the film studio responsible for the McAvoy-led "X-Men" films.
Of course, that doesn't mean McAvoy won't ever return to the role. In fact, in a newly released conversation, the actor explained the circumstances under which he would be willing to return to the world of mutants.
James McAvoy would return as Professor X, but only if the writing is good
Speaking with Comicbook.com, James McAvoy showed some willingness to reprise his role as Charles Xavier, saying, "I'm all about doing good stuff, and when I got asked to play Charles the first time, it was good stuff." The actor was first cast in the role for the critically beloved "X Men: First Class," which chronicles the origin of the comic book friendship and rivalry between Professor X and Magneto (Michael Fassbender). "It was good writing, and I was excited," McAvoy continued. "If people offer me good writing, I'm always going to be excited." To counter that enthusiasm, McAvoy added, "I do feel like I've had a good ending with Charles and I got to explore some really good stuff, particularly in the first two movies."
When it comes to the upcoming introduction of mutants into the MCU, McAvoy seemed deferential to the wishes of the studio. The actor called Kevin Feige and Marvel Studios "clever people," before adding, "They're so good at putting their stuff together. They'll figure out where to do it, but that might not involve people who've done it before."
"Spider-Man: No Way Home," notably, promises to bring back actors from past, non-MCU Marvel films, which means there is the potential for certain actors from Fox's "X-Men" films to reprise their roles in the MCU as well. For his part, however, McAvoy seems to be keeping a level head about the odds of him returning, saying, "It might be a complete reimagining. And as a fan, I'm down for that as well and I'd be excited to see what happens next."