Is Bob Hearts Abishola Based On A True Story?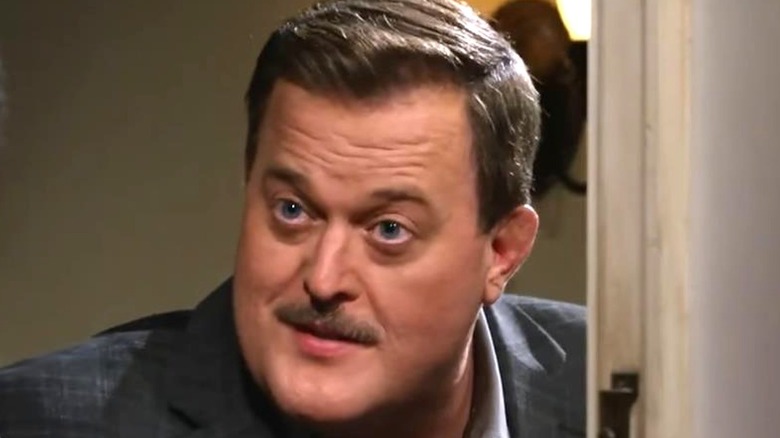 CBS
The CBS sitcom "Bob Hearts Abishola" has been charming fans for three seasons. The gentle romantic comedy, which debuted on the network in 2019, follows Bob (Billy Gardell), the head of a compression sock company, who suffers a heart attack. When he wakes up in the hospital, he bonds with and subsequently falls in love with his nurse, Abishola (Folake Olowofoyeku). Abishola is a Nigerian immigrant with a young son, Dele (Travis Wolfe Jr.), a close-knit traditional family, and a marriage that was never properly dissolved when her first husband moved back to Nigeria. Bob comes with baggage, too, including a divorce, an overbearing mother named Dottie (Christine Ebersole), and an undisciplined younger brother named Douglas (Matt Jones). Things are rocky for Bob and Abishola as they enter into this unlikely romantic relationship. But, as time goes on, Bob's determination, coupled with Abishola's kind heart, ultimately wins the day. 
The couple is preparing for their wedding at the start of Season 3, and, as Bob and Abishola contemplate major life changes, fans of the series may be wondering if this show is based on a true story? Are there real-life counterparts of Bob and Abishola out there somewhere? Here's what we know.
Bob Hearts Abishola's story draws from some significant real-life experiences
"Bob Hearts Abishola" isn't based on a true story; instead, the CBS dramedy draws on real-life experiences from co-creator Gina Yashere, as well as one of the show's stars, Folake Olowofoyeku. In a December 2020 interview with Essence Magazine, Yashere revealed that some of the things Abishola experiences in the series echo events she and her mother went through as Nigerian immigrants living in England. She shared, "The show is mainly based on my life. Abishola is that single mother whose husband went back to Nigeria because there were no opportunities for him. That is my story. That is my mother's story."
Yashere continued, "She was left in England raising us when my dad went back to Nigeria. So there's a lot of stuff in Abishola that is one hundred percent based on my actual life, and it's kind of nice, bringing my story to screen but, also, bringing the culture to screen."
Another real-life element "Bob Hearts Abishola" incorporates into its story comes from Olowofoyeku's background. The actress opened up in a 2019 interview with The Hollywood Reporter and explained how two key aspects of her identity are incorporated into the character of Abishola. 
Olowofoyeku told THR, "I grew up in Nigeria, and I'm also Yoruba. So, it's almost like all I need to do is to draw from my memory, the memory of my mother, the memories of my aunties, the memories of all the women in my life growing up, and that's what feeds the character. Abishola is based on my mom and all the Yoruba women in my life."