The Director Of Dear Evan Hansen Made The Film On One Condition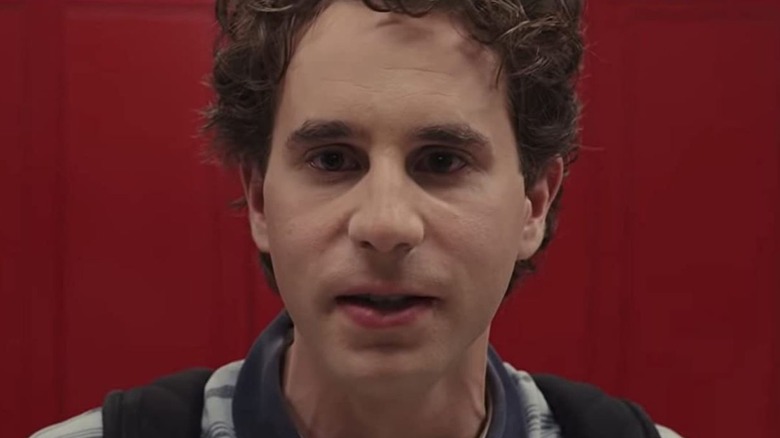 Universal Pictures
When it comes to creating stories for the big screen, adapting a hit play or musical that originated on the Broadway stage has generally been as difficult as adapting a screenplay from a beloved novel. Simply put, fans of either medium may have a difficult time when they go to a movie with preconceived notions of who should be playing what role, and in some cases, singing the character's tunes.
Director Stephen Chbosky faced that very quandary in turning the popular Tony Award-winning Broadway musical "Dear Evan Hansen" into a feature film. Having earned a Best Actor in a Leading Role in a Musical Tony Award for star Ben Platt, the love and adulation for "Dear Evan Hansen" transcended the Broadway stage, as the soundtrack featuring the original cast members became a hit with music lovers (via Billboard). Singing the memorable tunes penned by "The Greatest Showman" and "La La Land" songwriters Benj Pasek and Justin Paul, Platt not only became the face of the character on Broadway, but he also gave Evan Hansen a voice to listeners all over the world.
But with Platt becoming dangerously close to aging out of the teenage role that he originated on the stage in 2015 and played through 2017, Chbosky was faced with a crucial make-or-break decision: Could "Dear Evan Hansen" be made with somebody other than Platt as the titular lead?
Chbosky would only direct the film if Ben Platt starred as the lead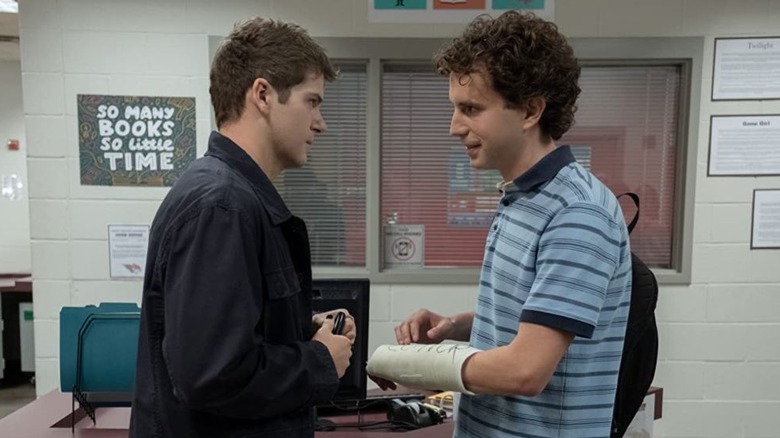 Universal Pictures
"Dear Evan Hansen" is a delicate, if not controversial story that chronicles the plight of the title character as the high schooler struggles with social anxiety. Tasked by his therapist to write a letter to himself every day to anticipate the good things that will happen in his life, Evan instead writes and prints out a letter at school that asks if anybody would notice he was gone if he suddenly disappeared.  
Evan's life changes dramatically, though, when a mentally unstable outcast named Connor (Colton Ryan) snatches the emotional letter from him. Things get worse when Connor dies by suicide and has Evan's letter in his pocket, and the teen's family, seeking comfort, mistakenly embraces Evan as they believe he was their son's only friend. Unable to tell Connor's family the truth, Evan decides to lie about the "friendship," which spins horribly out of control when he decides to make up more stories about the two.
Punctuating the story is Pasek and Paul's emotionally resonant soundtrack, which features Platt performing on the majority of the songs. In an interview with The Hollywood Reporter at the "Dear Evan Hansen" premiere in Los Angeles, Chbosky said the only way he would direct the film was with Platt playing the lead. "It was always Ben," Chbosky told THR. "Having heard the soundtrack and knowing what it was, understanding his connection to it from the very first workshop, it was him or nothing."
About Ben Platt's age ...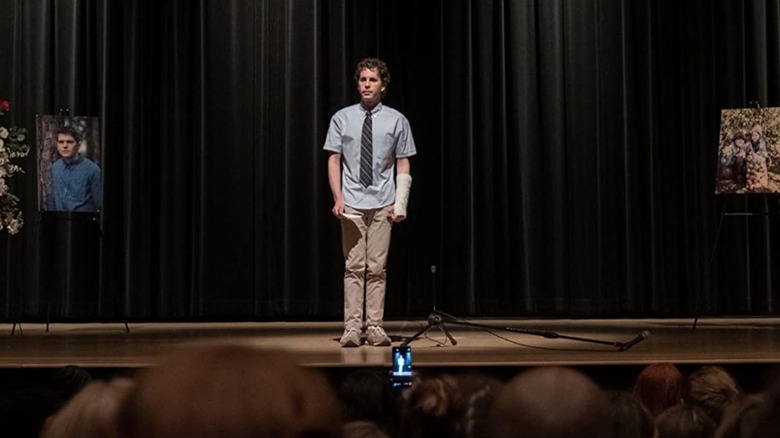 Universal Pictures
Universal Pictures, which produced "Dear Evan Hansen," apparently shared Chbosky's sentiments when it came to the director's stance on casting Platt, even if critics questioned whether the actor could still play a high schooler. Luckily, Platt — who showed off his singing talents to movie audiences in the first two "Pitch Perfect" movies — still looks youthful as he prepares to celebrate his 28th birthday on September 24.
"I was very nervous and very scared to do it, but Universal and Chbosky and the creatives expressed that the only version of the film they wanted to make was with me," Platt admitted to THR. Ultimately, Platt got over the flap over his age by realizing who "Dear Evan Hansen" was potentially going to reach and hopefully touch.
Talking about how the movie could be relevant in this day and age, Platt told the outlet that he hopes "it encourages people to keep going" in one way or another. "I know a lot of young people are having a lot of added mental health issues because of the pandemic, as we all are, and I think that seeing a character who goes through something really difficult and makes a big mistake and does something really horrible — not only to be able to understand where that comes from but to watch him move forward after that," he added.
"Dear Evan Hansen" opens in theaters Friday, September 24.
If you or anyone you know is having suicidal thoughts, please call the National Suicide Prevention Lifeline​ at​ 1-800-273-TALK (8255)​.