The Surprising Impact Alicia Vikander Had On The Set Of Blue Bayou - Exclusive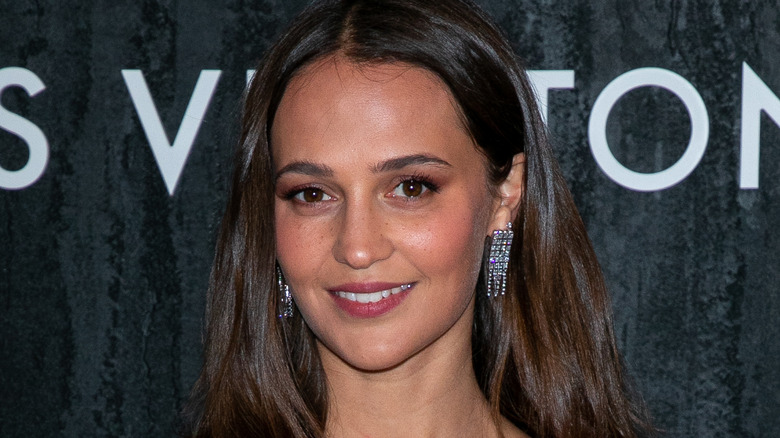 Marc Piasecki/Getty Images
When Justin Chon ("Twilight," "Gook") set out to make "Blue Bayou" — which he wrote, directed, and stars in — he wanted to shine a light on a questionable U.S. immigration policy that allows foreign children adopted by U.S. citizens to be deported decades later. The film, which is out now in theaters, follows Korean-born Antonio (Chon) who was brought to the U.S. for adoption when he was just three years old and, 30 years later, has a run-in with the law that leaves him fighting for his freedom — and his family.
Enter Alicia Vikander, who plays his distraught but determined pregnant wife Kathy. Vikander won an Oscar for her role in "The Danish Girl" and also starred in the 2018 reboot of "Tomb Raider," so portraying a salt-of-the-earth, blue-collar worker from Louisiana is a new direction for the Swedish actress. But Chon knew she had it in her. In fact, when Looper exclusively interviewed Chon, he explained why Vikander was right for the role and the surprising impact she had on the set of "Blue Bayou."
Alicia Vikander's mere presence on the set of Blue Bayou helped 'elevate' the film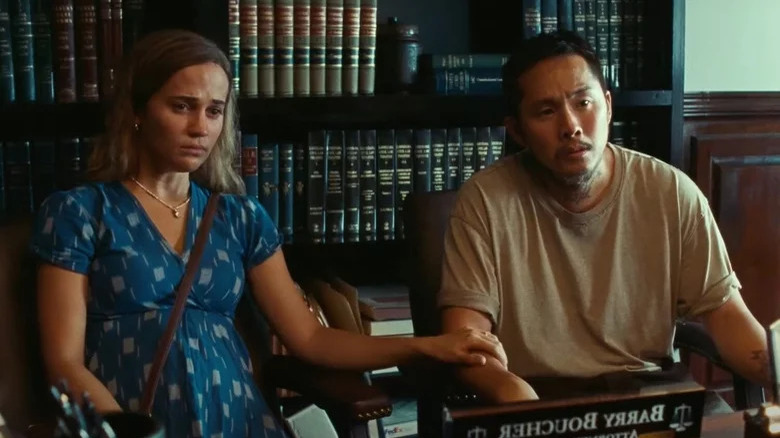 Focus Features
As for why Chon thought Vikander was right for "Blue Bayou" and the role of Kathy, despite the fact that she done mostly "corset dramas" in her past, he says, "I mean, who wouldn't [want] Alicia? She's incredibly talented. I saw her first film, 'Pure,' before all the other films that made her famous and I just couldn't forget about her. It was a Swedish film ... I had no doubt in my mind that she could play blue-collar. I think people have kind of put her in this category of these period pieces — 'corset dramas' — but I just knew that she had it."
As for the impact she had on the set of "Blue Bayou," Chon says she helped the film reach its full potential. "She really did elevate everybody on the film, especially me," he says. "Being in those scenes with her made my acting so much more elevated — reacting opposite Alicia Vikander, you just have to listen and respond."
In addition to this being one of Vikander's first working-class roles, it was also the first time she sang in front of the camera. It was a scene that Vikander told Looper made her "so nervous" that she was "freaking out" prior to filming the performance. But Chon says that wasn't the impression he got at all.
"She's a pro," says Chon. "If she was [shaking], she hid it very well. And for me, it was more important [to show] the emotion she was singing with, rather than her singing skills, but it was a pleasant surprise when we rehearsed it and she was an incredible singer. I was like, 'I just hit the jackpot!' She's just so wonderful."
"Blue Bayou" is now playing in theaters.