How Karaoke Helped Alicia Vikander Prepare For Her Crucial Role In Blue Bayou - Exclusive Interview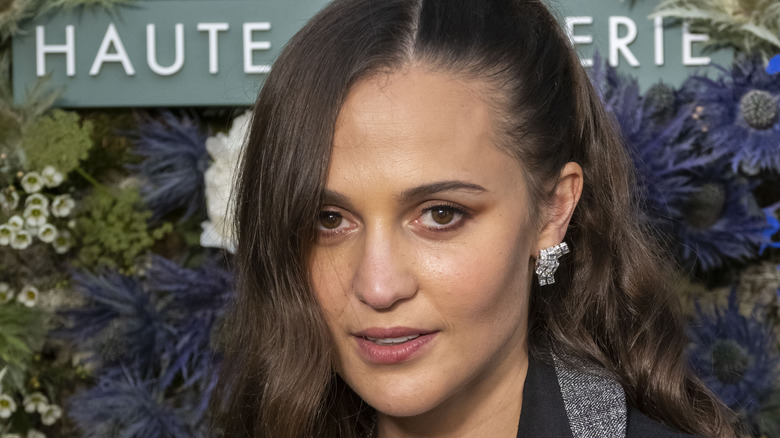 Arnold Jerocki/Getty Images
Alicia Vikander may be best known for playing Lara Croft in the 2018 "Tomb Raider" film, but her acting credits run much deeper than that. In 2015, she won Best Supporting Actress at the Academy Awards for her role in "The Danish Girl," and she has appeared in such high-profile films as "Anna Karenina," "Ex Machina," and "Jason Bourne."
Vikander's latest film, "Blue Bayou," takes her to a new place, where she portrays the pregnant wife of an American man of Korean descent who is in jeopardy of being deported. As Kathy, Vikander gives a subtle yet agonizing performance as a woman who's about to lose her family to a questionable U.S. Immigration and Customs Enforcement loophole. Written, directed, and starring Justin Chon ("Twilight," "Gook"), "Blue Bayou" is currently out in theaters.
Vikander spoke to Looper exclusively about "Blue Bayou" — detailing why she feels this is a new chapter in her career and how her husband, "X-Men" actor Michael Fassbender, helped her prepared for the role — and gave an update on the status of the next "Tomb Raider" film.
Until Blue Bayou, Alicia Vikander felt like she was being typecast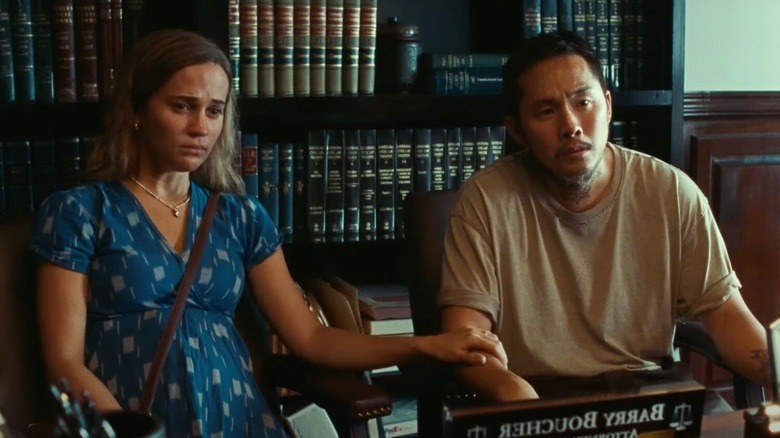 Focus Features
What attracted you to your "Blue Bayou" character, Kathy? And why is this a story that's important to be told?
I mean, first of all, the subject matter itself grabbed me when I read Justin's script. It was a story I just couldn't understand — with these adopted children who've got legal situations where their countries can deport them away from their own children and families. So that grabbed me. I went online to Google it because I couldn't believe that any country that I knew of would have this. And it is not just in America, but everywhere.
Plus, I'm a big admirer of Justin. I followed his career since "Gook" came out of Sundance years back and think he's a very interesting filmmaker. And after I had been on Zoom with him, after I read the script, I just really, really wanted to work with him.
As for Kathy ... it's interesting because I haven't really been offered parts similar to Kathy before, especially maybe in America, because at the beginning of my career people maybe thought that I was British and played a lot of royal characters. And people somehow just connected those because I had done ballet and maybe would be from a similar background.
Anyway, so the first thing Justin said on the phone was, "I watched the first film you ever made, a Swedish film called 'Pure,' and I can see where you're from, more of a town in Sweden." And he was like, "Is that your background?" I was like, "Yeah, that's how I grew up." And he was like, "That's not far away from the characters in my film." I was like, "I know they're American, they're from Louisiana, but they're probably a lot closer to my reality, or the environment that I grew up in, even if it was another part of the world in Sweden." And I was like, "This is a really a part that I would love to explore." So, it was nice that he was the one who dared to trust this Swedish woman to play Kathy from Louisiana, which was a big thing for me.
Alicia Vikander was left 'shaking' on the set of Blue Bayou when she had to sing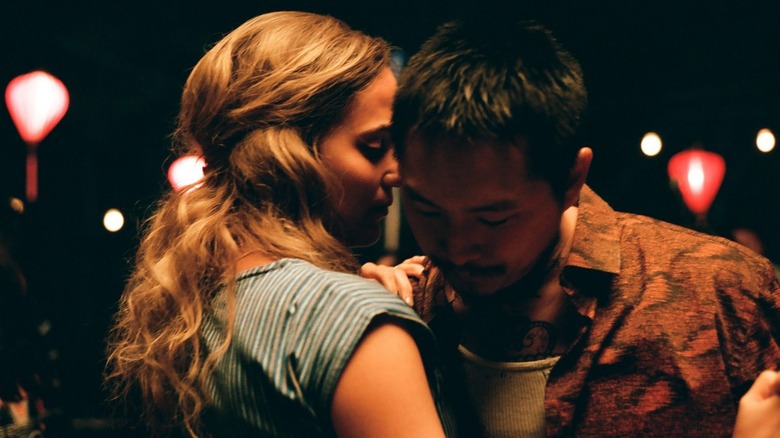 Focus Features
You get to sing for the first time on camera in "Blue Bayou." What were your first thoughts when you stumbled upon that in the script? And do you have any past singing experience?
Yeah, it's Linda Ronstadt, which was the version of the song ["Blue Bayou"] that I knew. Amazing performance and such a beautiful, heartbreaking song, but it's not easy. Funny enough, my husband [Fassbender] was filming in Hawaii, so we met up there and we did karaoke. And I said, "Time for you to sing [this song]." And he did. Then he turned to me and was like, "Oh, my God, it's actually not an easy song to sing." I was like, "I told you!"
I had told him that when I had read the script the first time. And I was like, "Well, this is the title of the film, so I'm not going to ask to change the song." And he was like, "Okay, sure. It's a good song."
And of course, I was walking around at home, freaking out. And then we got on set, and I very clearly remembered that on "Anna Karenina" I had an episode where I couldn't stop shaking when I was filming, because I was so nervous. I didn't get to the same level on "Blue Bayou", but I got up on that stage that night and my hand was vibrating a lot. And I thought to myself, "Wow, you've done this ... you should be a professional." So I tried to hide it. But I was able to really talk to myself and was like, "Okay, get over it." And then I started to sing, and that helped. It is such a beautiful song, and in the end, I think it's my favorite scene in the film.
The beauty with music is that it is kind of a direct access to emotions. And with that scene, it's also in a place in the film where this couple's hands are tied. They're put in this terrible situation where they can't do anything. They're kind of in the hands of the authorities and what they're going to do to their family. And the song itself, when it might be very tricky for them to find the words to try and connect and get through it together, the song kind of becomes a way for them to just magically connect.
Alicia Vikander reveals the one thing about playing Lara Croft she could live without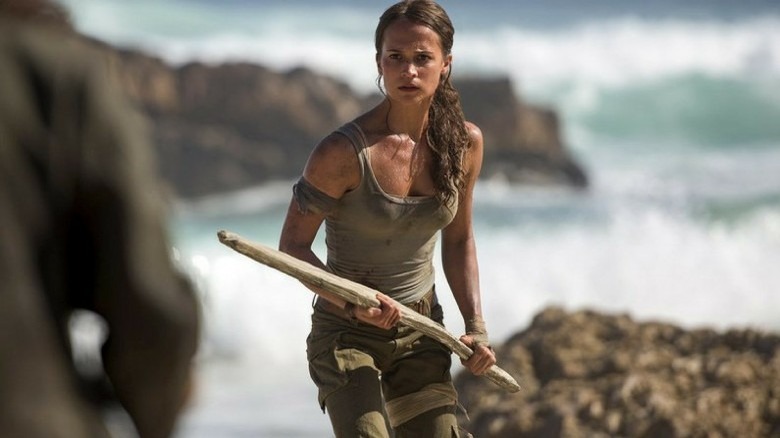 Warner Bros. Pictures
Asian representation in Hollywood has been on the upswing in recent years — particularly since "Crazy Rich Asians" was a hit — but there's still a long way to go. How do you feel "Blue Bayou" helps move the needle on that front? And was that important to you going into filming?
Yes, for sure. I mean, that was one of the first things I was interested in ... and I give this to Justin. He's an amazing actor, but he just couldn't get work as an American because his parents are Korean. And he then took it all in his own hands and was like, "Well then, I'm going to go and write this, and I'm going to direct it." And then, of course, he knocked it out of the park. And even on set, I think it was one of the most multicultural sets I've ever been on. And we talked about the definition of what it is to be an American or Swedish, or whatever it is. And that's the beauty — when we tell stories, we want everyone to be included because then also we get the most wonderful journey that we haven't seen on camera before. If anything, I'm excited because I feel like we're living in a world where we finally can have time where there's going to be a lot of stories that surprise us and things that we just haven't seen before. We now finally live in a world where all people will be able feel like they can tell their stories.
What can you tell us about "Tomb Raider 2"? And what's the toughest thing you've had to do as Lara Croft?
What's the toughest thing I had to do? Being cold. And that is absolutely true. This is something that happens a lot in filming, especially for myself and my career. I've spent a lot of time in cold water, but nothing as much as I did in "Tomb Raider." I was really hypothermic one day, where I needed help. I think I spent three weeks on that gimbal submerged in water. And it was definitely some of the most pain I've taken in my life. I'm from Sweden, but I do not like being cold.
As for "Tomb Raider 2," we have Misha Green, who is right now working on the script. And I think now we are all just waiting for answers, having a chat with the studio, because everything shut down during the pandemic. So yeah, I have my hopes up that hopefully we're going to get the chance to do it again.