Check Out The First Trailer For Muppets Haunted Mansion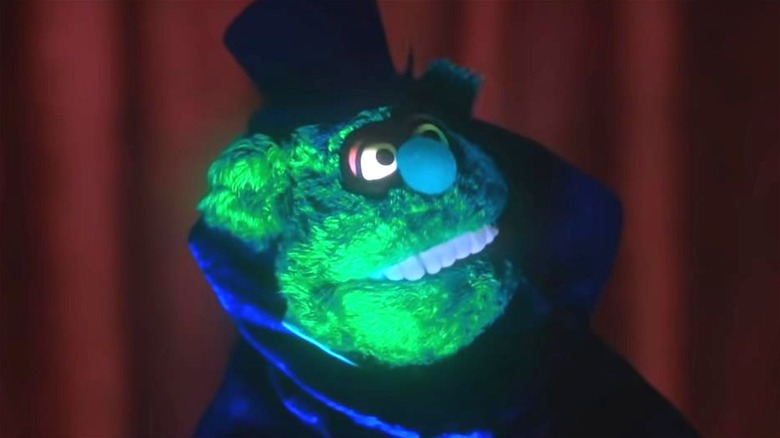 Disney
It's the time of the year when scary stuff reigns supreme, and Disney+ knows exactly what you need to maximize your goosebumps for the spooky season: The Muppets. In a move inspired by Disney's thrilling "Haunted Mansion" ride — and, possibly, the slightly less thrilling movie based on said ride — everyone's favorite puppet heroes are set to be scared in "Muppets Haunted Mansion." 
This is far from the Muppets' first venture in the land of genre films. From "The Muppets Treasure Island" and "Muppets from Space" to "The Muppets Christmas Carol" and "The Muppets Wizard of Oz," there are few places they haven't been willing to venture, and let's be honest, some light-hearted haunted house horror might work very well within their universe. Now, if only there was a trailer that could offer eager fans a sneak peek at the hair-raising things to come ... oh, wait, there is. The first trailer for "Muppets Haunted Mansion" just dropped, and it's nothing short of haunting in all the right, Muppet-y ways. 
Gonzo and Pepe are in for one terrifying night
The new trailer for "Muppets Haunted Mansion," posted on the Disney+ YouTube channel, reveals that the movie's plot revolves around Gonzo (voiced by Dave Goelz) and Pepe the King Prawn's (Bill Barretta) plans to spend the night in a highly haunted house, in order to complete a "special Halloween challenge." Said challenge, naturally, turns out to involve far more scares than either Muppet would have liked, as the titular mansion is filled to the brim with ghostly versions of other muppets.
The trailer also gives us a glimpse of several ghastly characters portrayed by live actors. The most prominent among them would appear to be Will Arnett's Ghost Host and Taraji P. Henson's Constance Hatchaway, though the trailer also lists Darren Criss' Caretaker and Yvette Nicole Browns' Hearse Driver before even Kermit the Frog himself (Matt Vogel). The trailer also teases plenty of cameos from famous faces, including Danny Trejo as a ghostly prisoner, Alfonso Ribeiro as what appears to be a spectral cowboy, and many others. All in all, it looks like poor Pepe and Gonzo are in for a night of their lives — and so are you, when "Muppets Haunted Mansion" premieres on Disney+ on October 8.