Disney's Haunted Mansion - Everything You Need To Know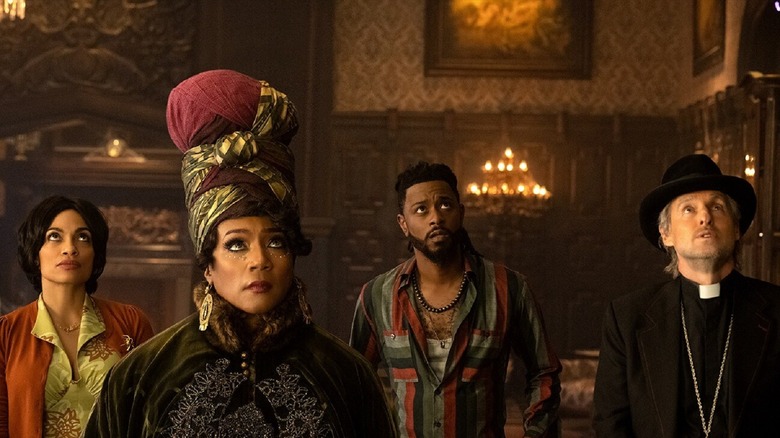 Jalen Marlowe/Disney
The House of Mouse loves making movies based on popular rides at Disney World and Disneyland. Sometimes, these adaptations are huge hits, a la "Pirates of the Caribbean," and sometimes they're major disappointments, like "Tomorrowland." Sometimes they're an absolute blast, a la "Jungle Cruise," and sometimes they're absolutely baffling, such as "The Country Bears."
And then there's "Haunted Mansion," based on the beloved Disneyland dark ride. While the film grossed $182 million worldwide, its budget was a reasonably high $90 million, and the film was panned by critics and audiences alike. However, there's something especially cinematic about that particular attraction, so it makes sense that Disney would want to give the ride another go-round.
Just like a ghost rising from the grave, "Haunted Mansion" has returned to terrify audiences. The upcoming film looks like it could be quite fun, and if you want to know more about the A-list cast, who's directing, and what this spooky tale has in store, read on for what we know so far about the new "Haunted Mansion" movie.
When will Haunted Mansion be released?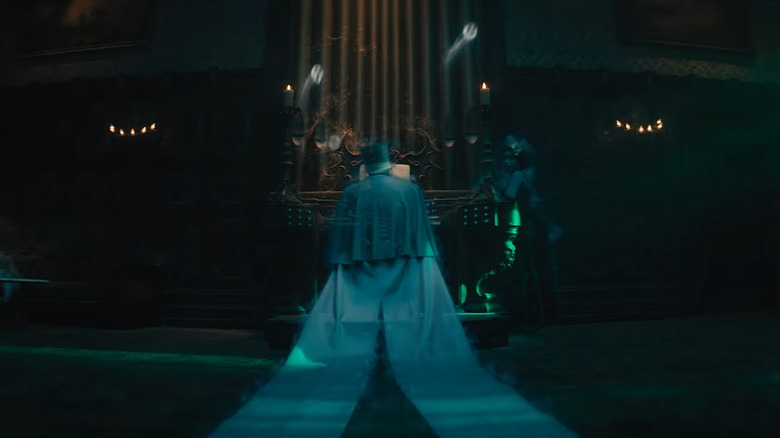 Disney
Disney's "Haunted Mansion" is set to scare audiences on July 28, 2023. However, that wasn't always the case. That release date has been a bit of a cursed one for Disney. Originally, it was supposed to be the premiere for "Ant-Man and the Wasp: Quantumania." However, "The Marvels" — which was originally set to be released in February — needed more time to complete, so the two superhero movies swapped places.
Then, "The Marvels" was pushed back from its July release date to November, reportedly because it needed more post-production work. With that July 28 slot empty, the House of Mouse decided to bump up "Haunted Mansion" from its original release date of August 11. While we personally think a fall release date would've been a bit more appropriate, given it's spooky season, Disney evidently thinks "Haunted Mansion" has blockbuster potential.
For their sake, we hope they're right. "Haunted Mansion" will be competing against some stiff competition. Both "Barbie" and "Oppenheimer" will be in their second week of release when "Haunted Mansion" comes out, and "Mission: Impossible – Dead Reckoning Part One" hits theaters that month as well. We'll see if "Haunted Mansion" can spook the competition.
What is the plot of Haunted Mansion?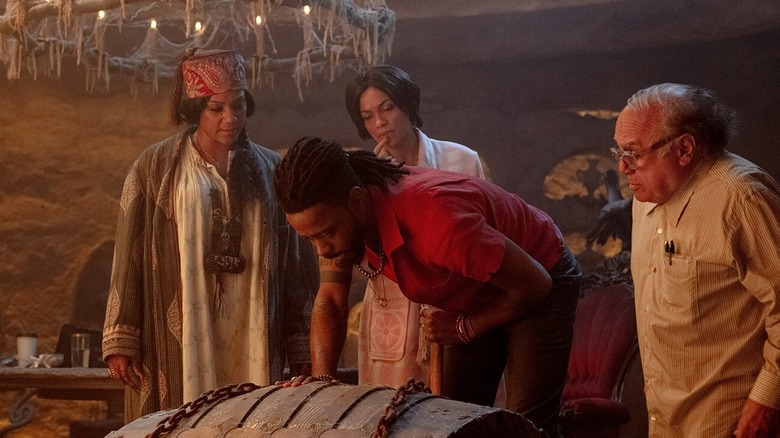 Jalen Marlowe/Disney
"Haunted Mansion" kicks off with Gabbie, a single mother who's just purchased a creepy-looking house in New Orleans. Excited about what the future holds, she moves into the mansion with her 9-year-old son, who's not quite as excited about being in the uber-spooky house. Turns out, the kid is right — the place is crawling with ghosts, and these aren't exactly your friendly Casper types. Realizing they're in way over their heads, Gabbie recruits a group of unlikely heroes — a priest, a psychic, a historian, and paranormal expert — to get rid of the evil spirits occupying the manor. Of course, that's going to be easier said than done, resulting in both horror and hilarity.
Who is starring in Haunted Mansion?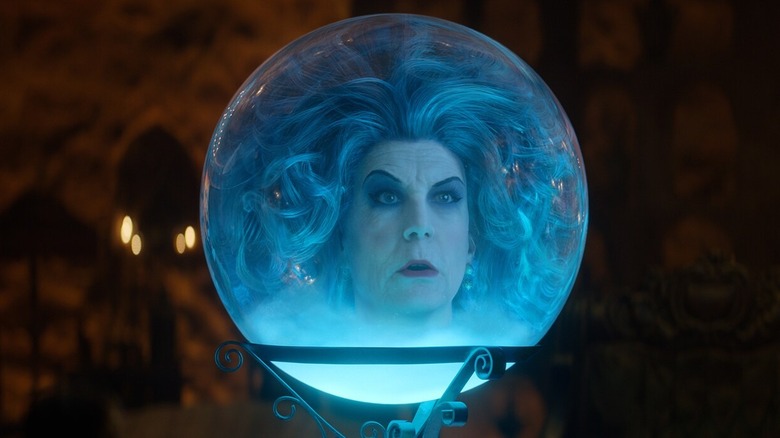 Disney
Just like the titular haunted mansion is full of specters, the "Haunted Mansion" movie is full of stars. Rosario Dawson plays Gabbie, the single mom who must protect her son and exorcise her new New Orleans home. Dawson is no stranger to the Disney family, as she's also playing Ahsoka Tano in Disney+'s "Ahsoka" series. She's also starred in projects like "Daredevil," "The 25th Hour," and "Sin City."
Her young son, who seems to know from early on that something isn't right with this house, will be played by Chase Dillon. A young star on the rise, Dillon is probably best known for his chilling turn as Homer in "The Underground Railroad." Here, he stars along some serious talent with LaKeith Stanfield ("Atlanta") as a sketchy paranormal expert, Owen Wilson ("Loki") as an eager priest, Tiffany Haddish ("The Afterparty") as a psychic, and Danny DeVito ("It's Always Sunny in Philadelphia") as a historian.
Of course, they aren't the only names in this stacked cast. Jamie Lee Curtis, fresh off her Oscar win for "Everything Everywhere All at Once," also appears in the film, as does Jared Leto of "Morbius," who will appear as the ghastly Hatbox Ghost. They'll be joined by Winona Ryder of "Stranger Things," Dan Levy of "Schitt's Creek," and Hasan Minhaj of "Patriot Act."
Who is directing Haunted Mansion?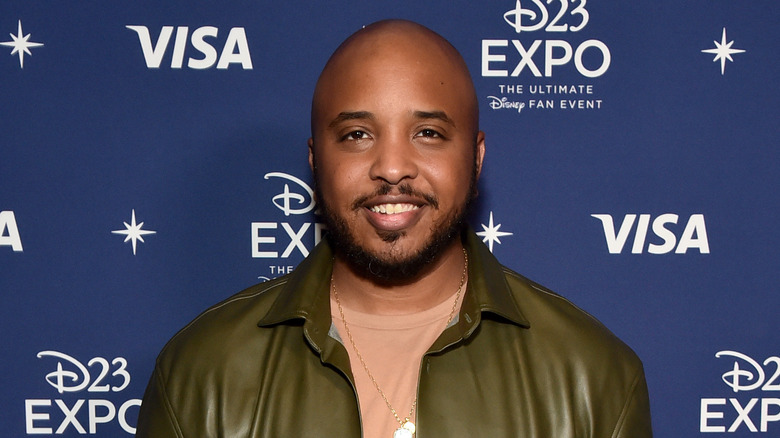 Alberto E. Rodriguez/Getty Images
Before he became an acclaimed director, Justin Simien used to work at Disneyland. "It was the best summer job I ever had," he told audiences at D23 in September 2022. "And anytime I wasn't working on the ride I was supposed to, I'd ride Pirates and my favorite ride, Haunted Mansion." Clearly, the attraction holds a special place in Simien's heart, which makes him the perfect choice to helm the upcoming family horror flick.
While Simien doesn't have a ton of previous credit, the stuff he has worked on has impressed many a critic. He burst onto the scene with 2014's feature-length "Dear White People," a savage satire that he adapted into a celebrated Netflix series. He also directed the horror comedy "Bad Hair," and now he's bringing those sensibilities over to Disney. We can't wait to see what Simien has in store, and judging by the trailers, it looks like it's going to be a blast.
Who is writing Haunted Mansion?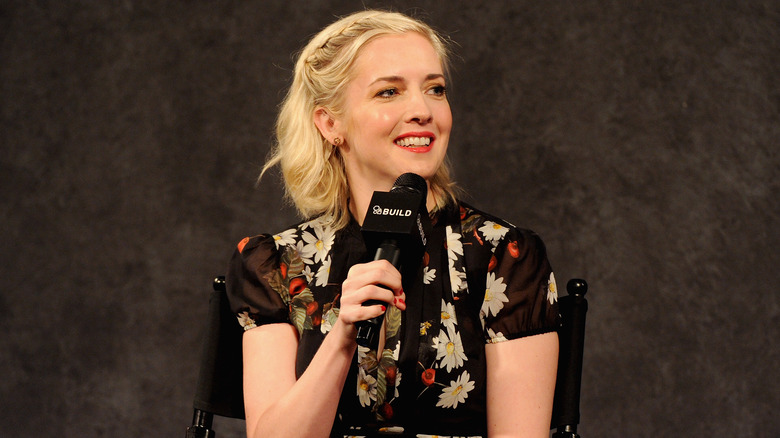 Craig Barritt/Getty Images
Screenwriter Katie Dippold has quite a bit of experience blending gags with ghosts. In addition to penning the script for "Haunted Mansion," she also wrote the screenplay for 2016's "Ghostbusters." Dippold is definitely known best for her comedy cred, as she also wrote "The Heat," which starred Sandra Bullock and Melissa McCarthy, as well as several episodes of "Parks and Recreation," including classics like "Indianapolis," "Beauty Pageant," "Summer Catalog," and "April and Andy's Fancy Party."
Director Justin Simien seems quite impressed by Dippold's work. Speaking at D23 in September 2022, the director said, "For me, there was something about that ride I felt was there in the script. It was funny and full of interesting characters but with a dark edge to it."
Is there a trailer for Haunted Mansion?
The official trailer for "Haunted Mansion" opens with LaKeith Stanfield's paranormal expert showing up at the scene of the titular haunted house. "Wait!" Rosario Dawson's Gabbie shouts before he can come through the door. "I should warn you before you step inside the house, this could change the course of your entire life." "I'm not afraid of a couple of ghosts," he says defiantly, to which Dawson laughs, "You say that now..."
It's a decision the ghost hunter will come to regret, as a ghostly specter hurls an ax at his head basically the moment he starts poking around. From there, we watch as the dream team assembles, with Owen Wilson's priest, Danny DeVito's historian, and Tiffany Haddish's medium showing up on the scene. They're greeted by pistol-dueling spirits, twisting hallways, the terrifying Hatbox Ghost, and the head of Jamie Lee Curtis.
The stakes are incredibly high — if our heroes fail, they'll be stuck in the house for eternity — and this motley crew are in for the fight of their lives. Of course, while the trailer is definitely spooky, it also looks like a rollicking good time that pays the proper tribute to the beloved ride.
What is Disney's Haunted Mansion rated?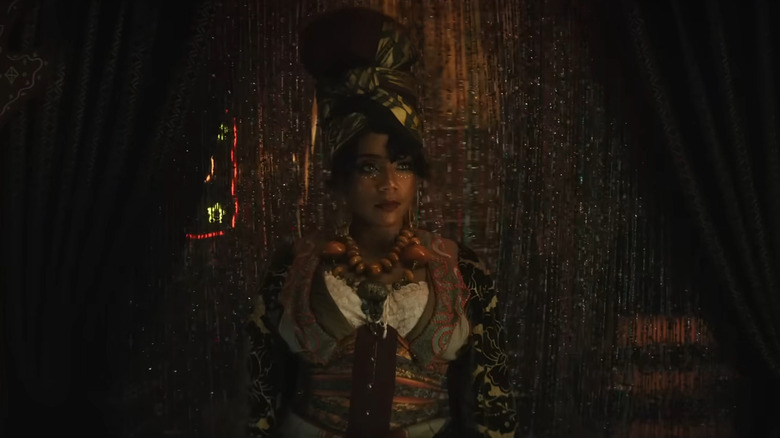 Disney
Sure, it's a Disney film, but "Haunted Mansion" is going to be a bit spookier than your typical offering from the House of Mouse. As a result, the rating reflects that. This ghost story is rated PG-13 for "some thematic elements and scary action." It's not unheard of for Disney films to receive this rating, especially their live-action fare. Think of titles like the "Pirates of the Caribbean" movies or "Jungle Cruise," and those were all PG-13 pictures, perfect for most members of the family. In other words, while this movie isn't meant for the littlest ones, it's going to be totally fine for most kids.