It's Always Sunny In Philadelphia Season 13 May Be Delayed A Year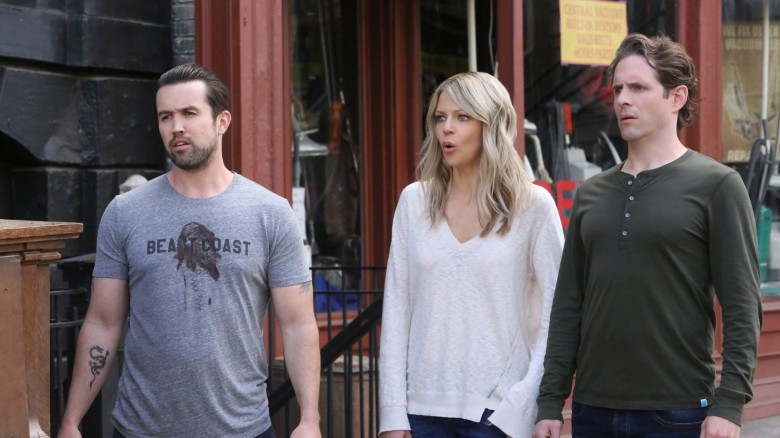 We may have to wait a lot longer for It's Always Sunny in Philadelphia's thirteenth season than we initially thought. Star Kaitlin Olson recently confirmed to TV Guide that production will be pushed back a year to accommodate the casts' other projects.
One of those other projects is Olson's comedy The Mick, which is headed into production for its second season on Fox this summer. "We ended up pushing our next season a year because we were all busy with separate projects this year," Olson said. "So at the end of this coming shooting season of The Mick I'll step right into Sunny after that."
She isn't the only one who is busy with other things, though. Rob McElhenney needs a break to direct an upcoming Minecraft movie, while Danny DeVito is currently starring in a Broadway play. (He is also in talks to star in Disney's live-action Dumbo remake, but he and Charlie Day have both managed to juggle movie careers with It's Always Sunny for years.) Not in consideration for the hiatus, according to Olson, is Glenn Howerton, who may or may not be leaving the show if his NBC pilot gets picked up. Olson didn't comment on his future on the series, but she did say that the hiatus wasn't meant to accommodate his schedule and that she was unsure about his future plans.
If Olson's comments are true (a rep for FXX said production dates have yet to be determined), it could mean we don't see another season of It's Always Sunny in Philadelphia until early 2019, which is sure to upset many of the show's loyal fans. Still, it makes sense that the talented cast would want to branch out, and it's nice to hear that they still want to find a way to do more of the show, even with their careers taking off. For now, though, read up on a fan theory that will change the way you see It's Always Sunny in Philadelphia.