Shows Like The Undoing That Mystery Fans Need To Watch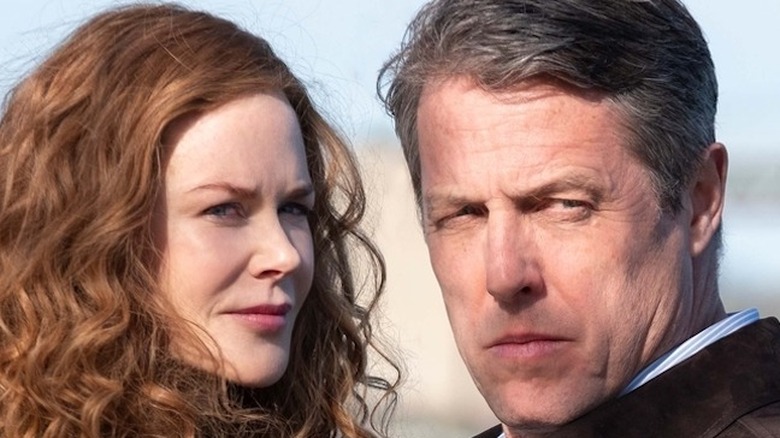 Niko Tavernise/HBO
HBO's limited series "The Undoing" features a doozy of a mystery: Elena Alves (Matilda De Angelis), a woman that psychologist Grace Fraser (Nicole Kidman) knows through her son's school, is found dead and almost simultaneously her husband Jonathan (Hugh Grant) goes missing, kicking off a chain of shocking revelations. 
Episode after episode, new secrets are exposed until the truth about what really happened to Elena is uncovered — as well as what it means for Grace and her family. But the whodunit at the heart of "The Undoing" is only one of the reasons people adore the show. Starring huge names like Kidman, Grant, and Donald Sutherland, helmed by celebrated director Susanne Bier, and created and written by multiple Emmy winner David E. Kelly, "The Undoing" is the epitome of a prestige production. But it's also far from a one-off.
Recently, television has featured a number of shows whose plots center on investigations into mysteries that also serve as a jumping-off point to examine the complicated characters involved in them. These shows often feature big stars, hard-hitting themes, and gripping plots, offering further proof that we're still in the golden age of television. If you couldn't get enough of "The Undoing," here are 14 other mystery series that you should check out.
Big Little Lies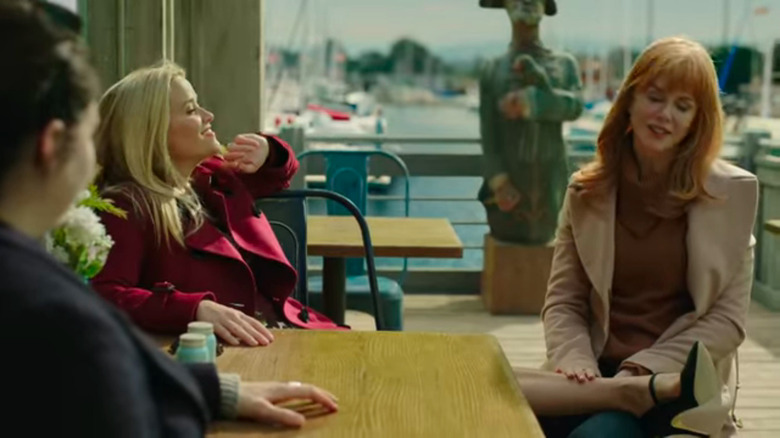 HBO/YouTube
If one of the reasons you were drawn to "The Undoing" was the involvement of Nicole Kidman, then "Big Little Lies" should be your next binge. Another HBO series based on a novel that was created by David E. Kelly and directed by respected auteurs — Jean-Marc Vallée in Season 1 and Andrea Arnold in Season 2 — the show revolves around a group of five women, played by Kidman, Reese Witherspoon, Laura Dern, Shailene Woodley, and Zoë Kravitz, whose seemingly perfect lives hide far darker realities. Much of the show delves into the complexities of their families and the different challenges they face, but from the outset of Season 1, the story presents a juicy murder mystery that will keep you searching for clues in each and every scene.
While Season 1 answers the big questions of who died, who killed them, and why (in its final episode), Season 2 details the aftermath, introducing a new character played by the magnificent Meryl Streep and tracing the women's ongoing trials and tribulations, including their pact to keep what really happened the night of the murder a secret. If you enjoyed the combination of domestic drama and murder mystery in "The Undoing," you'll find the first season of "Big Little Lies" delivers similar thrills. And once you get to know this group of characters, you'll want to continue to follow them in season 2. It remains to be seen if there will be a third season.
The Flight Attendant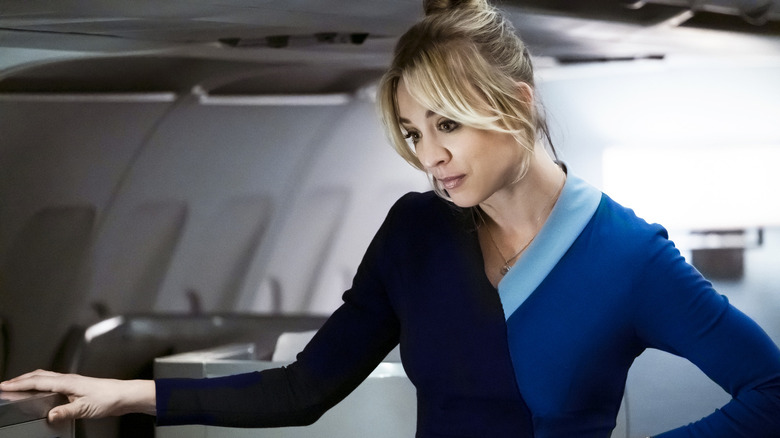 Phil Caruso/HBO
"The Flight Attendant" counts as one of the early successes of WarnerMedia's subscription streaming service HBO Max. Starring Kaley Cuoco as Cassie, the titular flight attendant, the show is looser and funnier than "The Undoing," but still features a screw-turning mystery. Cassie is an alcoholic who can barely keep her life together, so when she wakes up hungover next to Alex Sokolov (Michiel Huisman), a passenger on the flight to Bangkok she worked on, it doesn't seem out of the ordinary. That is, until she realizes the man's throat was cut at some point during the night. Since she has no idea if she is responsible for the crime, Cassie panics, cleans up the evidence, and leaves as if nothing happened.
The trouble is she can't get the thought of Alex out of her head — literally, as she has full-blown conversations with him in her mind — and that leads her to start investigating his murder on her own, even as the FBI conducts an official investigation in which Cassie is a prime suspect. What follows is a nail-biting adventure as Cassie tries to stay sober long enough to figure out exactly what sort of mess she's found herself caught up in. You'll find yourself rooting for Cassie no matter her flaws, so it's good to know she'll be back on TV screens again when the second season of "The Flight Attendant" lands next year.
The Night Of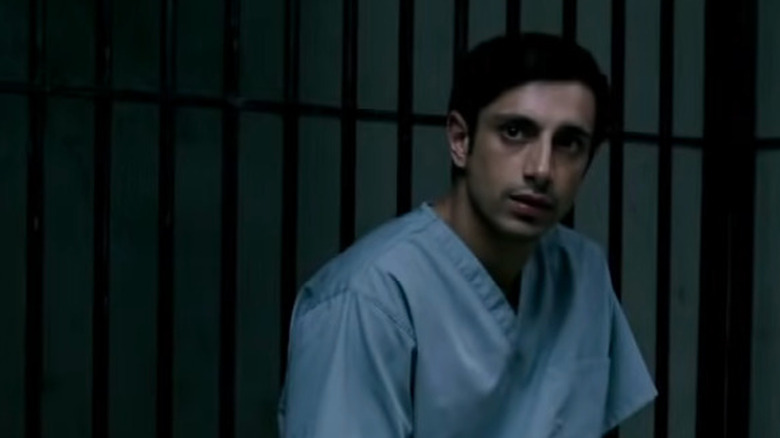 HBO/YouTube
If you're looking for a mystery with all the prestige trappings of "The Undoing," but want something that takes place outside the rarified environments of the one percent, "The Night Of" is a great choice. The show centers on Naz Khan (Riz Ahmed) a Pakistani-American college student who steals his father's cab one night with the intention of going to a party. He changes his plans after picking up a young woman who he ends up getting high and spending the night with, only to wake up the next morning to discover she's been stabbed to death. Naz is soon arrested for the crime and finds representation in seen-it-all lawyer John Stone (John Turturro), who works to uncover what really happened the night of the murder.
As new evidence comes to light, "The Night Of" keeps you guessing about Naz's guilt, especially as he gets in deeper with Freddy (the late great Michael K. Williams), an untouchable prisoner on Rikers Island, while he awaits trial. The show is an intriguing mix of lurid mystery and commentary on the criminal justice system and the role money plays in it, making for a story that's both thought-provoking and thoroughly engaging.
Little Fires Everywhere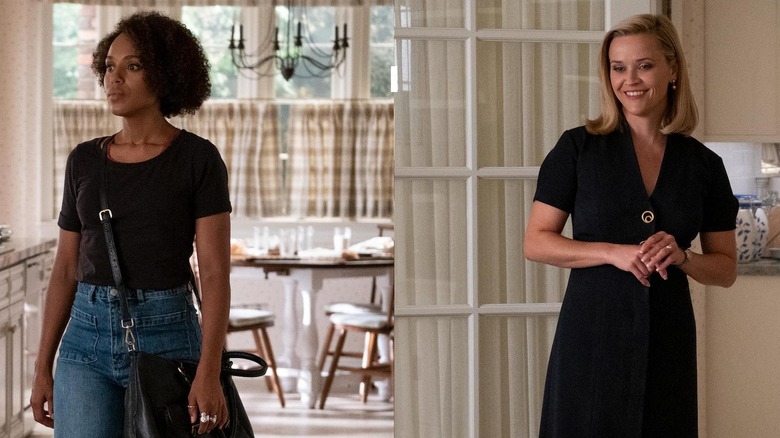 Erin Simkin/Hulu
Like "The Undoing," Hulu's "Little Fires Everywhere" delves into the intricacies of family relationships, particularly the ins and outs of maternal love and the different forms it can take. Based on the best-seller by Celeste Ng of the same name and starring Reese Witherspoon and Kerry Washington, the show is set in Shaker Heights, Ohio in 1997 where the seemingly perfect lives of the Richardson family are thrown for a loop by the arrival of single mother Mia Warren (Washington) and her daughter Pearl (Lexi Underwood). The story is framed by the question of who is responsible for burning down the Richardson's home, a deeply personal mystery with an answer that has everything to do with who these characters are and who they want to be.
Perhaps the show's biggest mystery is Mia, an enigmatic artist whose entanglements with the Richardsons and Bebe (Huang Lu) — an undocumented immigrant trying to regain custody of her daughter — dredge up the secrets of her surprising past. The show is a deeply-involving drama whose mysteries only serve to make it more propulsive. When powerhouse actors Witherspoon and Washington go toe-to-toe over thorny issues, you won't be able to look away.
Nine Perfect Strangers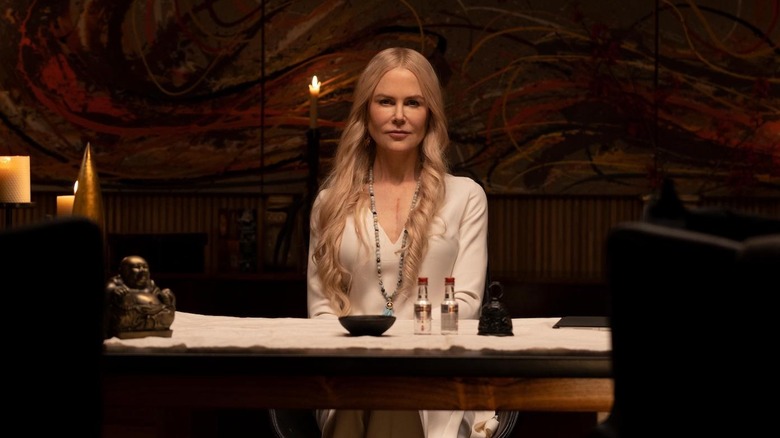 Vince Valitutti/Hulu
If you just can't get enough of Nicole Kidman, "Nine Perfect Strangers" is another great choice in her recent career run. Like "The Undoing," Kidman teamed with creator David E. Kelley to make the show, which just wrapped its first season on Hulu. The mystery here revolves around a wellness resort called Tranquillum House, where nine hand-selected people gather in a bid to heal their hearts and improve their lives. The retreat is run by Masha (Kidman), an inscrutable woman whose plans for her guests may not be as well-intentioned as they seem. In each episode, a little more about each of the guests' backgrounds is uncovered, yet the most insidious question mark of the story remains Masha — who is preoccupied with her own secrets, including the fact that she's been receiving death threats.
While curiosity about the show's various mysteries keeps the story moving along, the stellar ensemble cast makes "Nine Perfect Strangers" worth a watch. Ace actors like Melissa McCarthy, Michael Shannon, Luke Evans, Samara Weaving, Regina Hall, and Bobby Cannavale bounce off one another in scene after scene, bringing all the nuance and texture to their characters that one could possibly hope for. As they peel back the layers of these conflicted people, you'll find yourself identifying with their various struggles, and wondering whether Masha's intervention will really help them.
Veronica Mars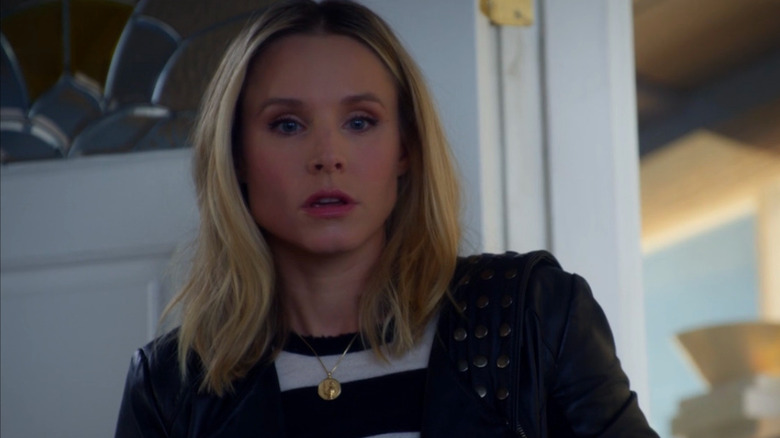 Hulu
"Veronica Mars" is the oldest series spotlighted here, and given the current love for tightly scripted serialized mysteries like "The Undoing," the UPN series could be seen as ahead of its time. While it only lasted three seasons after its 2004 launch, it won an avid cult following due to its winning ensemble and, especially, its title character (a savvy teen detective winningly played by Kristen Bell), whose carefree life is uprooted by the death of her best friend, Lilly Kane (Amanda Seyfried), and her own sexual assault. This was a network show, so it had to balance Veronica's ongoing investigations into her personal tragedies with cases of the week. Still, Veronica is so much fun to spend time with, her relationship with her father Keith (Enrico Colantoni) is so endearing, and the haves-versus-have-nots setting of Neptune, California is so fully realized, that it's easy to fall for the show — and that's not even taking into consideration the love triangle.
"Veronica Mars" fires on all cylinders from its very first episode, and with mysteries galore, it's sure to satisfy any fan of the genre, especially in its fantastic first season. Even better, the show's die-hard fanbase has rallied more than once to ensure its continuation, which so far has included a 2014 film funded by a hugely successful Kickstarter campaign and a Season 4 revival on Hulu in 2019, so if you like it, you can even follow Veronica into adulthood as she takes on brand new investigations.
Mare of Easttown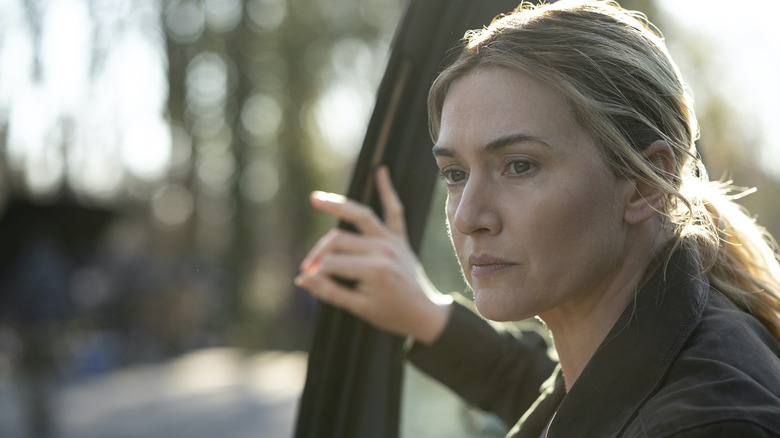 Michele K. Short/HBO
Like "The Undoing," HBO's "Mare of Easttown," a darling of the 2021 Emmys, combines the mystery surrounding a shocking murder with an examination of the main character's personal life. In this case, however, it's Mare Sheehan's job as a police detective to solve the killing. "Mare of Easttown" could have been a fairly standard police procedural but between an incredible performance by Kate Winslet as Mare and a deeply felt sense of place, the show has a lived-in specificity that makes it especially compelling.
Mare has lived in the same small town outside Philadelphia her entire life and, because she knows almost everyone there, her investigation of the murder of a teenage mother comes under intense scrutiny — a reality further complicated by a year-old missing person case involving an acquaintance's daughter that she never managed to solve. Meanwhile, at home, Mare must deal with her responsibilities as a mother and grandmother and grapple with her grief over the recent loss of her son. All this adds up to a rich story whose central mystery viewers are invited to solve alongside Mare, making it feel as if you're right there with her as she follows new leads and uncovers shocking clues.
Defending Jacob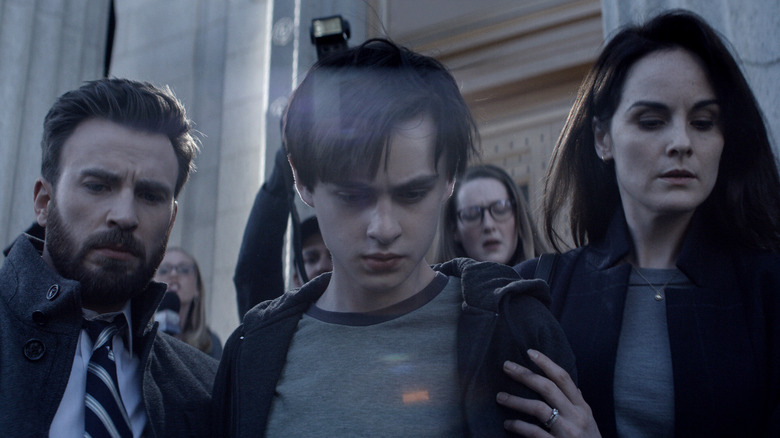 Apple TV+
If you found the legal machinations of "The Undoing" particularly engrossing, then "Defending Jacob," a limited series on Apple TV+, will help you further scratch that itch. The series begins with the discovery of a murdered teenage boy, a case initially given to assistant district attorney Andy Barber, played by Chris Evans in his first major role after stepping down as Captain America in the Marvel Cinematic Universe. However, when suspicion settles on Andy's son, Jacob (Jaeden Martel), things quickly change as Andy and his wife Laurie (Michelle Dockery) do everything in their power to prove their son's innocence.
While much of the show takes place in courtrooms, lawyer's offices, or legal consultations, the most captivating part of the story revolves around the question of what really happened and whether Jacob could truly be responsible. Andy's faith in Jacob is unwavering, but Laurie has her doubts. This enables the series to touch on issues like how well we know our family members and how responsible we should feel for their actions — themes are also tackled by "The Undoing," although in "Defending Jacob," it all leads to a shocking twist that speaks to the limitations of even the closest relationships.
The Sinner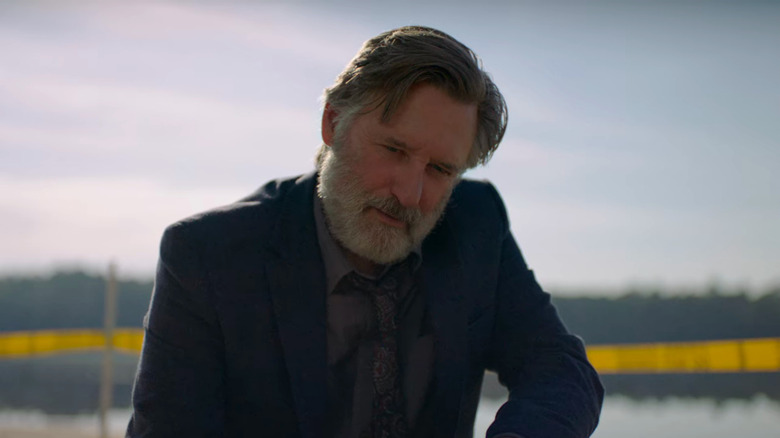 USA Network
If you relished learning more about why the central murder at the heart of "The Undoing" happened and wanted even more details about the killer's motivations, you'll find "The Sinner" especially satisfying. That's because the USA Network anthology series isn't a whodunit but a whydunit. The show, which already has three seasons under its belt and is poised to release a fourth, identifies the culprit of the case that animates each season during the first episode. With the question of who out of the way, the show turns its attention to why the perpetrator would be compelled to commit murder at all. While each season focuses on a new case, the series is tied together by the presence of Bill Pullman's police detective Harry Ambrose, whose obsession with his investigations make him brilliant at his job and a disaster in his personal life.
Harry is deeply interested in the people involved in his cases, and his dogged pursuit of the truth uncovers fascinating revelations that both perpetrators and victims typically kept deeply buried. Each season rotates in a new cast of outstanding actors, including Jessica Biel in Season 1, Carrie Coon in Season 2, and Matt Bomer and Chris Messina in Season 3. While all the seasons aren't equally effective, they all offers their own unique insights and unpredictable conclusions.
Perry Mason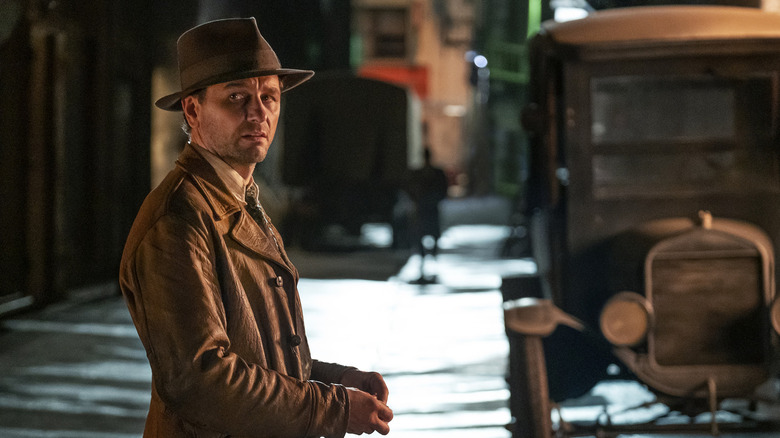 Merrick Morton/HBO
If you adored the style of "The Undoing" and are looking for another dazzlingly designed production, take a look at "Perry Mason." Though the HBO revival is set in 1930s Los Angeles instead of present day New York like "The Undoing," "Perry Mason" is a visual feast with a gripping mystery to go with it. 
An origin story of the renowned defense attorney and classic Raymond Burr character before he became a champion of the innocent, the series starts with Mason (Matthew Rhys) as a drunken private investigator who's struggling to cope with his divorce and PTSD from his service during World War I. When defense attorney E.B. Jonathan (John Lithgow) hires him to investigate the gruesome kidnapping and murder of a baby boy, it seems like he may not be capable of cracking the case. It turns out, however, that Mason has a natural talent for discovering the truth, as well as a passion for maintaining the integrity of the criminal justice system.
"Perry Mason" is a twist-filled mystery backed by crackling performances and a fully realized 1930s setting that heightens certain aspects of the story, especially the treatment of women and people of color. The show has been renewed for a second season, so after taking in Season 1, you can look forward to watching Mason evolve further in an all-new batch of stylish episodes sometime in the near future.
Unbelievable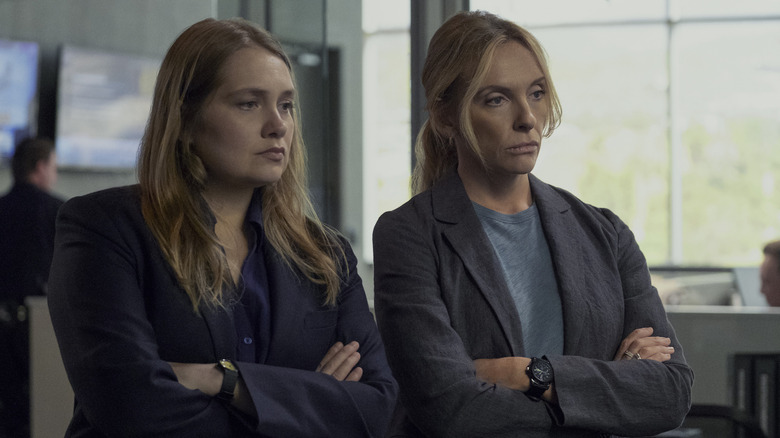 Beth Dubber/Netflix
Netflix's true-crime limited series "Unbelievable" is worth your attention if you enjoyed "The Undoing" but are craving something more grounded in reality. Based on actual reporting about a serial rape case, the show focuses on the sexual assault victims and the detectives who worked to bring the rapist to justice across two timelines. One takes place in Washington in 2008, where the police convince troubled teenager Marie Adler (Kaitlyn Dever) to retract the report of her assault, leading her to endure intense scrutiny by the media and negative posts on social media as well as a charge of false reporting. The other takes place in Colorado in 2011, where detectives Karen Duvall (Merritt Wever) and Grace Rasmussen (Toni Collette) team up when they realize they are both working sexual assault cases that seem to adhere to the same pattern.
The show follows the investigation by the detectives and contrasts it with the shame and humiliation Marie goes through, leading to a harrowing but powerful picture of the treatment sexual assault victims often endure, and the need to take their claims seriously. It's definitely not an easy watch, but "Unbelievable" is careful and controlled in its depiction of events, ultimately making for an absorbing watch that doesn't let the detectives' pursuit of the culprit get in the way of its compassionate portrait of the victims.
Sharp Objects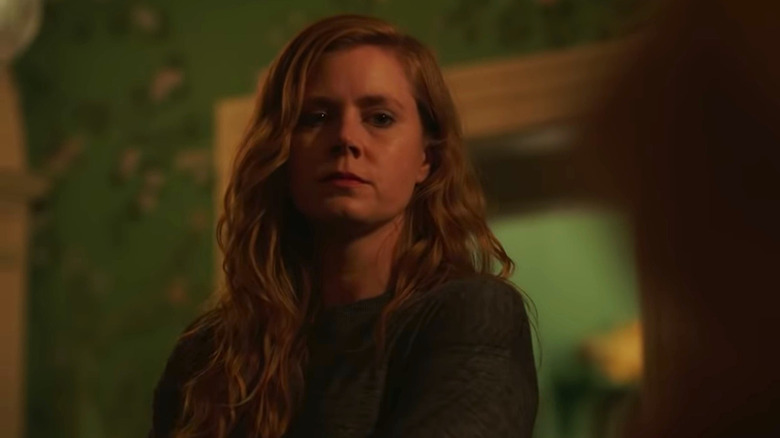 HBO/YouTube
Much like "The Undoing," this HBO series is a slow-burn mystery whose conclusion has highly personal implications for the main character. But with its messy protagonist and gritty setting, "Sharp Objects" is an even more haunting thriller, with an ending that will stick with you long after the credits of the final episode roll. 
Amy Adams stars as Camille Preaker, a reporter with a history of alcohol addiction and self-harm, who is ordered to return to her Missouri hometown to investigate the murder of one young girl and the disappearance of another. This puts her on a collision course with her disapproving mother Adora (Patricia Clarkson), whose propriety hides a toxic, overbearing attitude towards her children.
Camille's investigation into the murder not only puts her on a path to finding the perpetrator of the crimes, but also helps her uncover uncomfortable truths about her own family. The show is dark, both in content and visually, but Adams and Clarkson are superb. The more we learn about the broken Camille, the more repellant the house and town where she grew up seem — so when the final mind-blowing twist comes, it makes everything all the more horrific.
Alias Grace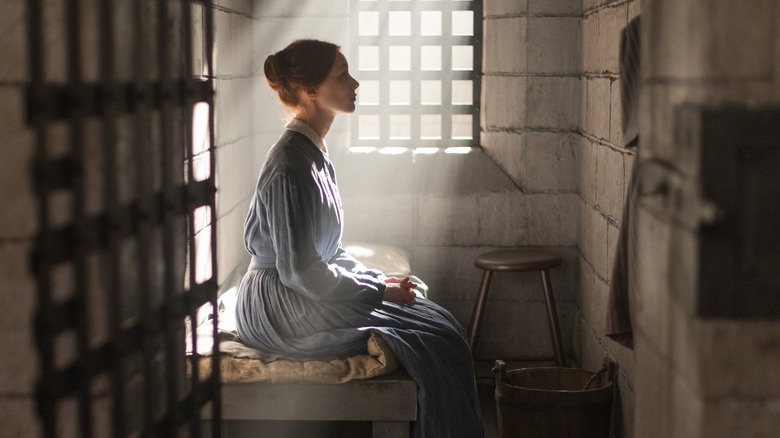 Sabrina Lantos/Netflix
Adapted from a work of historical fiction by famed author Margaret Atwood, Netflix's "Alias Grace" is more interested in the stories that enable us to make sense of a crime than in solving the crime itself. If you were fascinated by Jonathan's attempts to control the narrative in "The Undoing," you'll enjoy watching the way convicted murder Grace Marks (Sarah Gadon) does the same throughout "Alias Grace." 
When we meet Grace in Canada in 1859, she's already spent 15 years in prison for the murder of her employer (Paul Gross) and his housekeeper (Anna Paquin), although she claims to have no memory of the crime. She's become a minor celebrity and has drawn a group of supporters who would like to see the unassuming young woman pardoned, so they call in a doctor (Edward Holcroft) to question her, hoping he will uncover a reason for her exoneration.
Grace tells the doctor her life story, including her immigration from Ireland to Canada, the abuse she endured at the hands of her father, her first job as a maid, and how she became a servant in the house of the man she eventually murders. Grace may or may not be calibrating her story to garner sympathy and favor from the doctor, and we're never really sure if Grace is genuine or just an excellent liar. Either way, the yarn she spins is fascinating and will draw you in, no matter what conclusion you come to.
Homecoming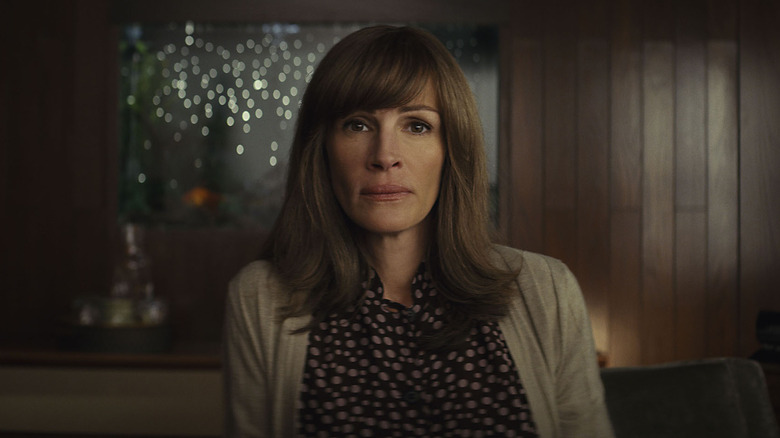 Amazon Studios
In "The Undoing," revelations about her husband lead Grace Fraser to look into his past to learn more about the person she thought she knew. In "Homecoming," Julia Roberts' Heidi Bergman also must learn more about someone she thought she knew, but in this instance that individual is herself. 
The Amazon Prime Video series presents two versions of Heidi: one in 2018 who works as a counselor at the Homecoming Transitional Support Center (a program that helps newly returned military personnel smoothly reintegrate into civilian life), and another in 2022 who works as a waitress and has no memory of her time at the support center. The show fills in the blanks of what happened at Homecoming that led to Heidi's missing memories.
Roberts' first TV outing is enhanced by Heidi's warm relationship with Walter Cruz (Stephan James), one of her clients at the Homecoming center, her volatile interactions with her supervisor Colin (Bobby Cannavale), and a nail-biting central mystery that turns the old adage "what you don't know won't hurt you" on its head. "Homecoming" also has a second season starring Janelle Monáe, and although it isn't nearly as enthralling as the first, it serves as a nice coda to Heidi's story while presenting an interesting (if more straightforward) new mystery.