Movies To Watch If You Love Blood In Blood Out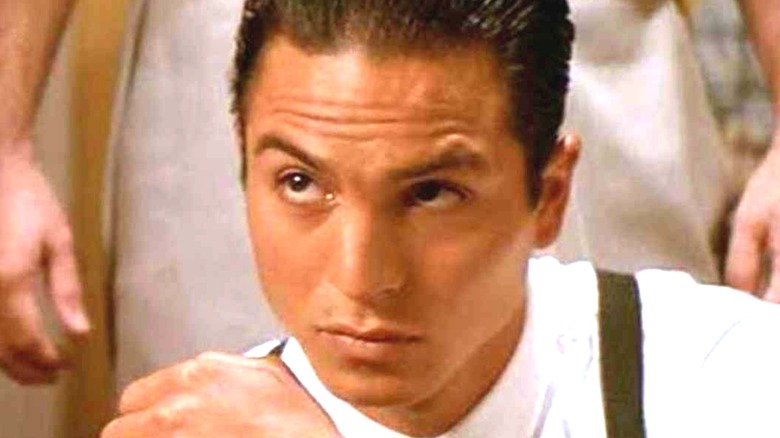 Buena Vista Pictures
Taylor Hackford's "Blood In Blood Out" — sometimes also known by the alternate name "Bound by Honor" — is one of those movies that serve as arguably the most typifying example of a very particular subgenre. It is, for starters, a crime drama, and one of the most popular ones of the nineties, too. But it sets itself apart from contemporaries like "GoodFellas" and "Heat" due to its focus on the Los Angeles Chicano subculture, of which it remains one of the most iconic screen depictions.
Structurally akin to classics like "The Godfather" in its years-spanning epic scope, "Blood In Blood Out" follows the lives of three relatives, Miklo Velka (Damian Chapa), Cruz Candelaria (Jesse Borrego), and Paco Aguilar (Benjamin Bratt), over the course of more than a decade, as they plunge ever deeper into the L.A. gang life. It's a formula that any number of crime flicks have executed to some measure of success, but this film's infusion of specificity and authentic perspective on the hardships of Mexican American life make it both unique and crucial in the historical continuum of what we might call "Chicano cinema." If you're a fan of "Blood In Blood Out," here are some examples of movies that share stylistic or thematic DNA with it, and which you'd do well to put on next.
American Me is another ambitious Chicano crime drama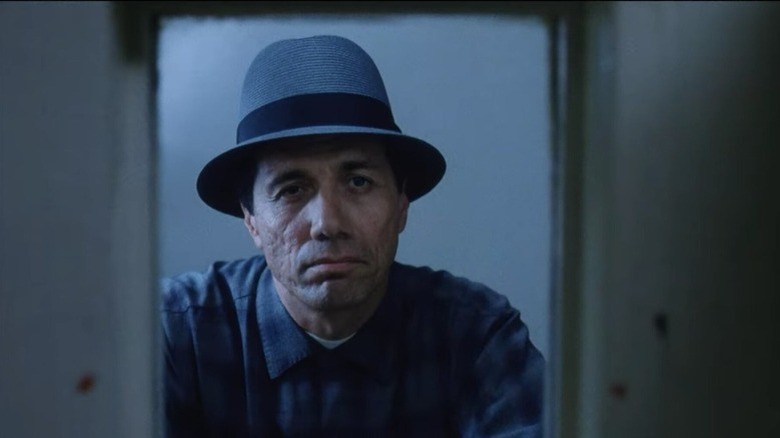 Universal Pictures
Edward James Olmos is one of the greatest Mexican American icons in the entertainment world, and his 50-plus-year career as a stage and screen actor has run parallel to several incursions into directing. The first of those incursions happened in 1992, with "American Me."
Like "Blood In Blood Out," "American Me" is an ambitious crime epic centered on the Los Angeles Chicano community. Olmos himself stars as Montoya Santana, a character loosely inspired by real-life mob boss Rodolfo Cadena (via The Cinemaholic). The film chronicles 30 years in Santana's life, from his beginnings as a teen gang member to his rise through criminal ranks in Folsom State Prison to his emergence as the leader of the powerful mafia known as La Eme — which he lords over from behind bars.
In addition to Olmos' powerhouse leading turn, "American Me" boasts some of the most finely detailed, diligently unglamorous chronicling of gangster life in the recent history of American cinema. Fans of "Blood In Blood Out" are likely to be familiar with it, but if you aren't, it is mandatory follow-up viewing.
South Central is epic and righteous in equal measure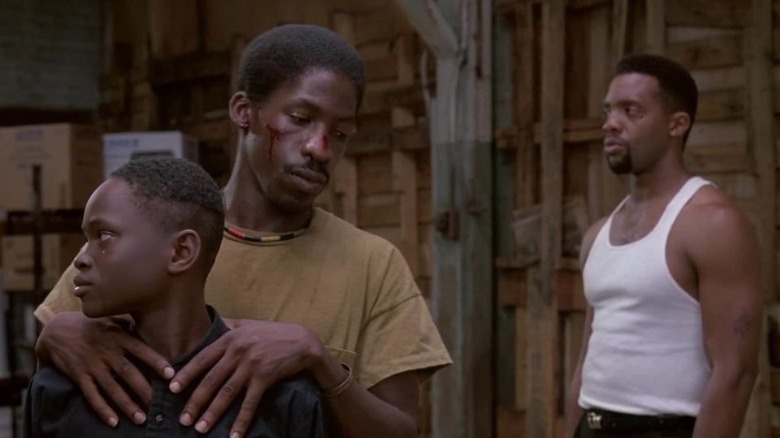 Warner Bros.
Another keystone film in the annals of 1990s Los Angeles crime cinema is "South Central." Much like "Blood In Blood Out" and "American Me," this film approaches the storied cinematic format of the "hood film" with a special focus on the prison life that inextricably defines urban gang activity. Unlike the two aforementioned movies, though, "South Central" centers on the titular neighborhood's African American community.
Made just prior to the 1992 L.A. Riots, "South Central" captures the fraught climate of violence, marginalization and hopelessness that led to them, demonstrating just how difficult in practice it was for Black Angelenos to adhere to the "upstanding citizenry" that the state and media demanded of them as a condition for non-hostile treatment. At the same time, the story of ex-con Bobby Johnson (Glen Plummer) and his effort to steer his son Jimmy (Christian Coleman) away from gang life works as a harrowing cautionary tale, to the point where some have decried the film as an anti-gang "afterschool special." Even if you find the touch of director Stephen Milburn Anderson to be a bit on the heavy side, though, "South Central" contains many of the same qualities that define "Blood In Blood Out," from the vast scope to the brazen sociological frankness.
Mi Vida Loca takes the women's view of L.A.'s Mexican American community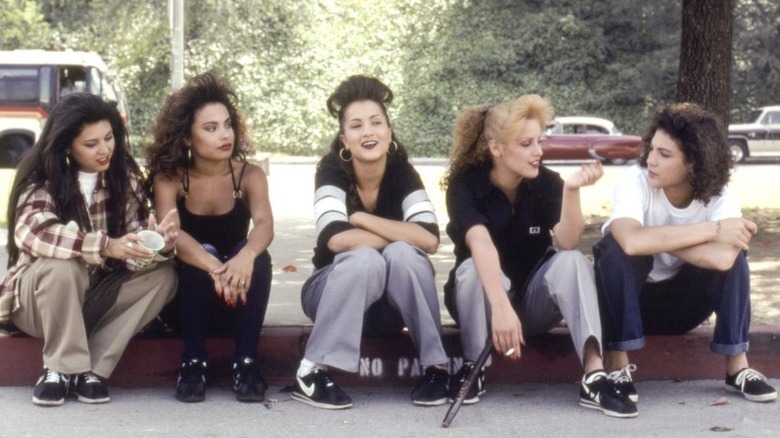 Sony Pictures Classics
For a vastly different yet equally authentic take on the struggles of Mexican American L.A. life, look no further than the women-driven, woman-directed 1994 indie "Mi Vida Loca."
The film, which offers a look at the lives and times of women in the gang hot spot neighborhood of Echo Park, was the third directorial effort of then-local Allison Anders, a legend of underground American film making. Inspired by Anders' conversations with her neighborhood's Chicana gang members, the film sought to scare up as much authenticity as possible by employing both professional and non-professional actors (via KQED).
Even though gang life is important to the film's plot, it is not properly a gang film. Instead, "Mi Vida Loca" angles on the everyday ups and downs of Sad Girl (Angel Aviles), Mousie (Seidy López), Whisper (Nelida Lopez), Giggles (Marlo Marron), and Baby Doll (Christina Solis) as they face the grind of raising their children right, honoring their friendships with each other under duress, and doing what it takes to survive. It makes for a brilliant, deeply felt character drama, and a snapshot of Chicana culture like no other.
City of God is one of the greatest crime dramas of all time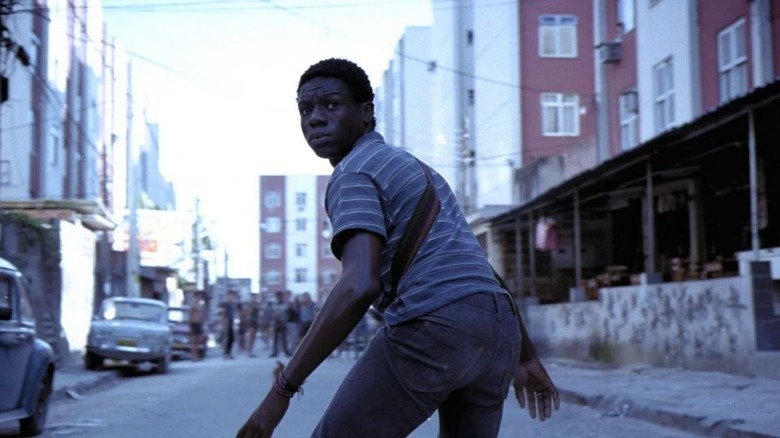 Miramax/Lumière
The most towering crime dramas in movie history, from "The Godfather" to "Once Upon a Time in America," are known for the deft balance they strike between magnifying the calamities of gangster life for maximum operatic intensity, and taking clear-eyed measure of its psychosocial roots, human toll, and ultimate futility. One of the things that make a movie like "Blood In Blood Out" special is the way it applies that kind of classic lens to characters historically absent from mainstream cinema, enshrining them in pop culture alongside the Corleones while simultaneously denouncing the conditions that forced them into a life of grand tragedy in the first place.
In that sense, "Blood In Blood Out" has a lot in common with one the greatest crime dramas of all time: Fernando Meirelles' "City of God." Hailed by some as the greatest Brazilian film ever, "City of God" is a document of life in the Cidade de Deus favela in Rio de Janeiro that pulses with the energy of a symphony and the complexity of a great novel. Its tripartite focus on Rocket (Alexandre Rodrigues), Li'l Zé (Leandro Firmino da Hora) and Benny (Phellipe Haagensen) as they grow up in a world of crime and violence brings to mind the main trio of "Blood In Blood Out," but "City of God" is appointment viewing even setting aside any intertextual similarities. You won't find another movie so bursting with life, raw honesty, and sheer cinema.
My Family is the quintessential Chicano family story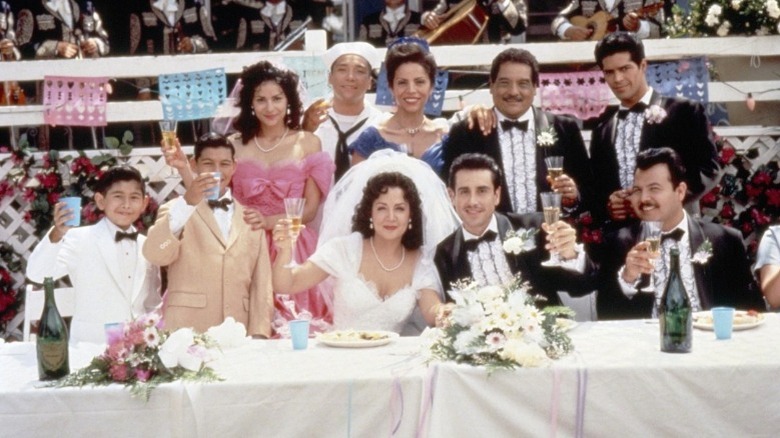 New Line Cinema
If "Blood In Blood Out" could be described as being a "feature telenovela" of sorts, with a level of sweeping, multi-tiered storytelling on par with the best Mexican soap operas, then "My Family" might qualify as the be-all-end-all of that cross-mediatic genre. The story of three generations of a tight-knit Mexican American family in East Los Angeles, this 1995 film has the distinction of having an actual Mexican American director — Gregory Nava, also of "Selena" and "El Norte" fame — and an ensemble cast featuring two of the greatest Mexican American actors, Edward James Olmos and Jimmy Smits.
Smits and Olmos star as brothers Jimmy and Paco Sánchez, who, along with their large and loving family, are caught in the whirlwind of 20th century history. The film spans over five decades, from the thirties to the eighties, but manages to fit it all into a 128-minute runtime and maintain a heartfelt, crowd-pleasing tone even as the Sánchezes face such hardships as poverty, police violence, illegal deportation, acculturation, and a wide array of interpersonal issues. Through and through, Nava and the cast's affection for the subject radiates from the screen, and the focus on family and its power to triumph over adversity makes the movie a vital nostalgic balm in the canon of Chicano cinema.