Did JLO Lip Sync In Selena?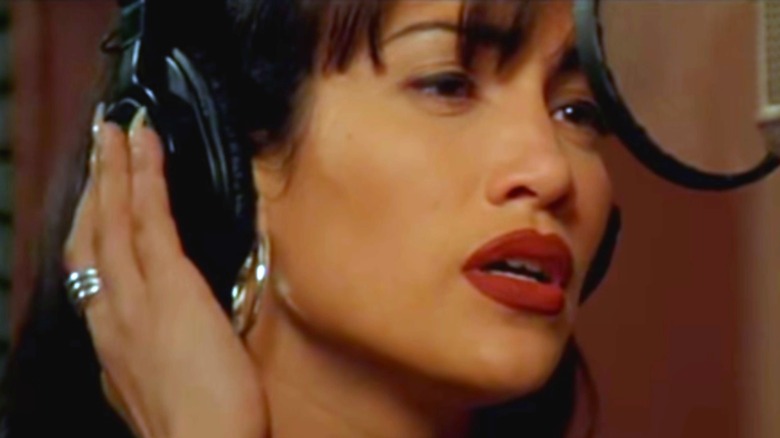 Warner Bros.
Selena Quintanilla was one of the most iconic recording artists of the 20th century — a star of such magnitude that even her memorial statue continues to draw flocks of fans to this day (via Caller Times). When writer-director Gregory Nava got to work on an authorized biopic of the Queen of Tejano music following her tragic murder at the age of 23, the sheer responsibility to get it right — if only to counter the media circus being raised around Selena's figure at the time, per the official behind-the-scenes doc — resulted in one of the biggest casting calls in film history, with over 21,000 auditionees (via The AV Club). Ultimately, the chosen one was a little-known Puerto Rican-American actress by the name of Jennifer Lopez.
A dancer by profession and trained singer from an early age (via Evan Carmichael), Lopez had just the right triple-threat skills to convey Selena's blazing talent on screen. Not for nothing, the role catapulted her into stardom, kicking off one of the most impressively multifaceted entertainment careers of the past quarter-century. However, it has often been asked whether all of the acclaimed singer-dancer-actress' facets were put to use in "Selena" — or, more specifically, did she really sing in the movie, or was she lip-syncing?
Jennifer Lopez lip-synced to Selena's voice, save for one scene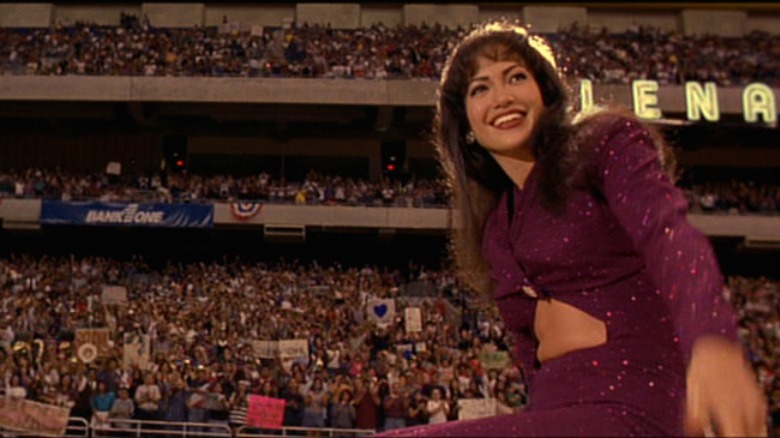 Warner Bros.
With over 21,000 candidates in contention, the audition process for "Selena" was, of course, an intense one. Per the behind-the-scenes doc, Jennifer Lopez was required to put on a display of her singing, dancing and acting abilities for the casting directors. Eventually, she won them and the singer's family over with her movement and body language, which were thought to be strikingly evocative of Selena's own.
Then, as with every music biopic, there was the question of whose voice we'd hear in the actual movie. Given that Lopez was (at the time) not yet as experienced a singer as she was a dancer and actress (via AmoMama), and that the movie was being made soon after Selena's death and would be expected to honor her craft (via Grazia), the filmmakers made the sensible decision to let Selena's own singing voice shine. The extensive, impassioned lip-syncing proved challenging for Lopez, who struggled to handle the microphone realistically in stage performance scenes. The one moment in which she got to actually sing was the slow intro to "Como la Flor" (via PopSugar). Ultimately, though, Lopez aced all of the movie's challenges with flying colors, earning widespread acclaim and a Golden Globe nomination for Best Actress in a Motion Picture – Musical or Comedy (via IMDb).
More recently, Netflix's hit biopic miniseries "Selena: The Series" also had its star Christian Serratos lip-sync to the singer's original recordings. Selena's voice is just that irreplaceable.