The Real Reason Trixie Is Missing A Lot In Lucifer Season 6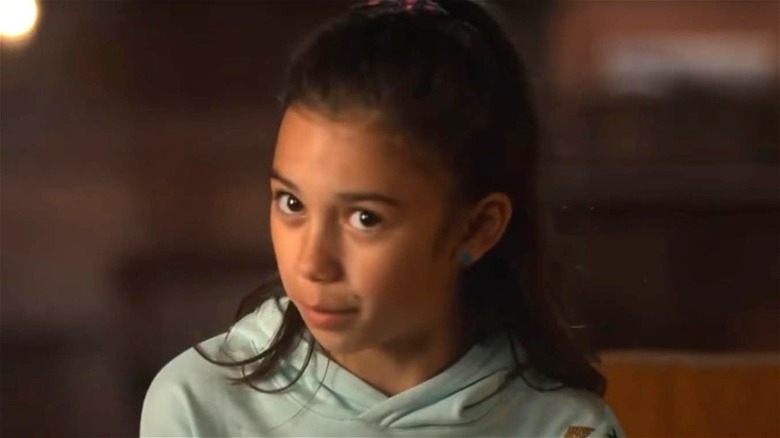 Netflix
We never thought this day would actually come, but "Lucifer," a fan-favorite series that had escaped certain death twice, has signed off for good with Season 6. The creative dramedy about Lucifer Morningstar (Tom Ellis), abandoning hell for Los Angeles premiered in 2016 on Fox, where it ran for three seasons before it was canceled (via Entertainment Weekly). Netflix quickly stepped in to save the show for Season 4. Although the super-sized fifth season was supposed to be the show's swan song, the streamer surprised everyone by renewing "Lucifer" for a sixth season, which debuted in September with 10 episodes. Among its highlights, the final season explores Lucifer's life as a parent and brings back some familiar faces, like the cop from the series' pilot. 
But there was one important character who didn't get as much screen time as they had in previous seasons: Chloe's (Lauren German) daughter, Trixie (Scarlett Estevez). While Trixie was never a major player on "Lucifer," she was central to both Chloe and Lucifer's lives and had enjoyed a close relationship with Lucifer over the years. But, in Season 6, she was relegated to attending science camp while the series focused on the arrival of Lucifer and Chloe's daughter, Rory (Brianna Hildebrand), who had traveled back in time from the future to meet the father she never knew. As such, Trixie appeared sporadically. Her time onscreen focused on mourning the death of her father (Kevin Alejandro). So, where was Trixie for the majority of the season?
Scarlett Estevez was absent from Lucifer Season 6 due to other commitments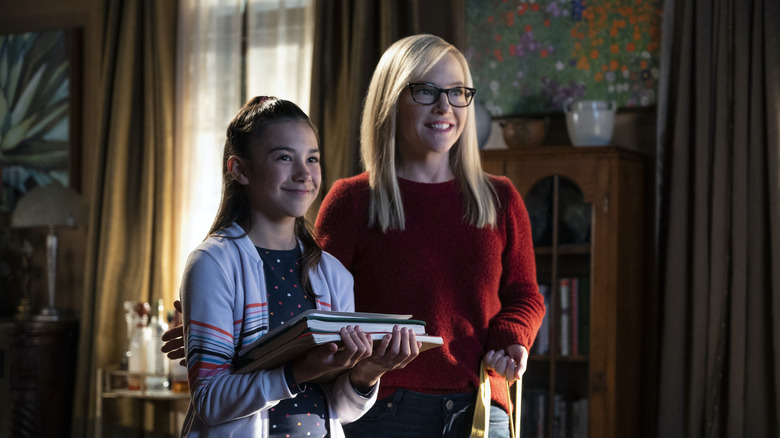 John P. Fleenor/Netflix
When Netflix renewed "Lucifer" for what was believed, at the time, to be its last season (via The Hollywood Reporter), Scarlett Estevez began booking new roles and ostensibly planning for life after the show. Per her IMDb profile, Estevez joined the fourth season of the Disney Channel series "Bunk'd" in 2019, which may have been a cause for concern amongst the fans looking forward to this pivotal character's return. In February 2021, co-showrunners Joe Henderson and Ildy Modrovich told TVLine that viewers would still see Trixie in Season 5B and Season 6. They explained, "We adore Scarlett and shuffled things around a bit to make sure we could keep the tale of the future President of Mars going!"
The shuffling occurred because Estevez had also booked a Christmas movie for Disney titled "Christmas Again." Filming occurred at the end of 2020 (via Instagram), which overlapped with production on Season 6 of "Lucifer," which took place from October 2020 (via Twitter) to March 2021 (via Instagram). But that wasn't the 13-year-old actress' only other work commitment. Per Deadline, she had also landed a lead role in Disney Channel's new series "Ultra Violet & Black Scorpion" (formerly known as "Ultra Violet & Blue Demon").
So, it seems that Estevez's smaller presence in the final season was the unfortunate result of scheduling conflicts. That's a shame considering how much fun it sounds like Estevez had on the set of "Lucifer."
Scarlett Estevez reportedly had a great time working with the cast of Lucifer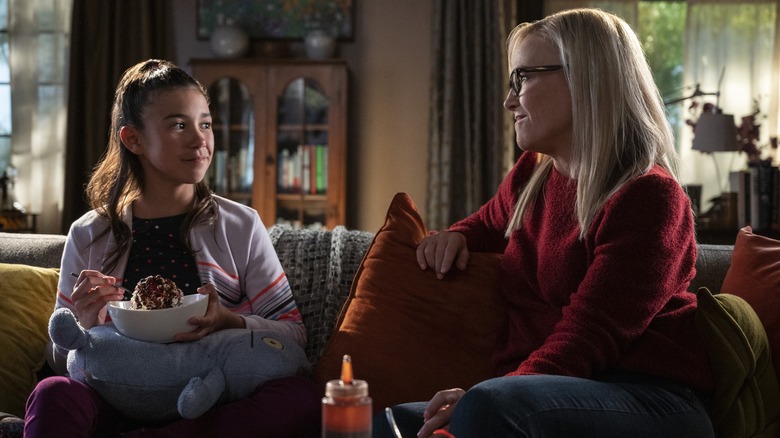 John P. Fleenor/Neflix
Scarlett Estevez is still a young talent, but she is already a pro at doing interviews. In the past, she has spoken about her experiences filming "Lucifer" and based on what she's had to say, it sounds like she had a blast working with her co-stars.
While speaking with Daily Dead, Estevez was asked about Tom Ellis and Lesley-Ann Brandt. "Tom is AWESOME!" Estevez said of Lucifer himself. "He has daughters, so he is really good with kids." Fans of the show know that's basically the opposite of the character Ellis plays, a fact that was not lost on Estevez. "Lucifer doesn't really enjoy being around Trixie," she clarified, "but I would say in real life he's happy when I'm around."
As for Brandt? "Lesley-Ann is the best," Estevez reported. "We have a really great relationship off set. We've gotten together on days we aren't filming a couple times, and I really love being around her."
And it's not just her fellow cast members who Estevez loved working with. On Twitter, the series' showrunner Ildy Modrovich posted a behind-the-scenes pic of herself and Estevez with the caption: "[Scarlett Estevez] is truly an angel in this earth ... " Estevez responded with her own tweet, "Love this!! Sending you a big hug."
It looks like even though her screen time in the final season ended up being limited, Estevez enjoyed her stint on the show. Luckily, fans looking to revisit the character on "Lucifer" can now stream all six seasons on Netflix.