The Untold Truth Of That Thing You Do!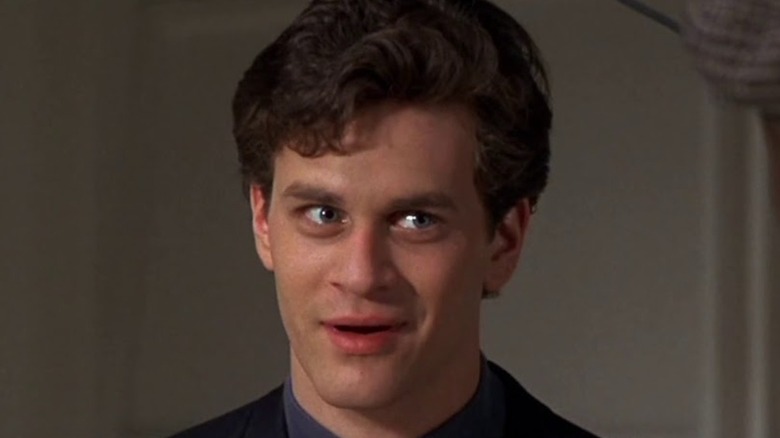 20th Century Fox
Is it stuck in your head yet? "That Thing You Do!", the song and the movie, both turn 25 next month as Tom Hanks' directorial debut celebrates the milestone anniversary of its release in theaters. It's astounding that 25 years is nearly as long as the 32-year gap between its 1996 release and the year it depicts, 1964. A paean to Beatlemania, garage bands everywhere, and the power of a good earworm, the film has become a cult classic and a special favorite among musicians. 
"That Thing You Do!" was in the news quite a bit last year, as director Tom Hanks was one of the first high-profile cases of COVID-19 in March, followed by one of the first high-profile deaths in songwriter Adam Schlesinger in April. The cast staged a virtual reunion last year to benefit COVID relief, and recently made an appearance in Erie, PA (where the film is set), in honor of the 25th anniversary. Since present-day nostalgia is so high for this already nostalgic period piece, here is the untold truth of "That Thing You Do!"
The Wonders are (possibly) based on a real band from Erie, PA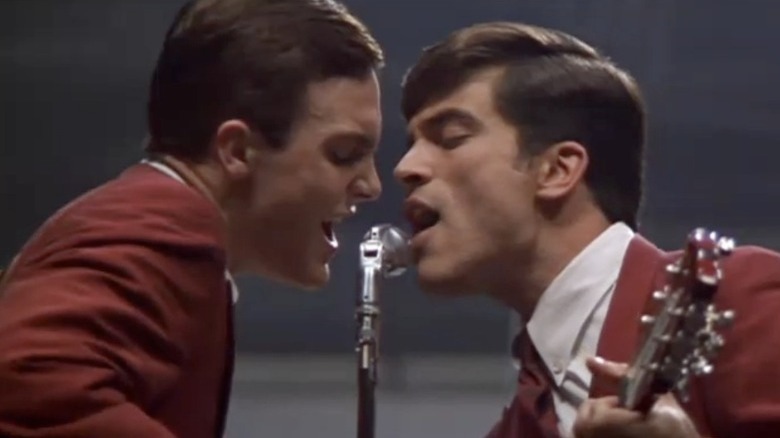 20th Century Fox
"That Thing You Do!" tells the story of The Wonders, a fictional four-piece band that rockets to sudden fame after their hit single takes off, only to immediately break up when the pressures of major label success tear them apart. "The one-hit Wonders... a very common tale," their manager, Mr. White (Tom Hanks), says. 
According to the Erie Reader, the story of The Wonders is "surprisingly similar" to that of a real band from Erie, PA: The Fabulous Epics. While The Wonders got their first regular gig as the house band at an Italian restaurant, Villapiano's, The Fabulous Epics started out in the real Erie with a standing gig at the club of the local chapter of the Sons of Italy fraternal order. And though they didn't have a breakout single and sign to a major label like the film's Playtone Records, The Fabulous Epics moved on to become the house band at New York's Peppermint Lounge, where they met The Beatles right after they'd debuted on "The Ed Sullivan Show." Tom Hanks has never let on that there was any real inspiration for The Wonders, and Fabulous Epics member Paul Yoculan Younger didn't sweat it anyway. Before his death in 2019, Younger said of Hanks, "He's a good guy and gave our town some exposure."
The title That Thing You Do! existed before the song was written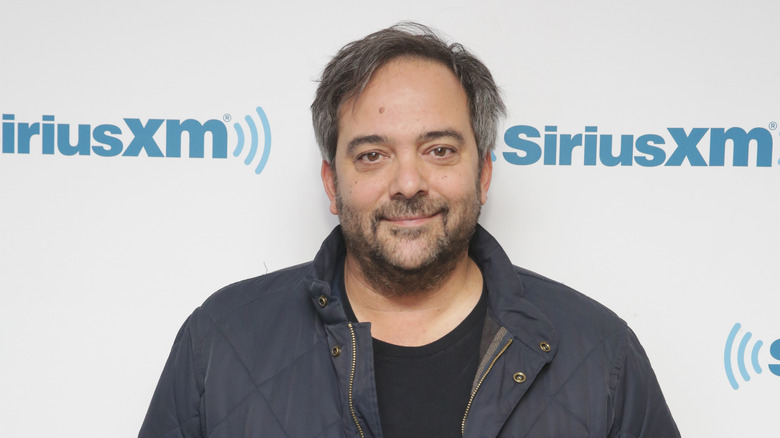 Mireya Acierto/Getty Images
If you're familiar with the late Adam Schlesinger's other work, it's no surprise that he was responsible for writing the catchy, poppy "That Thing You Do!" that anchors the film. Just like his early work with the band Fountains of Wayne, the hit has a pure, melodic quality that's downright Beatles-esque. "That Thing You Do!" is such a tight, well-made pop song that you'd swear it actually had been around since the '60s. Surely it just came to Schlesinger in a flash of shambolic, Bob Dylan–like inspiration?
In fact, Schlesinger didn't even come up with the title. In 2016, he told Consequence that "they had the title before I even started writing the song." Schlesinger found out about the call for a Beatles-like song for a new Tom Hanks movie and knocked out his version of the title "That Thing You Do!" along with hundreds of other submissions in what he called "just a shot in the dark." It ended up opening a lot of doors, as Schlesinger went on to write other music for films "Music and Lyrics" and "Josie and the Pussycats." He also eventually won an Emmy for his TV work on "My Crazy Ex-Girlfriend." And all because he worked backward from the title, and then was forever grateful that Hanks and co "based an entire movie around a song written by some kid who they never heard of."
The change in tempo of the title song is based on The Beatles' first No. 1 single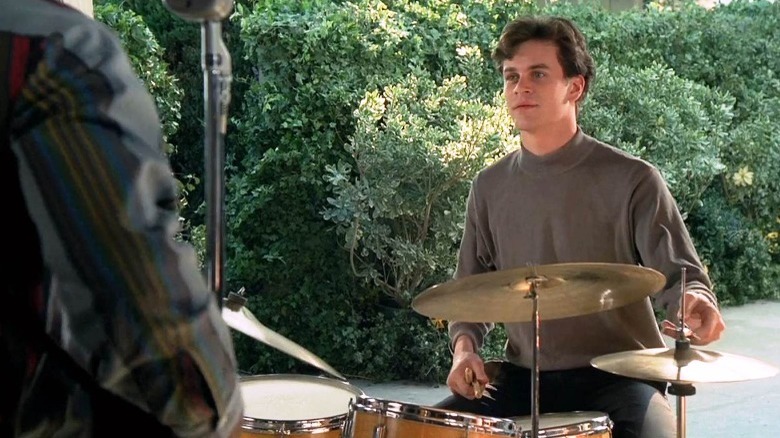 20th Century Fox
Though The Beatles exist in the world of "That Thing You Do!", the story of The Wonders has several winking nods to the story of their real-life inspirations. Just as Ringo Starr replaced Pete Best, The Wonders replace their original drummer Chad with main character Guy Patterson. Their big TV debut on "The Hollywood Television Showcase" looks a lot like The Beatles' first appearance on "The Ed Sullivan Show," all the way down to the confusion over the "Careful girls, he's engaged!" chyron that appears under Jimmy's name (mirroring Sullivan claiming "Sorry girls, he's married!" for John Lennon).
But even the way the title track comes together references the story of the fab four's first No. 1 single, "Please Please Me." According to Far Out Magazine, producer George Martin found the original version of the song to be "rather dreary" and "insisted on changing the slow, bluesy arrangement into a peppier number." "Please Please Me" would hit No. 1 in the UK in early 1963 and No. 7 in the US a year later, putting The Beatles on the map. The Wonders similarly went up-tempo in "That Thing You Do!" 
The Wonders sounded terrible on set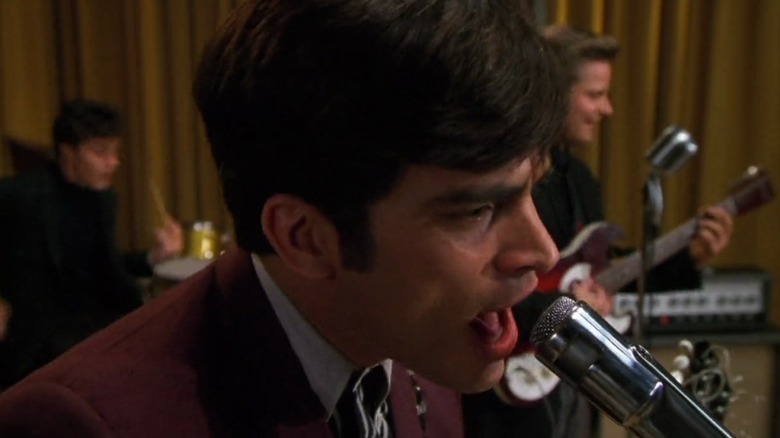 20th Century Fox
A big part of "That Thing You Do!" and its enduring appeal is how it hits every beat of the arc of a band's rise. From the garage practices to regional and national success, along with navigating the pressures of signing contracts and interpersonal conflicts, it's a story that many successful musicians can relate to. But even though the four people playing the band had real chemistry from months of preparation together, they never quite sounded like a competent band themselves. Speaking with The Ringer, Tom Everett Scott said that even though the movie makes it look convincing, "we are actors playing a band."
Johnathon Schaech put it more bluntly: "Sometimes, you'd turn down the playback... and then you would hear us playing. We didn't sound very good." Movie magic came to the rescue, however, as the recordings by Mike Viola and songwriter Adam Schlesinger stand in for the actors and make all of the performances of the song in the film catchy and engaging. Plus, perhaps the cast was too hard on their own skills: in 2017 Scott, Schaech, and Ethan Embry made a surprise appearance on the "Goddamn Comedy Jam" playing drums, rhythm guitar, and bass, and sounded pretty good.
It was the first big break for most of the young cast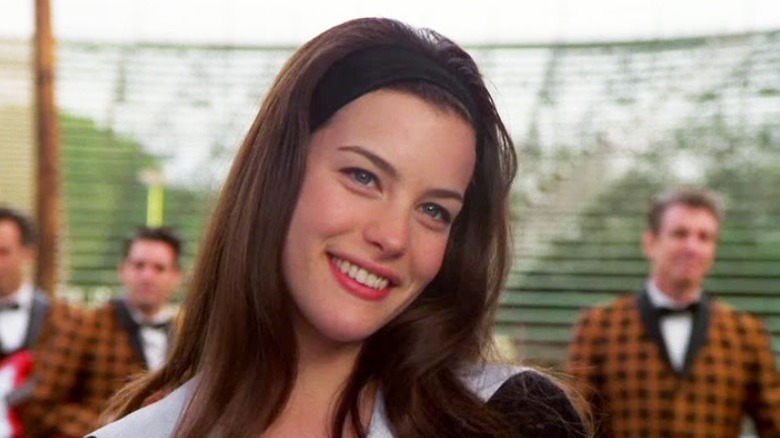 20th Century Fox
Much like the characters they played, the stars of "That Thing You Do!" were relatively unknown when they were cast, so it wasn't difficult to play the overwhelming mix of excitement and anxiety that comes with sudden fame. It was the very first role for lead Tom Everett Scott, who told Us Weekly, "It was paralleling my experience with filming, being an actor and Guy's experience with being a musician and just going right to the top. It was a whirlwind."
Steve Zahn might have been the best-known of the main cast, as he'd recently made a single-episode appearance on a little sitcom called "Friends." Johnathon Schaech had played only a few bit parts, and Liv Tyler and Ethan Embry had just filmed the indie movie "Empire Records," which, despite its subsequent attainment of cult status, was a poorly-reviewed flop when it came out. Future Oscar winner Charlize Theron even appears in her third-ever role as Guy's girlfriend Tina.
The most famous scene was largely improvised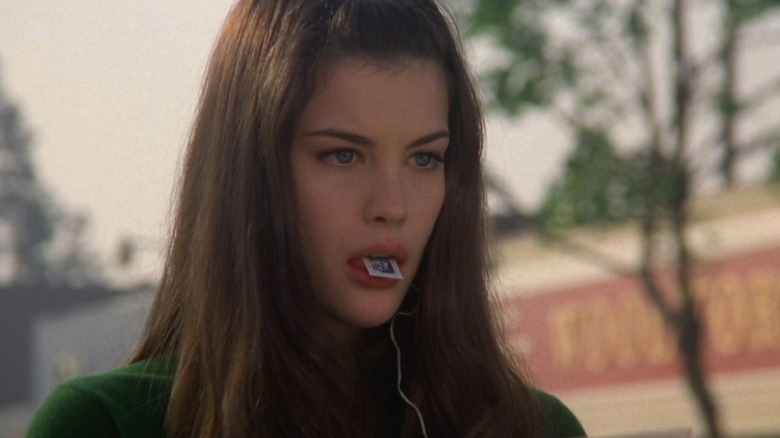 20th Century Fox
The scene when Faye and the four members of The Wonders hear "That Thing You Do!" on the radio for the first time is one of the most purely joyful moments in cinema. It's also one that's reverberated with musicians in the decades since the film came out, Johnathon Schaech told Entertainment Weekly on the film's 20th anniversary. "I can't tell you the amount of people who have called me, or I've called them, when their song got on the air... I know a lot of people who have, over social media, have hit me up and said, 'You're not going to believe this, I just had a That Thing You Do! moment.'"
Liv Tyler revealed that she had no clue how to begin the scene: "I didn't really know what was going to happen; I didn't really plan anything," she told EW. But she tapped into a universally human sort of pure excitement, and the scene became a classic all the way to the characters skipping in a circle and holding hands, something that director Tom Hanks had to tell them to just try in the moment "before you roll your eyes," according to Tom Everett Scott (via Us Weekly).
Tom Hanks wrote the screenplay during the busiest year of his life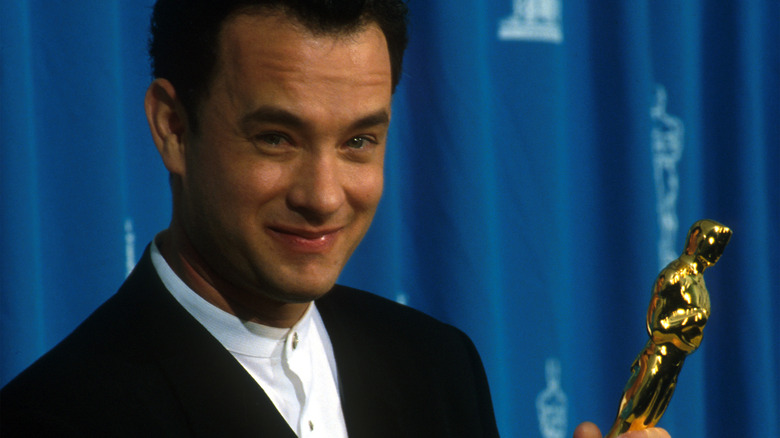 John T. Barr/Getty Images
Few people have had as much success as Tom Hanks in Hollywood. After breakout roles in '80s comedies, he won back-to-back Best Actor Oscars for "Philadelphia" and "Forrest Gump" in 1993 and 1994. It was during the nonstop global press tour for "Forrest Gump" that he started writing "That Thing You Do!" As the actor told Deadline, "I had talked about myself for a year straight so I started writing to maintain some sort of creative sanity."
His first film as both a screenwriter and director, it's easy to see how personally appealing the story of The Wonders' struggle with sudden fame could be to an actor on top of the world, and to understand why directing a modestly budgeted film might be a welcome change of pace. In a 1996 interview with the Virginian Pilot, Hanks said, "It really isn't very interesting talking about yourself. You learn more when you get your ass kicked than when you're doing well."
Tom Everett Scott nearly wasn't cast because he looked too much like Tom Hanks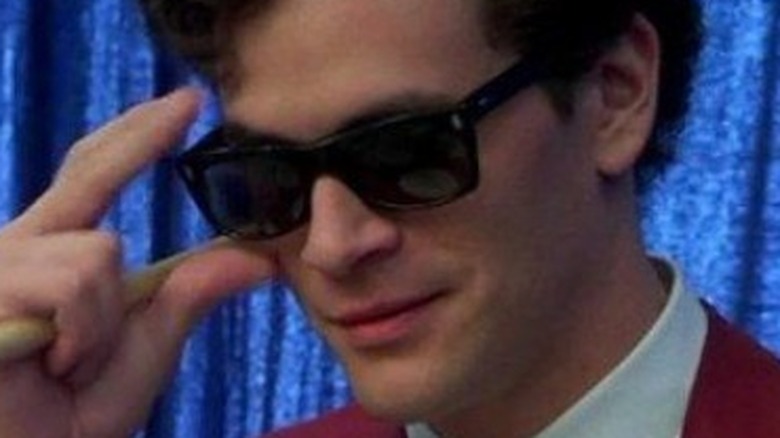 20th Century Fox
The role of Guy Patterson, a likable, goofy, and endearing everyman sort of role, is the kind of lead part that a casting director might list as a "young Tom Hanks-type," even if Tom Hanks hadn't written the screenplay. But when Tom Everett Scott was initially in the running for the part, his resemblance to a young Tom Hanks was almost too much for the real deal to get over. He told The Seattle Times, "The resemblance to myself at that age — it was unbelievable. I said, 'I can't cast this guy. It's ridiculous.' I even said, 'Are you sick of hearing about how much you look like me?' And he said, 'Yes.'"
He eventually realized that wasn't fair to Scott's talent and cast him in the role anyway. Ultimately, he found a subtle way to write it into the script: figuring his character, Mr. White, would also note the resemblance, "he sort of begins to shape them (The Wonders). He says, 'Well, I look cool in sunglasses, so this dude (Guy) may look cool in sunglasses.'"
It has an original soundtrack because it was cheaper than licensing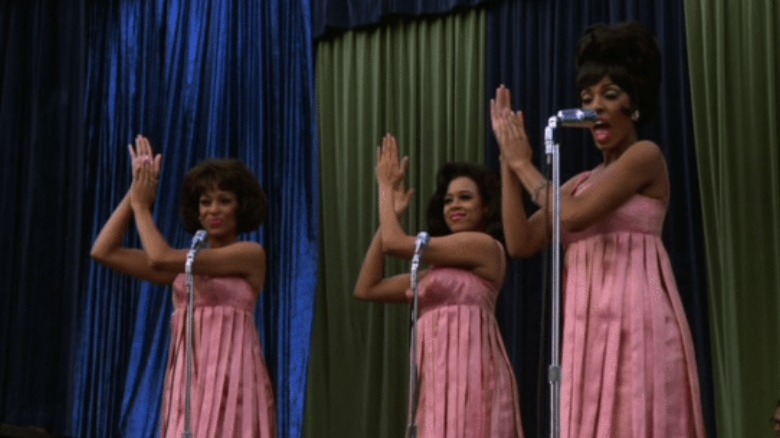 20th Century Fox
Since "That Thing You Do!" is set in 1964, Tom Hanks wanted to evoke a very specific era of music. But unlike his previous film, "Forrest Gump," which had a massive budget to license famous songs from the '50s, '60s, and '70s, "That Thing You Do!" was more in the "labor of love" price range. "We originally thought we could use obscure B-sides of popular songs, but they all belong to catalogs that are awfully expensive and are difficult to get," Hanks told the Seattle Times.
So Hanks set about hiring songwriters and producers to make up his own '60s music instead, in many cases contributing to the songwriting process himself. "He would sing into answering machines," Tom Everett Scott told The Ringer. "He would leave voice messages [with] an idea for a song, and [the songwriters] would come back with it fully composed." Thus the extended world of the film was born, as the "Playtone Galaxy" was populated with fictional but plausible-sounding acts like Diane Dane, Freddie Fredrickson, and The Chantrellines.
It was a true Hanks family affair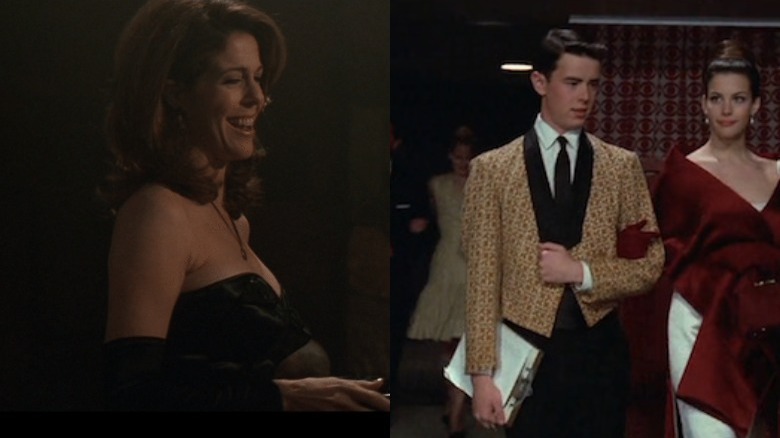 20th Century Fox
Directing his first film, Tom Hanks was liberal with cameos for those closest to him. His "Bosom Buddies" co-star Peter Scolari shows up as the host of the "Hollywood Television Showcase," and his friend Clint Howard (brother of frequent Hanks-collaborator Ron Howard) has a brief role as a radio DJ. Hanks didn't stop at friends; he also put three members of his family to work. 
Hanks' wife, Rita Wilson, has an extended role as a cocktail waitress who takes a fancy to Guy Patterson and introduces him to his idol, going by her actual given name of "Marguerite." Hanks' oldest son, Colin, shows up in a wordless part as an usher, years before he would go on to his own acting career in projects like "Orange County," "Mad Men," and "Fargo." Finally, Hanks' daughter, Elizabeth, pops up in the pivotal role of "Bored Girl in Dress Shop."
Tom Hanks was a better mentor than his character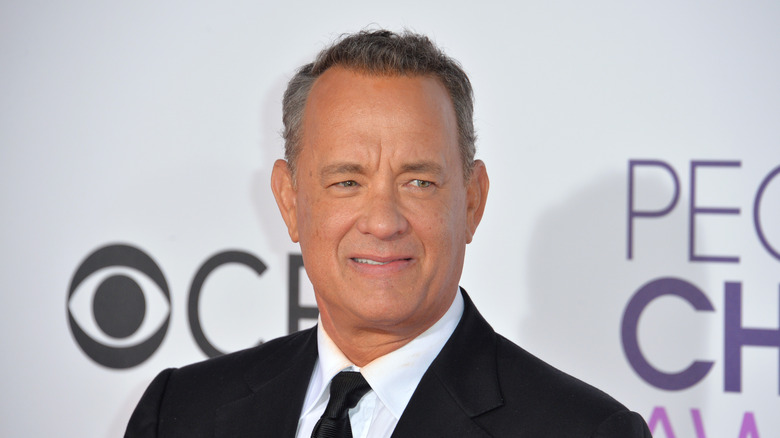 Featureflash Photo Agency/Shutterstock
Although Mr. White generally seems like a fundamentally decent guy (as pretty much every character played by Tom Hanks does), you can tell he's a little more committed to the bottom line than to The Wonders themselves. He buys their contract out from their original manager, abruptly and unilaterally changes the band's name and look, and locks them into a recording contract that leaves so little room for their own artistic expression that they immediately break up.
By the account of the cast, Hanks was a much warmer and caring mentor as a director, which they all appreciated at the early stage of their careers. In an interview with People, Steve Zahn revealed, "He was really a mentor to all of us." After the whole cast showed up late on an early filming day, Hanks pulled them all aside and said, in typical fatherly form, "'That's the last time you all show up late, not just for this movie, for the rest of your life.' After that I was half an hour early." He also knew when to give individual pep talks, as Tom Everett Scott told Us Weekly: "He saw that I was overwhelmed by what was going on the first week of shooting. And he pulled me aside and he said, 'You're just a cog in a machine. Just worry about knowing your lines, be on time.'" Slightly odd advice, but apparently it worked for Scott. 
An LGBT subplot didn't make it to the final cut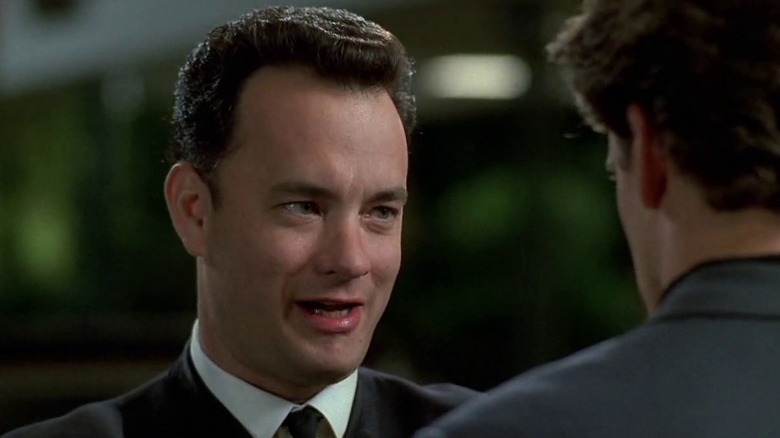 20th Century Fox
In 2007, the "That Thing You Do!: Tom Hanks Extended Edition" was released on DVD with an additional 39 minutes of footage that didn't appear in the original cut of the film.  It mostly fleshed out subplots that were implied already in the theatrical version (the bass player actually does hook up with one of The Chantrellines, for example), but it did reveal a key element of the film that didn't survive: Hank's character, Mr. White, is heavily implied to be in an openly gay relationship in 1964.
In the scene, a character named Floyd (played by former NFL player Howie Long) waits impatiently for Mr. White to wrap up his duties as The Wonders' manager, with the clear weariness of a long-suffering significant other. Though Hanks had already won an Oscar for playing a gay man in 1993's "Philadelphia," he ultimately must have decided this subplot wasn't necessary for "That Thing You Do!"