The Forgotten Supernatural Drama You Can Watch On Netflix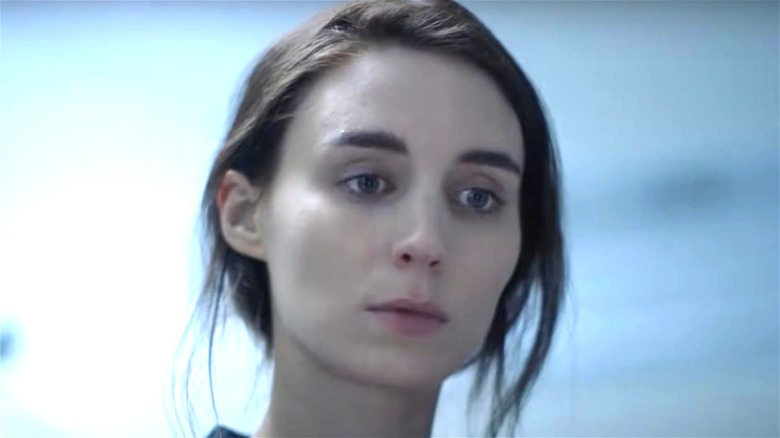 A24
Some of us jump on Netflix to watch their latest critically acclaimed original series. Others love to browse the top 10 lists to see what hidden gems users are pulling out of obscurity. But it can also be fun to do a deep dive into the streamer's library to find a movie that seems to have fallen through the cracks a bit. If you're in the mood for a slow-burn supernatural drama, then David Lowery's "A Ghost Story" should go right to the top of your to-watch list.
"A Ghost Story" tells a seemingly simple tale that touches on some of the biggest mysteries of human existence. C (Casey Affleck) and M (Rooney Mara) are a young couple living in an unassuming house in Texas. When C dies unexpectedly in an accident, M grieves his death and eventually learns to move on. But C never quite leaves. His ghost — a Halloween-like sheet complete with eye holes — lingers in the home and quietly comes to terms with the concept of an afterlife, the nature of time itself, and what it means to leave a legacy.
Compared to some of Lowery's other movies, like "Pete's Dragon" and "The Green Knight," "A Ghost Story" has had a fairly muted existence. According to Box Office Mojo, it only played in 329 theaters during its widest release. However, the film didn't go unnoticed by critics when it first came out. "A Ghost Story" currently has a 91% on Rotten Tomatoes and the critics' reviews should give you a pretty good idea of why this underseen movie is worth seeking out.
According to critics, A Ghost Story is haunting in all the right ways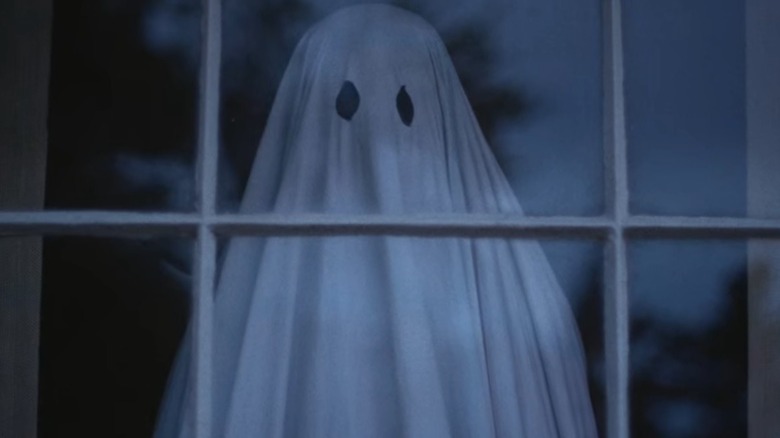 A24
"A Ghost Story" was made on a tiny budget and when stripped to its components, it's a remarkably simple affair. There's little dialogue and most of the movie takes place in a single location. While this austerity may be off-putting to some viewers, according to critics, those who go in with an open mind will be well rewarded.
Matt Zoller Seitz of RogerEbert.com began his review by stating, "I rarely see a movie so original that I want to tell people to just see it without reading any reviews beforehand, including my own. David Lowery's 'A Ghost Story' is one of those movies." He went on to say that the film feels "bracingly, at times alienatingly new."
In his review for NPR, Bob Mondello also noted that the movie felt like a wholly unique experience, writing, "It's almost a film without genre, and by the end it's become a story untethered from time itself." He was moved by the "achingly intimate" tone of the film and concluded by writing, "And if my own experience is any indication, [the movie] will linger."
And Dana Stevens of Slate used her review to wax poetic on one of the central conceits of the film: the almost comically simple ghost costume. "Somehow, the primal familiarity of that image allows the audience to extrapolate from this individual ghost's story to the story of all ghosts," she wrote, continuing on to say, "which is to say, potentially, to all of us who are currently alive."
Like other reviewers, Stevens noted, "This movie has remained with me for more than a week now, not only its images ... but also its ideas."
"A Ghost Story" is currently available to stream on Netflix.