The True Villain In Midsommar Isn't Who You Think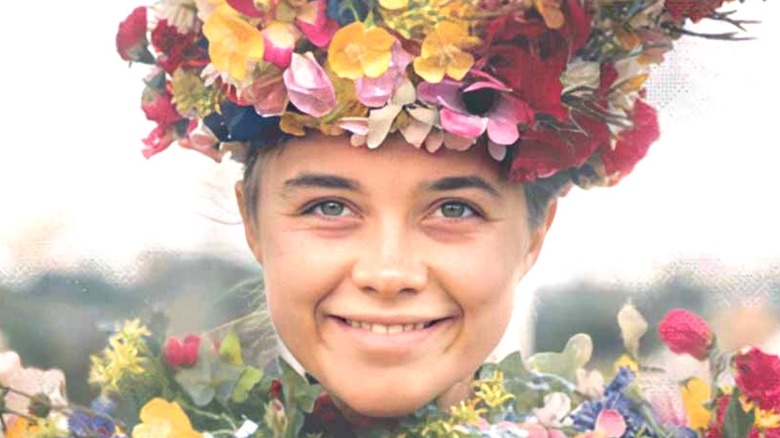 A24
When Ari Aster made his directorial debut in 2018 with "Hereditary," many horror aficionados were stunned by the impending sense of doom that he injects into every scene. It's a truly terrifying film which only gets creepier with multiple viewings, because there are plenty of extra details buried in every scene. When the director returned in 2019 with "Midsommar" starring Florence Pugh, it piqued everyone's interest. The folk horror film is terrifying in a different way to "Hereditary," as it shows how all-consuming grief can be — and how unsettling and creepy the Hårga cult and its bizarre traditions are.
For anyone that hasn't seen "Midsommar," it's absolutely worth the lengthy run time of 147 minutes. It follows Dani (Florence Pugh), who visits Sweden with her boyfriend Christian (Jack Reynor) and his friends Josh (William Jackson Harper) and Mark (Will Poulter) after the devastating deaths of her sister and her parent​​s. Their group is invited to go and stay with the Hårga by their other friend Pelle (Vilhelm Blomgren) — and it all descends into blood and chaos.
At its core, "Midsommar" is about grief, insecurity, and vulnerability. Yes, there's a bizarre cult who have some incredibly violent rituals, but the true villain isn't who you think.
Dani's boyfriend is an awful person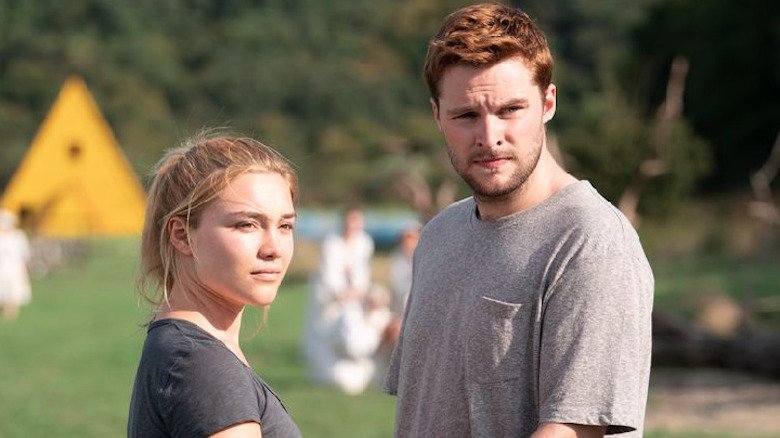 A24
Yes, the Hårga commit some heinous acts of violents against Dani's friends (if you can really call them that), but Christian is the one who constantly leaves her feeling alone and scared, even before they leave the U.S. When the film picks up, it's extremely clear that Christian isn't as invested in the relationship as Dani is, and he sees her as a burden rather than a partner.
Dani is completely undone when her sister kills herself along with their parents, and she relies on Christian for stability and emotional support, but he just doesn't seem to care for her. He constantly belittles her in front of his friends and even lusts after the other women in the Hårga. He cheats on her with one of them, Maja (Isabelle Grill), in a bizarre ceremony where they're surrounded by other naked elders — Dani discovers this and winds up having a debilitating panic attack.
The Hårga aren't necessarily "good" but they sacrifice most of Dani's group as a way of purging the evil from the cult, as they believe that it's all for the betterment of the community (why they needed to make a mask out of Will Poulter's face, we'll never know). When Dani does have a panic attack, she's supported by the other women of the Hårga, who join her in feeling all the pain she's suffered.
It's cathartic for her when Christian becomes one of the final sacrifices in the Hårga's ritual. Although she looks on in horror, Dani obviously realizes that she's free of the restraints of her emotionally abusive relationship — which is what her unnerving smile is about in the final shot of the film.