The Ending Of Sex Education Season 3 Explained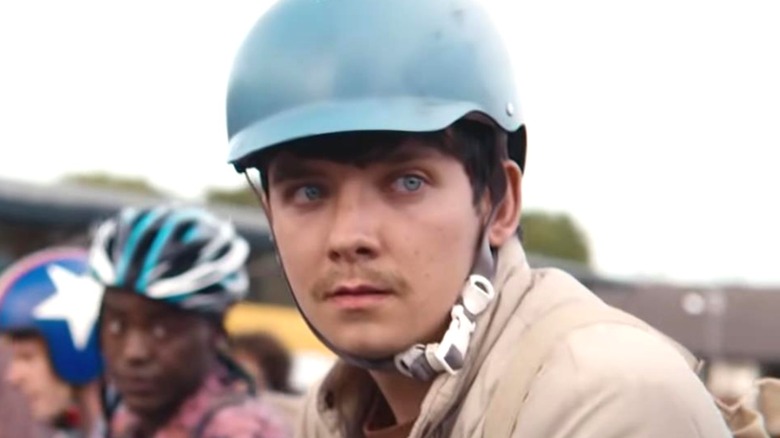 Netflix
"Sex Education" Season 3 kicks off with a bang — or several, actually. The Netflix series, which follows a diverse array of teens as they navigate growing up, is on a mission to destigmatize sex of all kinds and is fully unashamed of showing it. Its characters, on the other hand, have been struggling with shame of all kinds.
In the penultimate episode of the season, the teenagers come together to present their case for a school environment that's welcoming of all kinds of people, with a culture devoid of shame and a more well-rounded sex education curriculum. Their presentation is in direct response to their headteacher Hope (Jemima Kirke), whose original cool teacher persona was a cover for the Dolores Umbridge underneath.
The finale, then, deals in the aftermath and characters' individual concerns. Jean goes into surgery after early labor, Otis and Eric support each other while waiting in the hospital, Maeve packs up her things to move, Adam enters a dog show, Maureen and Aimee bond over a shared connection, Ola and Jakob finally talk, Vivienne lives her best life when her boyfriend visits, Cal and Jackson decide to stay friends, and Lily sees something that may or may not be aliens.
There's a lot going on, and the season still leaves some questions unanswered, so here's a breakdown of it all.
Otis and Maeve learn to give and accept help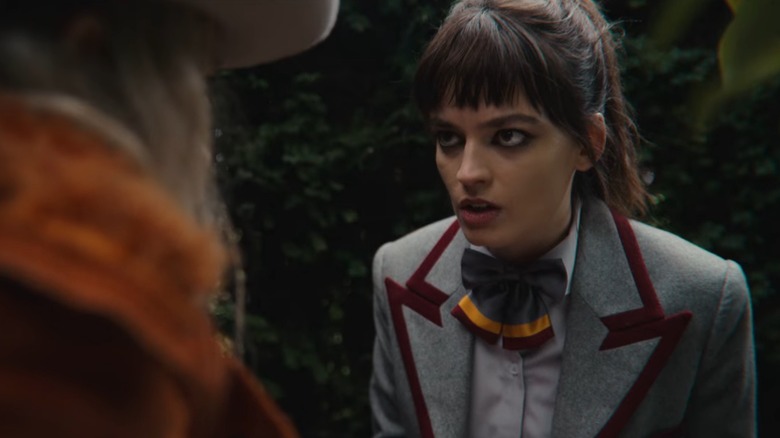 Netflix
Though this season focuses on other members of the ensemble, Otis (Asa Butterfield) and Maeve (Emma Mackey) are still the central two characters who started it all. The pair haven't spent much time together since early Season 2 when they still ran the sex clinic, as their will-they-won't-they has been through several ups and downs. However, they finally have their first kiss and are poised to begin a relationship in the finale when Maeve decides to go to America for her study abroad program. They're not going to do long distance; they instead leave it to a potential continuation when Maeve returns. Despite that, they're both in a better place than they were at the season's start.
Their character arcs this season are simultaneously opposite and complementary to each other. Otis is afraid of offering help to others, while Maeve is afraid of accepting help. In the end, however, we see them overcome these fears.
Otis first talks to Lily (Tanya Reynolds) as a friend, then later offers some support to Hope. His mother, Jean (Gillian Anderson), overhears the latter, which is a big moment because it means she finally learns that he's actually quite good at helping people. The fear of losing his mother pushes Otis to open up to her about both potentially pursuing therapy as a career and his strong feelings for Maeve, bridging the gap between them that has been steadily expanding since the first episode.
Maeve, meanwhile, has been resistant to accepting help from Aimee (Aimee Lou Wood) or her sister's foster mom all season. Finally, she decides to move in with the foster mom. However, before she gets settled, her mom (Anne-Marie Duff) offers her money for the study abroad program, which she accepts, despite worrying about it ruining her potential relationship with Otis. In another parallel to Otis, Maeve's relationship with her mother is repaired. However, it's her mother that does the main work, admitting to not being around for Maeve and absolving her daughter of the guilt of leaning on her foster mom.
Eric and Adam break up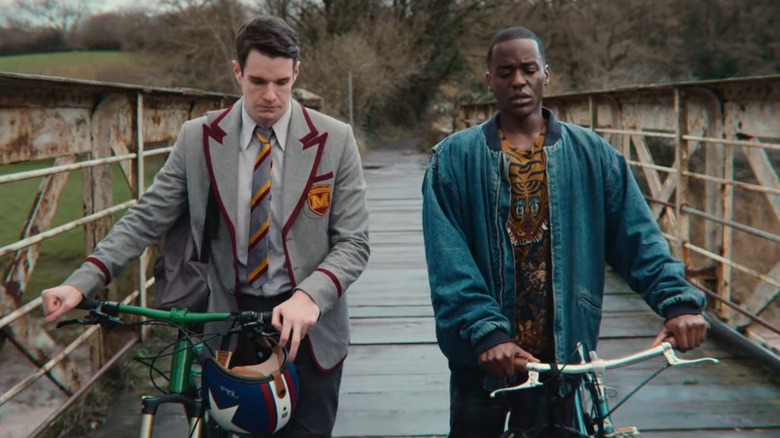 In "Sex Education," relationships are constantly in flux, and the Season 3 finale certainly upholds that. Eric (Ncuti Gatwa) and Adam (Connor Swindells), who did the whole public romantic declaration at the end of Season 2, spend the season navigating their new relationship. However, they hit several snags, culminating in Eric kissing another man while on vacation in Nigeria. While Adam is willing to move past this, Eric isn't.
Eric tells his mom that he doesn't want to pretend anymore and, unfortunately, that's something he's been doing with Adam, who hasn't been open about their relationship with his own mom. Ultimately, Eric felt that he had to be less of himself with Adam. He's comfortable with his sexuality and eager to be around other enthusiastically queer people.
Adam, meanwhile, is still discovering himself. After he and Eric break up, he finally tells his mom, Maureen (Samantha Spiro), that they were dating. It's sad to see him lose his boyfriend, but the finale also emphasizes the fact that Adam has grown a lot. He's forged other relationships, such as a burgeoning friendship (or more?) with Rahim (Sami Outalbali), and has opened himself up to his mom and teacher Miss Sands (Rakhee Thakrar) through moments of vulnerability.
Still, despite several breakups this season, there's also the underlying idea that the characters still gained something from the relationship, even if it didn't last forever. In his poem, Adam says that Eric helped him find his heart. Though it's now momentarily broken, Adam's in a far better place than he was before they dated, as he's learned to express his feelings and connect with other people.
The joy of self-discovery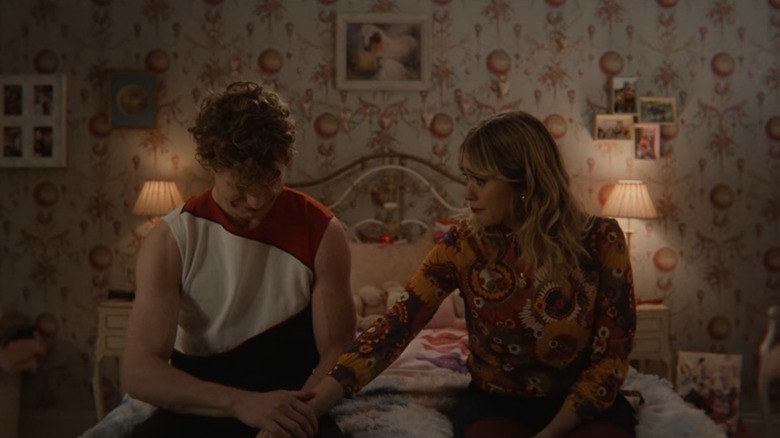 Netflix
In fact, self-discovery is a running theme through all the breakups this season. In the finale, the unlikely pair of Aimee and Maureen meet up at Otis' house and find common ground: Both women have spent much of their lives in relationships and found a need to spend time by themselves. Aimee breaks up with Steve (Chris Jenks) because she feels she's changed so much since being sexually assaulted and wants to get to know herself.
Maureen, meanwhile, has been doing that already and is now poised to get back together with her husband Michael (Alistair Petrie). He's been on his own journey of self-discovery this season in a character arc that parallels that of his son, Adam. In earlier episodes, both are asked what brings them joy, which culminates in Adam finding a passion in training his dog and Michael finding a love for cooking. However, Maureen breaks things off with Michael because he hasn't repaired his relationship with Adam.
Then there's the breakup that isn't quite a breakup. Jackson (Kedar Williams-Stirling) was feeling lost over no longer being the head boy or the school's star swimmer, but his friendship with Cal (Dua Saleh) helped him uncover a new side to himself, one that is passionate about standing up for his fellow students. When it comes to the two of them, though, they don't turn their friendship into something romantic: Cal says they're still figuring themselves out, while Jackson says he's not queer.
In contrast, Lily knows who she is, but doubts herself when she's shamed for writing her sexually explicit sci-fi story and when her girlfriend Ola (Patricia Allison) calls aliens silly. The finale finds her about to throw all her alien stuff out before she learns that someone else liked her short story. She and Ola reconcile and find a middle ground.
Many of these characters' stories are wrapped up in what brings them joy, and overcoming the shame around that, so when it comes time to name Jean and Jakob's (Mikael Persbrandt) new baby, Ola suggests "Joy."
Ultimately Sex Education is about sex education (and shame)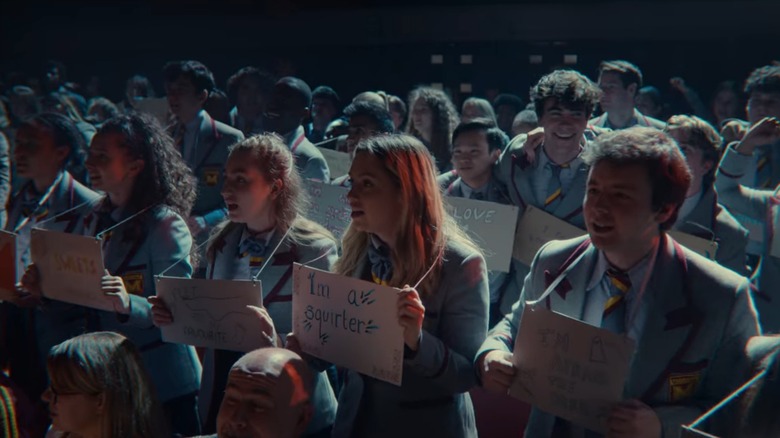 Netflix
More than in the previous two seasons, Season 3 of "Sex Education" takes on the school's sex education curriculum. Hope comes in to fix the school's public image and ends up forcing the students to sit through abstinence-only classes that demonize gay people, in what's all too similar to many real high school sex ed curriculums.
Series creator Laurie Nunn told the Evening Standard that her own sex education was very limited, simply emphasized not getting pregnant or an STI, and didn't touch on many important topics, like consent or LGBTQ+ issues. So, for anyone who's still not being taught those things, "Sex Education" lives up to its name. In an interview with Entertainment Weekly, she said, "When I was 16, I was taught absolutely nothing about my body, female pleasure, or desire. It's really important that our show continues to look at those topics and tries to give people of all generations a different perspective on them. The show says there's nothing to be ashamed of, everybody has a body and everybody feels like they don't fit in sometimes. That's something that should be celebrated."
Nunn said the main idea of this season is shame. The characters all feel it at some point and Hope tries to use it to keep them all from expressing themselves with cruel signs around the characters' necks. However, the teens overcome this shame and celebrate their diversity when they all don signs detailing their sexual experiences or other personal information during the big presentation.
Unfortunately for the students, their presentation doesn't make the change they want. Instead, the school loses its investors and they're all left in limbo. If there's a "Sex Education" Season 4, it'll have to reckon with the closing of Moordale Secondary and what that means for all these characters we've grown to love.