The Psychological Thriller Hidden Gem You Can Binge On Hulu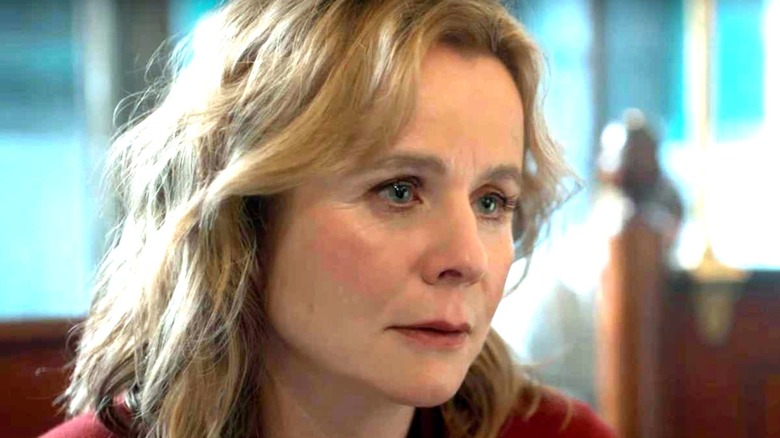 BBC One
If you like your nightly TV binge to tell a story that's grounded in reality, to involve lots of risque adult situations, and to have British accents, then you'll want to check out "Apple Tree Yard." Based on the 2013 novel of the same name, the four-part BBC One miniseries aired in 2017, and it is now currently available on Hulu with a subscription.
Two-time Academy Award nominee Emily Watson ("Breaking the Waves," "Hilary and Jackie") stars as Dr. Yvonne Carmichael, a fifty-something scientist who's unhappily married to her husband Gary (Mark Bonnar). When she meets a mysterious stranger at the House of Commons who refuses to disclose his identity, Emily and "Mr. X" (Ben Champlin) begin a torrid affair, having most of their affairs in public. But soon things spiral out of control, and people get hurt. A friend of Emily's, George (Steven Elder), becomes obsessed with her, leading to violence, tragedy, and terrible consequences for everyone involved.
However, it's worth noting that "Apple Tree Yard" is more than just a sexy TV show. It's also a tense psychological thriller, a courtroom drama, and a portrait of the sort of complex character not often seen on TV.
Apple Tree Yard is a perfect show for a bite-sized TV binge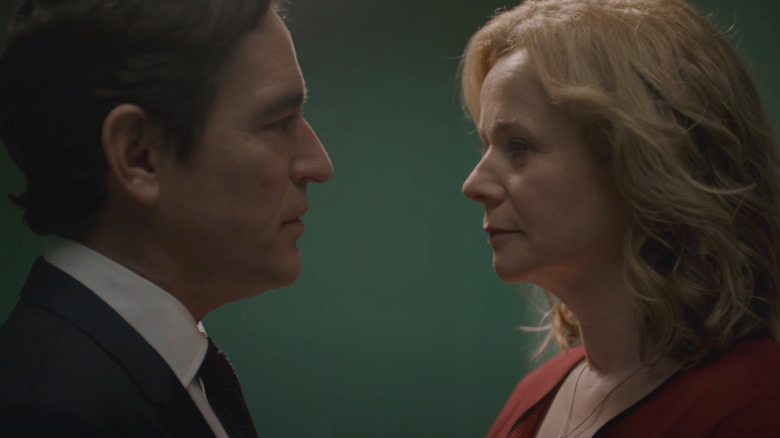 BBC One
With "Apple Tree Yard," everything rests on Yvonne Carmichael and who she is as a character. When summing up Yvonne, author Louise Doughty described her as a very complicated person who not every actor could pull off. "You have to believe he's a convincing research scientist, so she has to have real intellectual heft and gravitas," Doughty told the BBC. "While at the same time believing she would do something utterly reckless and passionate and out of character. She has to remain likeable even when you disapprove of her actions. And she has to be independently minded and strong while having a degree of vulnerability."
Doughty was thrilled with Emily Watson as the casting choice. As for Watson, she described Yvonne as the kind of character who traditionally didn't get to be the subject of a TV series — something that she hopes is now changing. "The way we consume TV is evolving rapidly. It's like going to the bookshop now, where you choose the thing you want to read. Half that audience is female and they're going to make powerful choices," Watson told The Guardian. "So many issues are emerging about how women are affected by the power balance in this industry. More female-driven stories will eventually lead to equal pay, respect, all sorts of changes. That's driven by audiences, by people's perceptions of the industry and by brave individuals who are making changes."
"Apple Tree Hill" did indeed strike a chord with audiences, registering an 83% Fresh audience score and an even better 92% Fresh critics' score on Rotten Tomatoes. With numbers like that, it's easy to see why it's still popular over four years later.