The First Trailer For Hulu And Marvel's Hit-Monkey Is Totally Bananas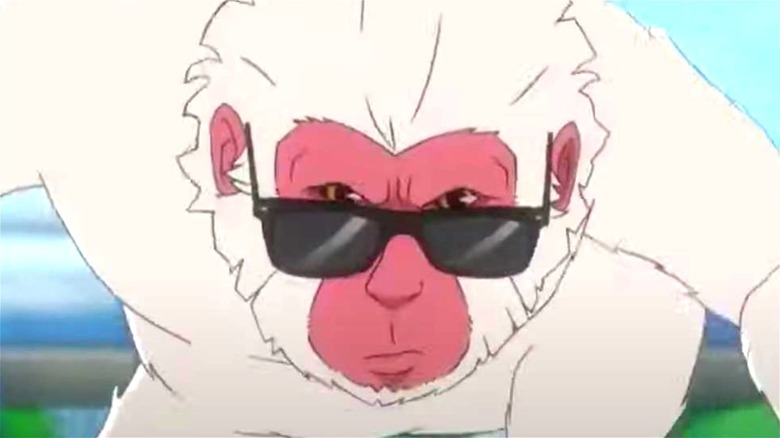 Hulu
With so many new TV shows premiering every season, there are times when we look at all the medical dramas, crime procedurals, and high school comedies and think that we've seen it all. But then we're gifted with something like the upcoming Hulu animated series "Hit-Monkey" and get reminded that there are still wonderful surprises to be had.
Based on the Marvel Comics character of the same name, "Hit-Monkey" is about a particularly suave Japanese macaque who learns the ins and outs of being a professional gun for hire from a human hitman, Bryce (recent Emmy-winner Jason Sudeikis). After Bryce is murdered, Hit-Monkey sets out to get revenge, and thankfully for him, he's still getting pointers from his mentor's ghost. Bryce's advice from beyond the grave helps Hit-Monkey on his journey to becoming the most feared assassin on two hand-like feet.
The series was originally announced back in 2019 as part of a slate of new animated shows based on Marvel properties, which also includes the recently released "MODOK." "Hit-Monkey" was created by Josh Gordon and Will Speck of "Blades of Glory" fame and will drop on Hulu on November 17. Thanks to a newly released teaser, we've also got a better look at what to expect with this bananas new offering.
The teaser for Hit-Monkey has gun-toting primates and supernatural sumo wrestlers
The teaser for "Hit-Monkey" is short, action-packed, and gives us a pretty clarifying look at the tone of the upcoming series. And that tone is "wild 'n' whacky."
We don't get much in the way of plot, but the teaser does quickly establish the strong bond between Hit-Monkey and Bryce, with the spectral mentor telling his protege, "You and me, we're connected." Bryce also sets up what we can assume will be the gist of the series with the line: "You're gonna have to kill some evil people that totally deserve to die." We do get a look at those evil people that totally deserve to die in the form of some highly stylized gangsters toting uzis.
There are also flashes of some more out-of-the-ordinary enemies that bring a distinct Marvel Comics vibe to the proceedings. A tattoo-covered sumo wrestler channeling some kind of energy beams and a menacing looking woman with a strange symbol on her forehead tease that Hit-Monkey will be facing even more dangerous adversaries than your everyday gangers and goons.
But it appears that our simian friend is up to the task. Not only do we see him swinging off of branches and roofs to attack and bite his enemies, but he also charges into some situations fully armed with weapons he no doubt learned to use from his spiritual advisor. All in all, it looks like a rollicking good time.
"Hit-Monkey" also stars Olivia Munn and George Takei and is slated to premiere on Hulu on November 17.