We Finally Understand Why Shaquille O'Neal Has Been In So Many Adam Sandler Movies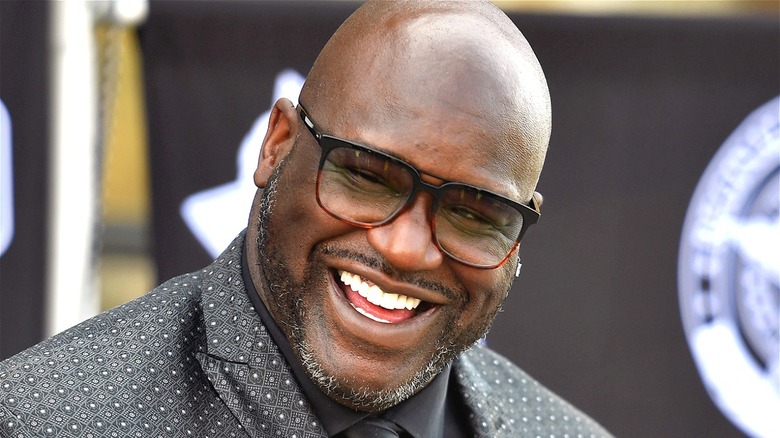 Paras Griffin/Getty Images for Pepsi Stronger Together
Adam Sandler has a core group of friends who appear in his movies. There are people like Allen Covert and Peter Dante, who pretty much only appear in Adam Sandler movies, as well as celebrity Sandler pals who show up in supporting roles over and over again, like Rob Schneider, Steve Buscemi, and the late, great Norm Macdonald.
One of these frequent collaborators is Shaquille O'Neal, the NBA Hall-of-Famer and product pitchman. Shaq has appeared in four Sandler movies: "Hubie Halloween" as DJ Aurora, "Blended" as Doug, "Grown Ups 2" as Officer Fluzoo, and his first one, "Jack and Jill," as himself.
In an interview with Pop Culture, O'Neal explained how his professional relationship with Sandler came to be. It's a funny story that goes back to Shaq's playing days with the Los Angeles Lakers, where he played from 1996 to 2004.
O'Neal won three NBA championships with the Lakers, and Lakers games are known for having a lot of celebrities in attendance. Back then, Sandler, whose love of basketball is well documented, would frequently sit court-side at the Staples Center with Jack Nicholson. He and O'Neal would joke with each other about working together during the game, and eventually the jokes led to real work, because Adam Sandler is a man of his word.
Sandler hooked Shaq up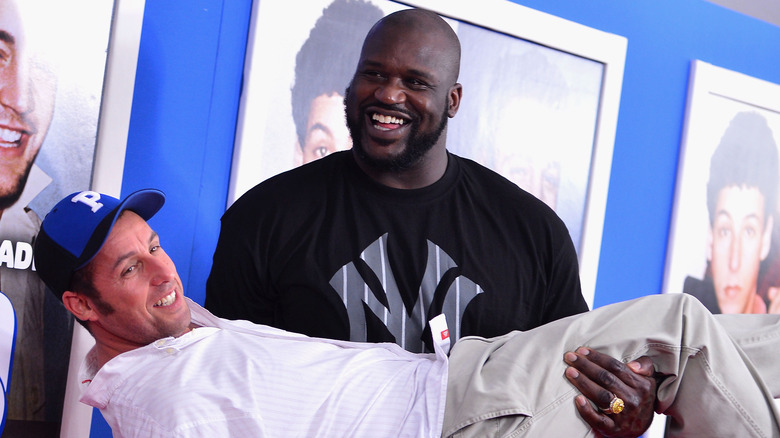 Stephen Lovekin/Getty Images
"I used to always — especially after I scored a bucket and the crowd goes crazy — I'd be like, 'Adam, give me a movie!'" O'Neal reminisced to Pop Culture. "He would say, 'Win a championship first.'"
Eventually, O'Neal won four championships — three with the Lakers, and one with the Miami Heat — and Sandler held up his end of the deal.
"He called me up one day and said, 'Shaq, you got four championships, I owe you four movies,'" O'Neal said. The rest is history.
Now that Shaq has been in one Sandler movie for each championship, the deal is technically complete, and it's unknown at this point if O'Neal will appear in future Sandler flicks. But now that he's in the Happy Madison family, he's in. It seems likely that Sandler would give him another gig even though his playing days are over.
Shaq also recently commented on Sandler's pickup basketball skills after a video of the "Uncut Gems" star hooping emerged. "He's legit," O'Neal said on the "Green Light with Chris Long" podcast. "Not pro legit, but he's definitely LA Fitness, 24-Hour Fitness legit."