Who Was Really Behind DJ Aurora In Hubie Halloween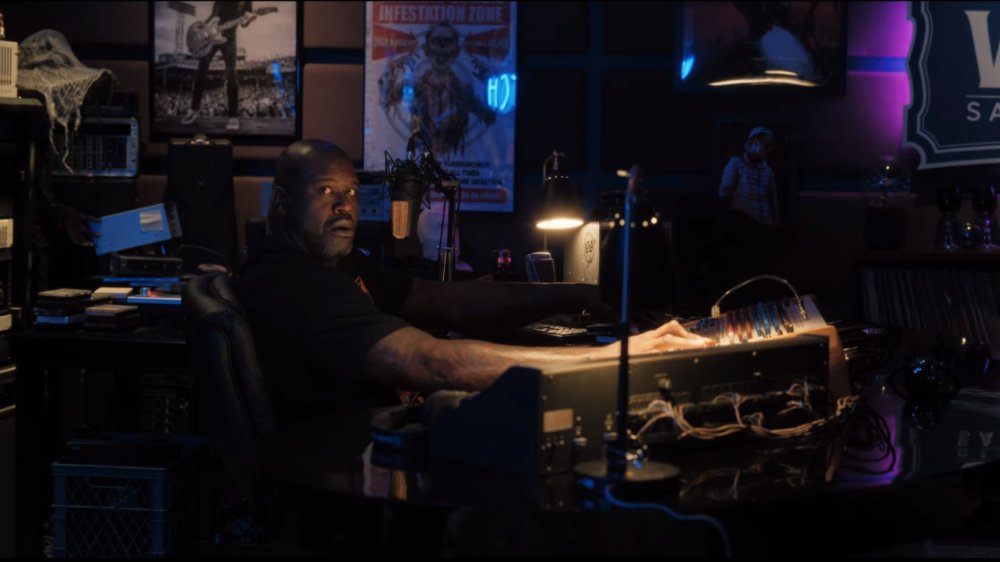 Netflix
Hubie Halloween premiered on Netflix in October of 2020, and it chucked celebrity cameos at its audience like detritus at a passing bicyclist. Boasting a stunning spread of the usual Happy Madison suspects, the film features familiar faces like Rob Schneider, Steve Buscemi, and Kevin James.
And then, of course, there's the Shaquille O'Neal of it all. The 7'1" former basketball star and celebrated boombox genie appeared in a bait-and-switch gag about halfway through the film. The setup goes like this: throughout the movie, the audience hears ominous exposition, recited by a local radio DJ named Aurora. This unseen quasi-narrator has the smooth, smoky tones of a lounge singer, setting Hubie up for a surprise when he visits the station and finds O'Neal behind the mic. "Hubie Dubois," Shaq says. "I'd recognize that voice anywhere. You look exactly how I pictured you." 
"To be honest with you, you don't look like the way I was picturing you," Hubie responds.
Of course, the question remains: who actually provided the voice of Aurora? Whose pipes did the audience become accustomed to before having their expectations subverted by a sudden and violent Shaq Attack? Or was the answer right in front of us all along? Does O'Neal just have a secret second set of vocal cords hidden inside of his 20-inch neck? We wouldn't put it past him. He's incredible. He invented Shaq Fu.
Behold, the voice of Shaq in Hubie Halloween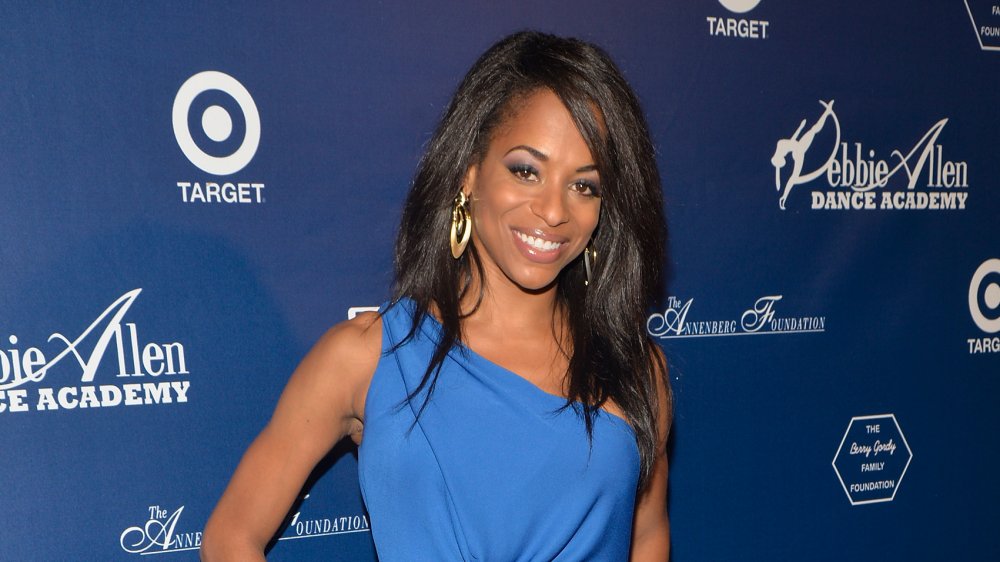 Michael Tullberg/Getty Images
The voice of DJ Aurora is, unfortunately, not provided by Shaq (not that he couldn't do it — he's a terribly gifted man). In truth, the dulcet tones of the radio personality are provided by actress Vivian Nixon. Nixon has popped up a few times over the years, with recurring parts on Glee and Smash, but is probably best known for her work on Grey's Anatomy and its spin-off series Station 19, where she's played physician Hannah Brody since 2015. For anyone at home playing "Six Degrees of Separation from Steve Buscemi," Hubie Halloween is her second Buscemi-related project, after her appearance as a dancer on Boardwalk Empire in 2013. She's next set to appear in Dolly Parton's Christmas in the Square, scheduled for release in November of 2020.
Shaq's role in Hubie Halloween marks his third(ish) collaboration with Adam Sandler. He first appeared in 2014's Grown Ups 2, playing Officer Fluzzo. Earlier in 2020, both performers contributed (albeit separately) to Quibi's Home Movie: The Princess Bride, a DIY remake of the 1987 classic of the same name. There, Sandler appeared as the Grandfather and Shaq played Fezzik the Giant.
Hubie Halloween was directed by Steven Brill, a constant Adam Sandler companion who also helmed Little Nicky, Mr. Deeds, The Do-Over, and Sandy Wexler. The film also features appearances from SNL vets Maya Rudolph, Tim Meadows, Colin Quinn, and Kenan Thompson. According to Forbes, it's considered Sandler's "most successful movie in years," and is currently available to stream on Netflix.