Legends Of Tomorrow Producer Explains Felicity Superhero Twist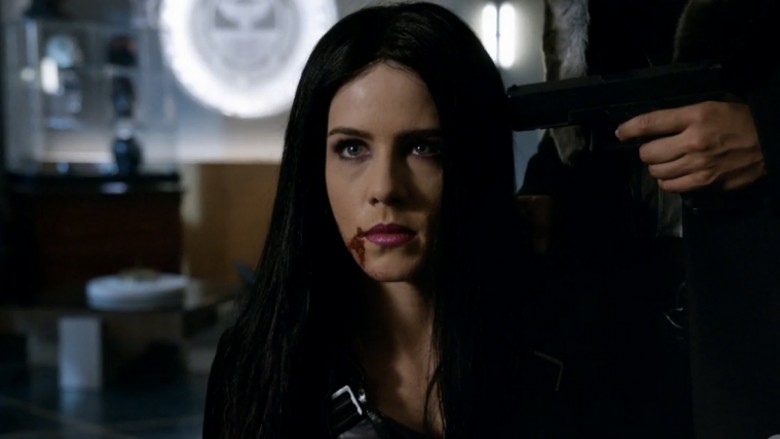 Spoilers for Tuesday night's episode of Legends of Tomorrow.Well that didn't last long. On last night's Legends of Tomorrow, just a few minutes into her highly anticipated superhero debut, Felicity Smoak met an untimely end at the hands of Sara and Amaya, with the alternate timeline henchmen of Damien Darkh dispatching the tech-happy superhero moments after we actually got to see her face. After a fight scene between Sara, Amaya, and a pretty awesome Felicity at the start of the episode, the two villains drag her to Darkh's office, where she tells him, "Star City is my home. I will never stop fighting." But her bravado does no good, as Sara snaps her neck and Darkh adds her mask to his collection, which also includes the masks of the superheroes formerly known as the Flash, Arrow, Wild Dog, and more.
The dark alternate timeline episode, according to executive producer Marc Guggenheim, was always supposed to begin with Sara and Amaya dispatching a superhero; the idea for it to be Felicity came a bit later on. "We talked about a lot of different ideas, and I said, 'Since this is an alternate reality and we'll probably never have the opportunity to do so again, I think it would be fun if we did Felicity as a superhero,' because I've said it before, I'll say it again: I have zero intention of ever putting Felicity in a mask and costume on Arrow," he told Entertainment Weekly. "So this is really the only circumstance by which we could do it."
Felicity wasn't around long enough to get a name, but Guggenheim said that it would probably be Overwatch, her Arrow codename. However, he reiterated on numerous occasions that this will definitely be the last we see of a suited up Felicity, at least while he is involved with the show. "When you put a character like that in a costume, I think it diminishes who that character is and it makes the idea of superheroics seem silly," he said. According to Guggenheim, there is no "meta commentary" in Felicity's death (so you don't have to start freaking out and assuming she's going to die on Arrow). "Once we made it Felicity, I didn't want to then change what our original intent was, which was to kill the superhero," he said. "But I hope people enjoy it in the spirit in which it was intended."
Legends of Tomorrow will leave Doomworld and the deceased Felicity behind next week. For now, though, see why the show, which airs on Tuesdays on The CW, is a must-watch.