Justin Chon Explains The Importance Of His Dramatic New Film Blue Bayou - Exclusive Interview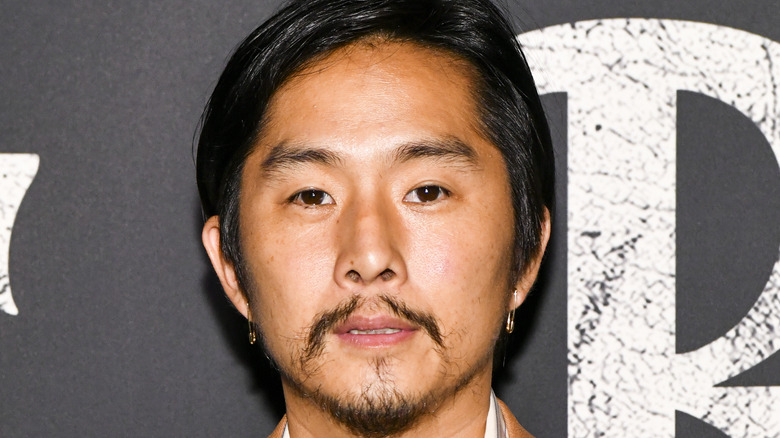 Rodin Eckenroth/Getty Images
Justin Chon got his big Hollywood break in 2008 starring as Bella's lovestruck classmate Eric Yorkie in the "Twilight" saga, but he quickly used that high-voltage jumpstart to go the independent route and write, direct, and star in his own films. In 2017, he made a splash at the Sundance Film Festival with his first high-profile project, the socially driven "Gook."
In 2021, Chon continued down that path with "Blue Bayou," a story about a Korean man who was adopted by U.S. citizens when he was just three but now, 30 years later, faces deportation because of a questionable loophole invoked by U.S. Immigration and Customs Enforcement (ICE). Chon's character, Antonio LeBlanc, is a married tattoo artist with a stepdaughter and another baby on the way who runs into some trouble just outside of New Orleans that leaves him fighting for his freedom. Co-starring Oscar winner Alicia Vikander ("Tomb Raider," "The Danish Girl") as his pregnant wife Kathy, "Blue Bayou" is currently in theaters.
In an exclusive interview with Looper, Chon opened up about the making of "Blue Bayou," what it was like working with Vikander, and how "Twilight" helped lead him down the path he's on now.
Justin Chon based Blue Bayou on real-life stories he has heard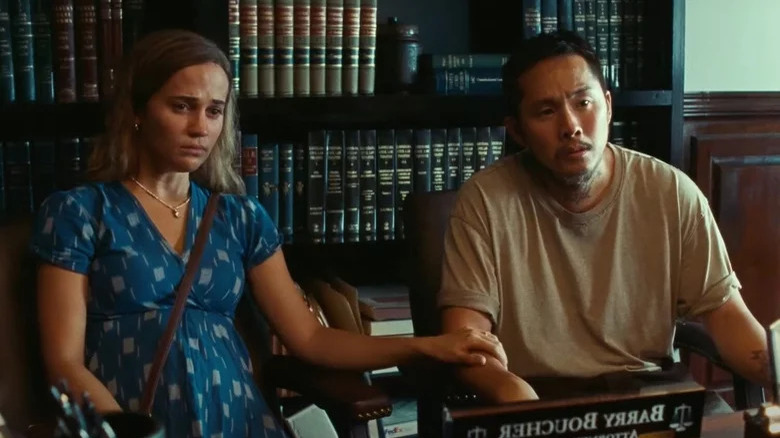 Focus Features
Why was it important to not sugarcoat the ending of "Blue Bayou"?
Because this is an actual issue that's taking place, and I want the audience to know the graveness of the situation. And, as I've talked to adoptees that have been deported or are facing deportation, they've also agreed and thanked me. Because they don't think that this should have a happy ending, because it's not happy for the people going through this issue.
You're not adopted or living in fear of deportation. So tell me why making this film was so important to you.
Yes, absolutely. I'm not adopted, and this is not my story, nor could I ever understand what it feels like to be adopted, but I do have a lot of adoptee friends, and I started hearing through the community that this was taking place. Children are brought here when they're very young by U.S. citizens, with U.S. government-acknowledged adoptions — they were brought over legally as children. It's the adult's responsibility to make sure they get naturalized when they're that young, but a lot of times these people become adults and realize that proper paperwork wasn't filed or whatnot — and it broke my heart. You already have these identity issues, as it's tough being adopted. And then on top of that, to learn that your own country doesn't want you must be psychologically very damaging.
My heart bled for this community, and I just wanted to shine a light on this issue that I felt was important, as it's an aspect of immigration policy that I just don't think makes sense. Also, there's the Child Citizenship Act of 2000 that grants citizenship automatically to adoptees after 2000, but it's not retroactive. And I just don't understand why that's the case as well. So I think it's an important issue to bring to the masses.
Despite his independent spirit, Justin Chon says 'never say never' to playing a Marvel superhero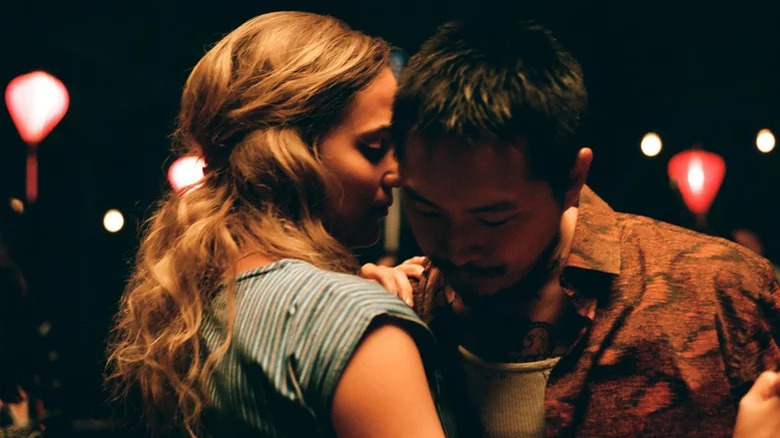 Focus Features
Asian representation in Hollywood has been on the upswing in recent years — particularly since "Crazy Rich Asians" was a hit — but there's still a long way to go. How do you view the change that's happening — has it personally affected you? And do you hope "Blue Bayou" helps move the needle in the right direction?
I do feel like it's been getting better. I've been acting for 20 years, I started in 2000 or 2001, and it's definitely better since then. I still think we have a long way to go. What's important to me is authenticity, and who tells the stories, and what the intention is. If it's purely financially driven, I think the authenticity of it all starts to get compromised. And, as it pertains to my film, I'll be making these films regardless of what anybody says or thinks. I think these films are important, and my main goal with my films is to bring empathy to my community, and I'll do that whether people give me money or not, I'll make them on iPhones if I have to. I think that's my purpose, stepping behind the camera, and I hope that "Blue Bayou" is a step in the right direction.
Staying with representation in Hollywood for a moment, "Shang-Chi" recently made history as the first Asian-led Marvel film. With the representation we see in that and the upcoming "Eternals" movie, would you ever throw your hat into the ring when it comes to a Marvel movie? And what role would you want to fill and why?
Never say never, I'm open to everything. But here's the thing, I think it's about what the film is about. Is it human? Is it going to illuminate us, or the human condition? Does it bring empathy? Does it bring understanding? Does it show how we can all coexist? These are the things that I really love to tackle. If it has those elements, why not? But at the end of the day, they are bigger corporate films, and there's a lot more cooks in the kitchen, and it's harder to keep your integrity in terms of being an artist. I think it'd be a conversation, but I couldn't rule anything out.
Justin Chon reveals what his time on the Twilight set taught him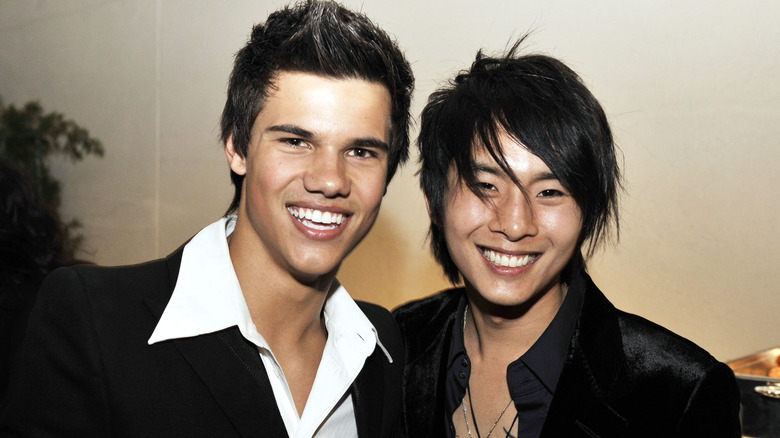 Kevin Winter/Getty Images
Going back to "Blue Bayou," why was Alicia Vikander right for the role as Kathy?
I mean, who wouldn't ask Alicia? She's incredible, she's amazing. First of all, she's an Oscar winner, and she's incredibly talented. I saw her first film, "Pure," before all the other films that made her famous. And I just couldn't forget about her. It was a Swedish film, and she had so much humanity, so much passion, so much fire. She also played blue-collar in it, and I never forgot about her, and when I saw her continue to pop up, I was like, "Jesus Christ, this woman is just so talented."
But having seen that first film, I had no doubt in my mind that she can play blue-collar. I think people have kind of put her in this category of these period pieces — corset dramas — but I just knew that she had it, and so I was very fortunate to have a conversation with her and talk to her about the role. And she also agreed that she never gets offered these sort of salt-of-the-earth, blue-collar roles, and so she was happy to jump on the train and go on the ride with this crazy director. So I'm very grateful to her, and she really did elevate everybody on the film, especially me. Being in those scenes with her made my acting so much more elevated. Reacting opposite Alicia Vikander, you just have to listen and respond.
And she sings for the first time! I interviewed her a few days ago, and she said she was shaking like a leaf during the song. Did you get that impression from her?
No, no. She's a pro. If she was shaking, she hid it very well. And for me, it was more important to show the emotion she was singing with, rather than her singing skills, but it was a pleasant surprise when we rehearsed it and she was an incredible singer. I was like, "I just hit the jackpot." She's just so wonderful.
Your big breakout was "Twilight." Did you learn anything from those movies that you still carry with you?
I really enjoyed being on those movies, particularly because I was not the lead. I could just enjoy being on set and experiencing the whole thing, but I didn't have to deal with what the three main characters had to go through. What I did learn was what mattered to me in storytelling, what mattered to me in the career I wanted to have — being rich and famous ... all that stuff didn't feel like it'd be as fulfilling. Watching from the periphery, I realized a sense of purpose in serving others through filmmaking is something that I felt would probably be much more fulfilling in the long run. There's a lot of ways to make money. I might as well become a financial consultant or go into business or something and make tons of money. But in making art, I want to make a difference, and I want to change people's hearts and minds. That's what those films taught me.
"Blue Bayou" is now playing in theaters.