Richard E. Grant Details His Transformation Into A Drag Queen In Everybody's Talking About Jamie - Exclusive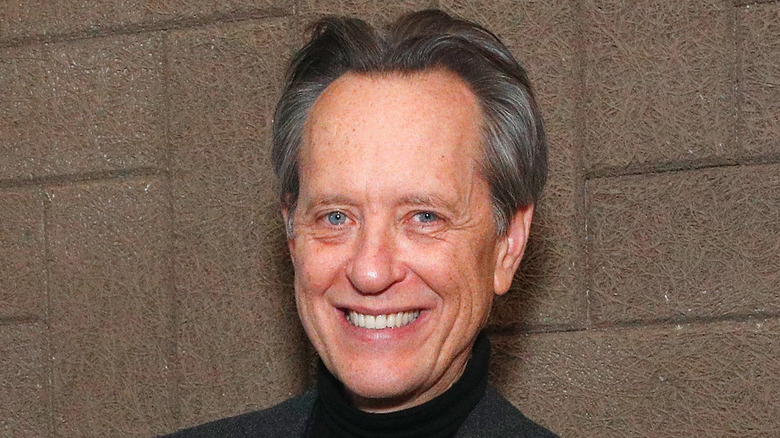 Astrid Stawiarz/Getty Images
Richard E. Grant has had several transformative performances since his debut in showbiz nearly 40 years ago. As his fans and colleagues will attest, Grant commands attention whenever he steps in front of a camera.
Hot off his memorable turn as Classic Loki opposite Tom Hiddleston on Marvel's Disney+ streaming series "Loki," Grant's latest project finds him in even more extravagant costumes for the movie musical "Everybody's Talking About Jamie." Adapted from the hit stage musical of the same name, "Everybody's Talking About Jamie" debuts on Amazon Prime Video on Friday, September 17. The film recounts the true story of Jamie New (Max Harwood), a gay teen in Sheffield, England who, while supported by his mother (Sarah Lancashire), is taunted by school bullies and shamed by his father (Ralph Ineson) as he dreams of becoming a drag queen.
Grant stars in the pivotal role of Hugo Battersby, a costume shop owner whose days as the famous drag queen, Loco Chanelle, are in the distant past. Hugo's fire for the art of drag is reignited, though, when Jamie finds his way into his shop in search of a costume for his act. He becomes a mentor for the resilient 16-year-old, as he defies naysayers and chases down his goal.
Richard E. Grant says a full team was assembled to dress him up in drag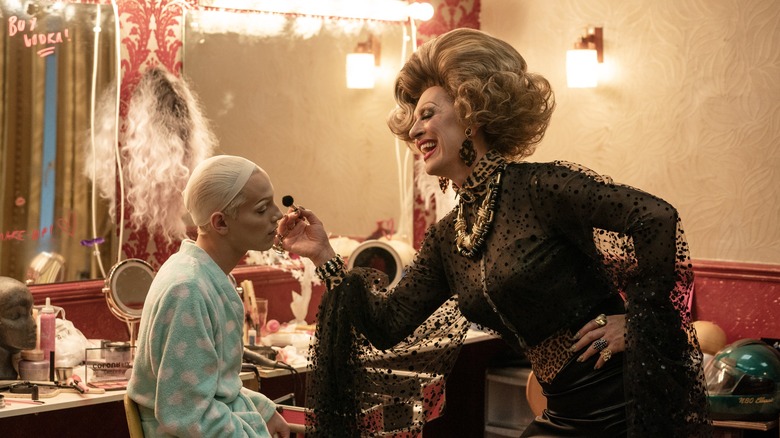 Amazon Studios
Since Hugo needs to properly foster his young protégé in "Everybody's Talking About Jamie," that means he needs to revive Loco Chanelle along with the glorious costumes, hair, and makeup that helps him create his stage alter-ego. In an exclusive interview with Looper, Grant said the transformation of Hugo to Loco involved "an incredible team of people."
"I had somebody to teach me the Sheffield accent, and a dance choreographer to teach me how to walk with a load of sass, and sashay away and all that stuff. Guy Speranza designed a spectacular costume with a double D-cup bra, and Guy Common and Nadia Stacey came up with the makeup and hair design," Grant recalled. "All of those things combined, it was a real team effort. I felt like one of those old veteran Ferraris turning up at a pit stop in Le Mans racetrack, when you've got 60 seconds to change the wheels, change the oil, change everything."
From start to finish, Grant said it took about two and a half hours to get him on track to perform as Loco. For a finishing touch, Grant was outfitted with five-inch heels to boost his six-foot-two-inch frame.
"Getting into the heels, it felt transformative," Grant said. "By the time you're in gear and you're six-foot-seven tall, you feel empowered. It's bizarre."
Richard E. Grant's research included binge-watching RuPaul's Drag Race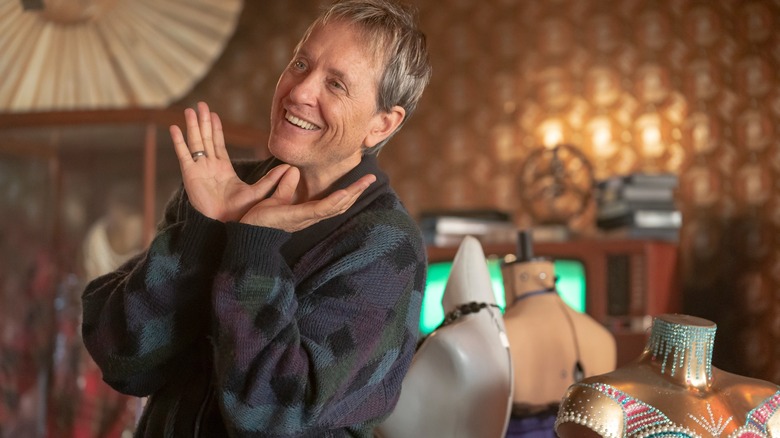 Amazon Studios
While dressing up in drag provided a major spark to Grant, the actor said the role was a culmination of things that began long before the film started principal photography. Naturally, that included finding inspiration in the passion of real-life drag queens, and Grant studied the best of them.
"I was inspired by a drag artist in England called David Hoyle. He was absolutely brilliant and incredibly vulnerable, the same age as me," Grant said. "He'd been through all the AIDS pandemic of the '80s and '90s. He had real life experience to inform how I approach this part."
To top things off, Grant added that he "binge-watched 11 seasons of 'RuPaul's Drag Race' over three weeks."
"That was the best education I could have possibly had," Grant said. "I found out just how much courage and sass it takes to be a drag queen — to hold your own."
Directed by Jonathan Butterell, "Everybody's Talking About Jamie" is playing in select theaters and debuts on Amazon Prime Video on Friday, September 17.