Everybody's Talking About Jamie - What We Know So Far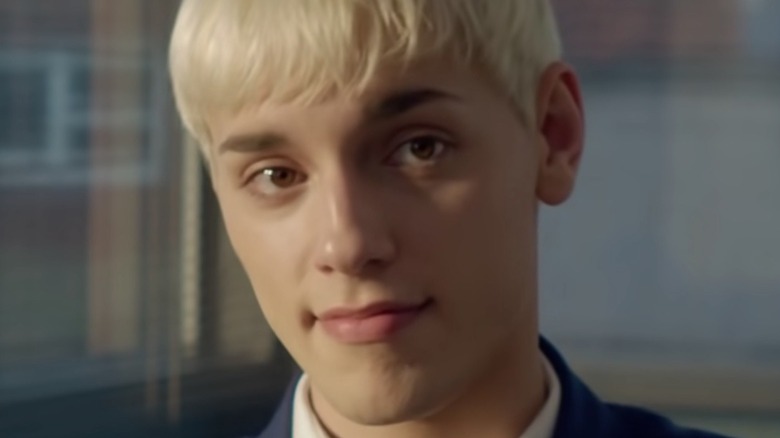 Amazon Studios
West End's musical smash "Everybody's Talking About Jamie," about a 16-year-old boy who aspires to be a drag queen, is going to be a feature film in 2021. However, its path to release hasn't been straightforward, as it was one of the productions delayed (and then reconsidered by studios) as a result of the COVID-19 pandemic. In June 2020, Disney announced that the movie, which it acquired when it bought 20th Century Studios in 2019, would open later than planned (via Deadline). Then, months later, Deadline announced that the project from New Regency, Film4, and Warp Films was skipping theaters and going straight to Amazon Prime Video. 
The live musical drama on which the musical is based premiered at the Crucible Theater in Sheffield, U.K. in 2017, according to Playbill. Then, it went to the West End, and was nominated for five British Olivier Awards. The production was affected multiple times by pandemic restrictions, but it still made a profound impact. If you've been looking forward to seeing this one but haven't been able to make it to London, you'll soon have your chance. Here's what we know about the upcoming movie.
When is the release date of Everybody's Talking About Jamie?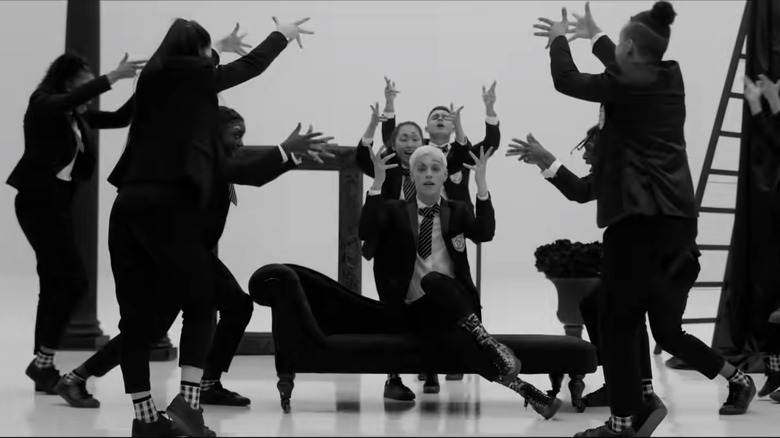 Amazon Studios
"Everybody's Talking about Jamie" will now be released September 17, 2021 on Amazon Prime Video (it's now one of Amazon's must-watch movies coming in 2021 and beyond). 
It was originally slated for an October 23, 2020 release. However, Disney (who gained rights to it following the 20th Century Fox merger) changed the date to January 22, 2021 before switching it again to February 26, 2021 (via Deadline). Playbill reported in December 2020 that the film then disappeared off the release schedule. Finally, Deadline announced on May 20 that the film would skip theaters and go straight to Amazon's streaming service. As a result, it will air this fall in more than 240 countries and territories. 
The live musical production also just reopened in London's Apollo Theatre, and the U.K. tour will recommence starting in September. If the Amazon Prime Video release makes you a new fan, you might also get to enjoy the show live in international cities starting in 2022. "Everybody's Talking about Jamie" had a short run in Korea in 2020 and will make its North American debut in Los Angeles on January 16, 2022 (via Playbill). According to Broadway World, the musical was set to tour in Australia as well, but rescheduled dates and times have not been released yet.
Who's in the cast of Everybody's Talking about Jamie?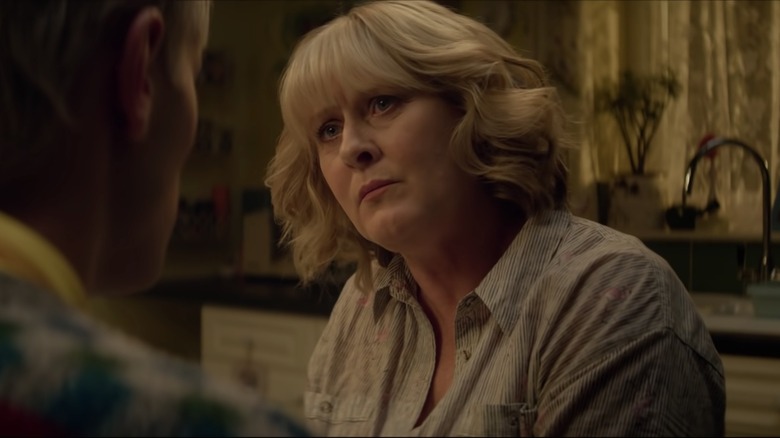 Amazon Prime
The film cast of "Everybody's Talking About Jamie" features Max Harwood as the 16-year-old titular character, Jamie New. His best friend Pritti is played by Lauren Patel, and his mother is played by Sarah Lancashire. A local drag queen and his mentor, Miss Loco Chanelle, is played by Richard E. Grant. However, Jamie must also deal with an unsupportive father (Ralph Ineson), a careers advisor who is less than inspiring (Sharon Hogan), and fellow school kids who don't understand his passion. Shobna Gulati, Adeel Akhtar, and Samuel Bottomley also have roles in the film.
The show's original creators actually make their feature film debuts in the movie adaptation of their play. The screenplay and lyrics are by Tom McRae, and songs are by Dan Gillespie Sells, while the score was composed by Sells and Anne Dudley. Director Jonathan Butterell also helmed the stage musical.
What is the plot of Everybody's Talking about Jamie?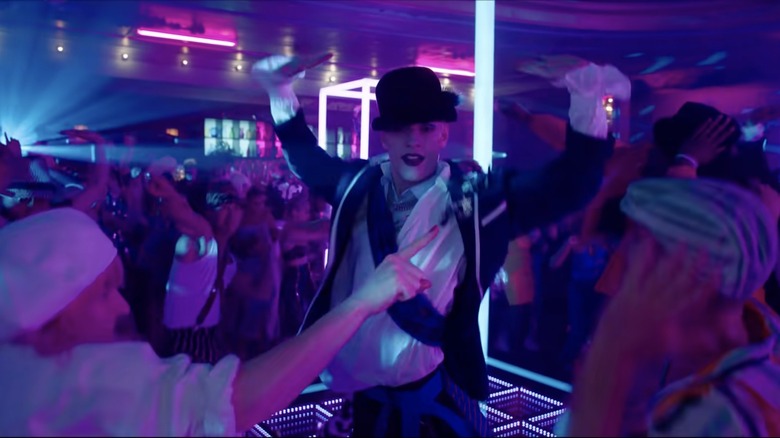 Amazon Studios
The plot of the movie — and the musical on which it's based — is actually taken from real-life events. Jamie Campbell was a Sheffield teen who decided he wanted to wear a dress to his school's prom in 2011. Despite bullying from students and obstacles presented by teachers, he came to the dance as his drag persona, Fifi la True. He was only allowed to enter following a show of support from his peers. Campbell's story was turned into a documentary for BBC Three, which then inspired the stage production (via BBC).
In an interview with i-D, Campbell said he had no idea the musical was going to be such a big sensation. "I didn't have a clue that it was going to be a big West End hit or anything," he said. "I thought it was just going to be a small community centre production or something." He noted that he didn't hear anything about the musical for years and figured it had been scrapped, until it suddenly appeared in all its theatrical glory.
"'Everybody's Talking About Jamie' has quickly become one of the most beloved musicals of recent years," said Jennifer Salke, head of Amazon Studios, in a statement (via Deadline). "Jamie's story is one that resonates across all generations — it's about unconditional love and we know our global audiences will fall in love with Jamie as he overcomes adversity to truly find his authentic self. We are so thrilled to share this joyful and inspirational story with the world."
The film includes songs like "And You Don't Even Know I," "The Wall In My Head," and "Everybody's Talking About Jamie." It will also feature a new song called "This Was Me," which is performed by Holly Johnson of Frankie Goes to Hollywood. Bring on the worldwide audience.