Why The Tracker From What Dreams May Come Looks So Familiar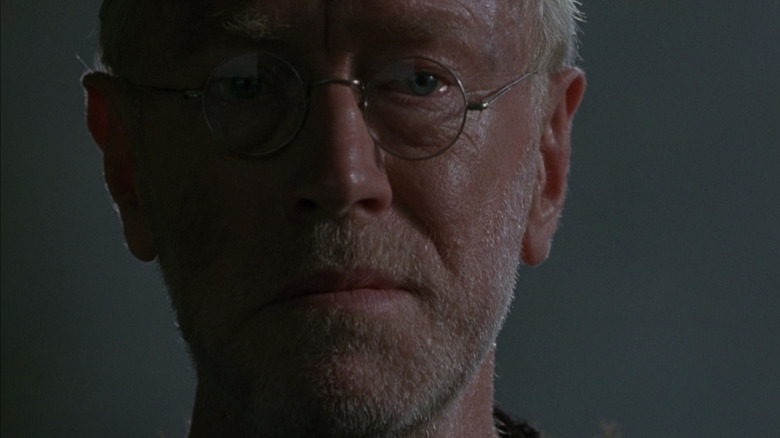 PolyGramed Filmed Entertainment
If you're going someplace unfamiliar to you, it's best to have a guide who knows the terrain; the afterlife is no exception. Dante had Virgil in "The Divine Comedy." Similarly, pediatrician Chris Nielsen (Robin Williams) needs a guide when he ends up in a strange version of the afterlife following a deadly freak accident in the 1998 fantasy drama "What Dreams May Come." With the assistance of multiple guides, Chris is able to continue on his journey through the afterlife. Among the guides he finds to shepherd him through the film's surreal setting is a character known initially as "The Tracker," who helps guide him into hell to help him reunite with his wife, who died shortly after Chris' passing.
If you're curious to know who played the part of The Tracker in "What Dreams May Come," you won't need someone to guide you to the answer. Chris' afterlife guide is played by legendary Swedish actor Max von Sydow, whose career in cinema spanned nearly 70 years. Von Sydow died in 2020 at the age of 90 (via Variety) after a long and fruitful career that saw him accumulate more than 160 on-screen acting credits (via IMDb). Here are a select few of those roles that made him a familiar screen presence.
Max von Sydow played chess with Death in The Seventh Seal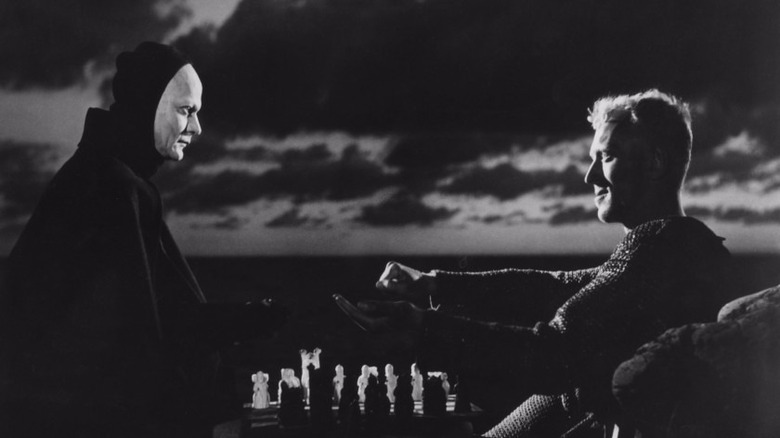 Janus Films
Max von Sydow appeared in numerous Swedish films, beginning with his first feature film role in 1949's "Only a Mother." However, it was 1957's "The Seventh Seal," directed by Ingmar Bergman, that served as his breakout role. The actor plays Antonius Block, a stoic Swedish knight who returns from the Crusades to find his home country ravaged by plague and steeped into chaos. He feels that his previous adventures amounted to a wasted life and seeks to perform one meaningful deed before death claims him.
The film's plot is somewhat episodic and heavily allegorical, with Block and his squire, Jöns (Gunnar Björnstrand), journeying across the country. During their travels, the pair meets, observes, and occasionally alleviates the people's suffering, searching for the point of faith in a cruel world. The movie's depiction of Death as a pale-faced man in a black hood playing games with those he seeks to claim would become iconic; parodic versions of the character have shown up in "Bill and Ted's Bogus Journey," Terry Pratchett's "Discworld" series, and elsewhere.
Max von Sydow battled demons in The Exorcist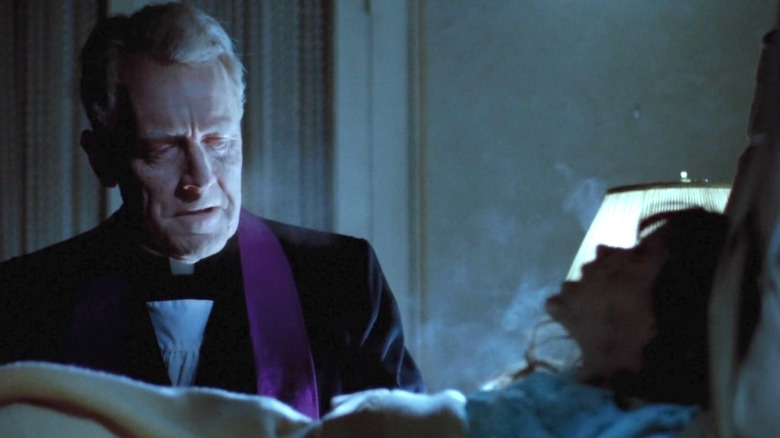 Warner Bros.
A few of Max von Sydow's early Hollywood movies contained ties to the same themes of faith and belief (or the lack thereof) first seen in "The Seventh Seal." In 1965, he played Jesus Christ in the Biblical epic "The Greatest Story Ever Told" (via IMDb). Eight years later, he appeared as the experienced priest and scientist Father Lankester Merrin in William Friedkin's horror classic "The Exorcist." As Roger Ebert noted in his 1973 review, "[Von Sydow] has been through so many religious and metaphysical crises in Bergman's films that he almost seems to belong on a theological battlefield the way John Wayne belonged on a horse."
In "The Exorcist," Father Merrin is brought to the Washington, D.C. neighborhood of Georgetown to help Father Damien Karras (Jason Miller). Karras is a young priest undergoing a crisis of faith who is tasked with performing an exorcism on a possessed young girl, Regan (Linda Blair.) The pair's attempts to exorcise Regan are arduous. Merrin eventually decides that Karras, with his doubts, is not up to the challenge and excuses him. But the battle takes its toll on the older priest, and he succumbs to his heart disease, leaving Karras to step in and finish the job.
Von Sydow's part could be seen as a thankless one. However, the actor brings gravitas and conviction as the steadfast believer working alongside a doubtful Karras and Regan's worried mother (Ellen Burstyn).
Max von Sydow was involved in a heated soccer match in Victory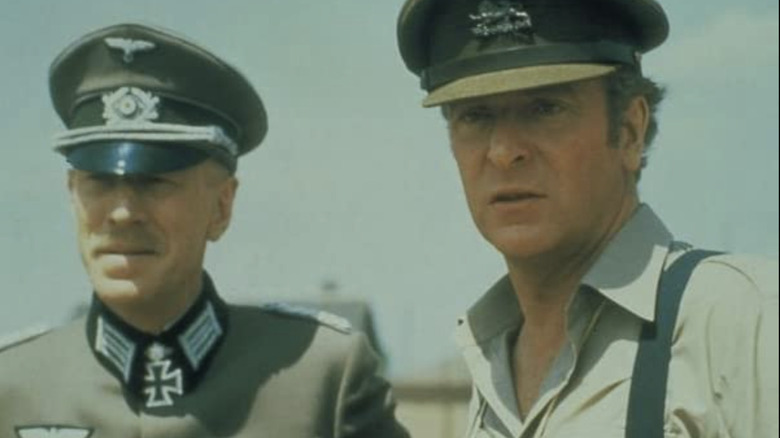 Paramount Pictures
Venerated director John Huston's "Victory" (also known as "Escape to Victory") was a 1981 World War II sports movie starring — get this — Max von Sydow, Michael Caine, Pelé, and Sylvester Stallone. In "Victory," von Sydow plays Karl von Steiner, a German officer who organizes a morale-boosting soccer match to be played in Paris between the Nazis and a team of Allied POWs. After training for months, the Allies find themselves in the middle of a German propaganda exercise, one co-opted by von Steiner's superiors over his objections in the interest of making the Germans look invincible.
Given the opportunity to escape by the French resistance at halftime, the Allied team stays on to prove they can beat the Germans. The team is initially on the back foot, losing to the Germans before mounting a successful comeback. The Allies eventually tie the Germans after Luis Fernandez (Pelé) scores an overhead kick (shown from multiple angles because, well, this is Péle doing what he does best). This goal-winning kick sends von Steiner leaping out of his chair and applauding. It's all very silly but the film has become a cult classic, especially in Europe.
Max von Sydow shaped the future in Minority Report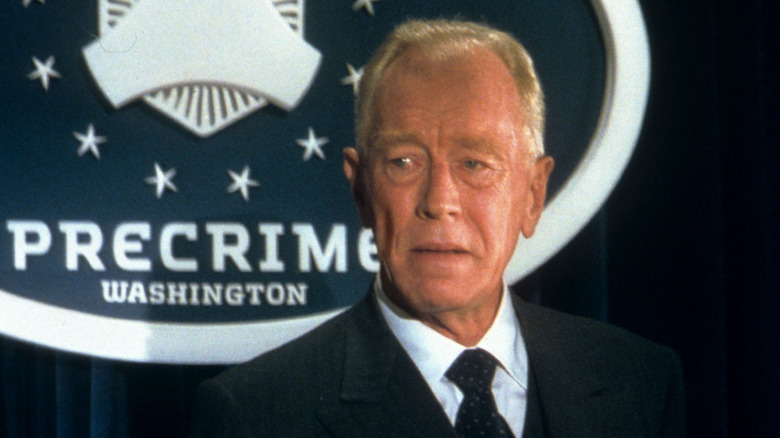 20th Century Studios
In 2002, Max von Sydow joined the cast of director Steven Spielberg's "Minority Report." It was hardly von Sydow's first experience in this type of paranoid thriller. Previously, he played the assassin Joubert in Robert Redford's conspiracy classic "Three Days of the Condor." Although, his character in the 1975 movie manages to reach a more amicable conclusion with the protagonist than his character in this film.
In the sci-fi thriller, von Sydow plays Lamar Burgess, the director of the PreCrime program and boss of PreCrime officer John Anderton (Tom Cruise). The film's plot follows John after he is framed for a future crime. After many twists and turns in "Minority Report," including adventures in a futuristic, largely crime-free Washington D.C., John comes to learn that Burgess framed him to prevent the excellent PreCrime office from solving a past murder the director committed in order to protect the program.
In 2014, Von Sydow told the BBC that a big part of the appeal of "Minority Report" was the chance to work with Spielberg. The actor shared, "He knows not only his craft so well, but also the subject of the story he's telling, so he can also improvise — and that is a lot of fun. He gives the actors a lot of freedom, and we like that." 
Max von Sydow trained Bran Stark on Game of Thrones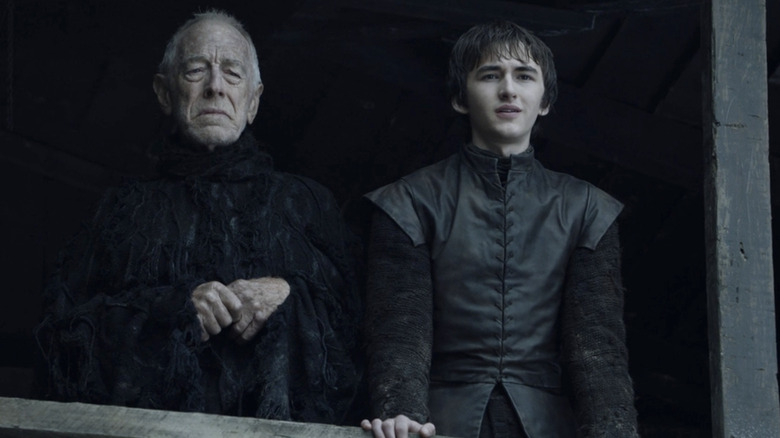 HBO
In 2016, Max von Sydow returned to fantasy with a three-episode stint on Season 6 of HBO's "Game of Thrones." The actor played the Three Eyed-Raven, a powerful greenseer who trains Bran Stark (Isaac Hempstead Wright) in the ancient magic of visions and time travel. Although visions of the Three-Eyed Raven had been guiding Bran since the show's first season, von Sydow's appearances as the ancient being received limited screentime after Bran and his companions had found the cave beyond the Wall. The Three-Eyed Raven guides Bran through a number of visions that clear up — or at least nearly do — some of the show's long-running mysteries, including the origins of the White Walkers.
"Game of Thrones" is hardly von Sydow's only brush with major, or would-be major, franchises. In 1980, he played Ming the Merciless in "Flash Gordon." Shortly before his passing, he had a small part as Lor San Tekka in 2015's "Star Wars; Episode VII – The Force Awakens," though the character was killed in the opening minutes by Kylo Ren (Adam Driver).