This Is The Movie Sloth Was Watching In The Goonies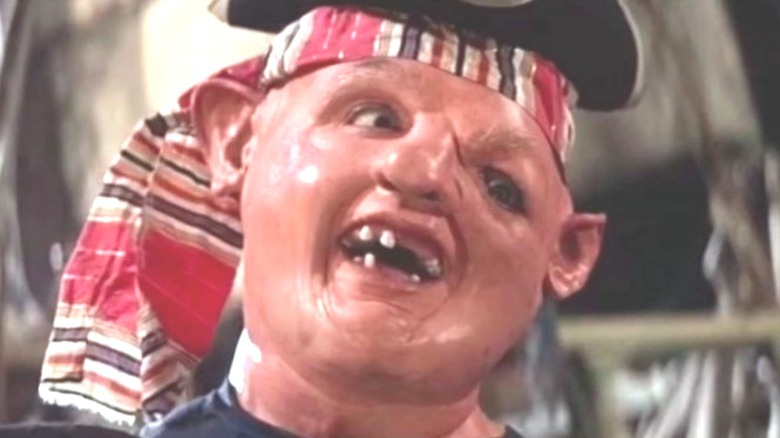 Warner Bros
"The Goonies" was first released in 1985, and there's a reason this Richard Donner adventure film remains iconic for a certain generation of viewers. The combination of long-lost pirate treasure, a squabbling convict family, plus fun kid characters like Data (Jonathan Ke Huy Quan) and Chunk (Jeff Cohen) made "The Goonies" a box office hit and an enduring Eighties cult classic.
One of the most especially memorable parts of the movie though was Lotney "Sloth" Fratelli, played by professional football player John Matuszak. Sloth is the deformed, neglected brother of the Fratelli criminals hunting the other Goonies, but when Chunk befriends him, the childlike character quickly becomes an ally in the search for One-Eyed Willy's gold.
When Sloth is introduced in the movie, he's chained up in the Fratelli basement while watching TV. However, the film on the screen is itself an action/adventure movie with a connection to the plot of "The Goonies." This is the black and white classic playing in the background when Chunk encounters Sloth for the first time.
Captain Blood is a classic pirate movie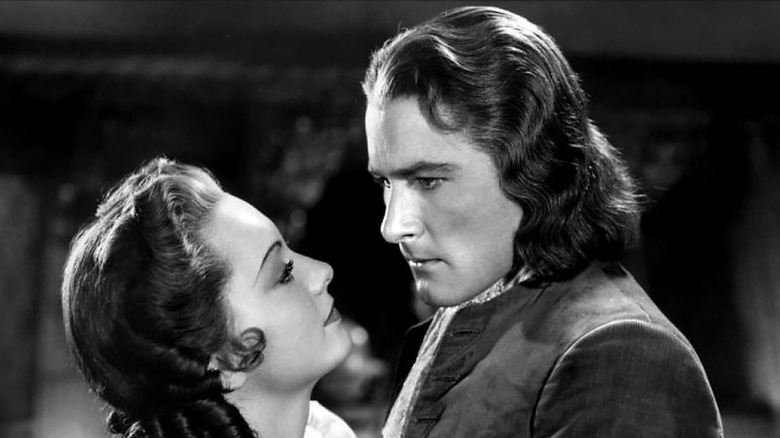 Warner Bros
A big hit on release in 1935, "Captain Blood" made stars out of Errol Flynn and Olivia de Havilland and still remains one of the all-time great pirate movies. Flynn plays Peter Blood, a 16th-century doctor sold into slavery after aiding a wounded rebel. Blood eventually escapes to begin a life of piracy while attempting to win the heart of noblewoman Arabella Bishop (de Havilland). Featuring huge sea battles and a romantic, dashing hero, "Captain Blood" proved to be a huge influence on future swashbucklers such as "Pirates of the Caribbean" and "Count of Monte Cristo."
It was also clearly a movie the "Goonies" filmmakers had in mind during production, as they were also making their own kind of pirate adventure film, albeit one set in the present-day. Seeing a clip of "Captain Blood" within the movie feels like a fun nod to the old action films that inspired "The Goonies" in the first place.
You can currently stream Sloth's first appearance in "The Goonies" on HBO Max.