Vincent D'Onofrio Dishes On The Eyes Of Tammy Faye And Reflects On Daredevil - Exclusive Interview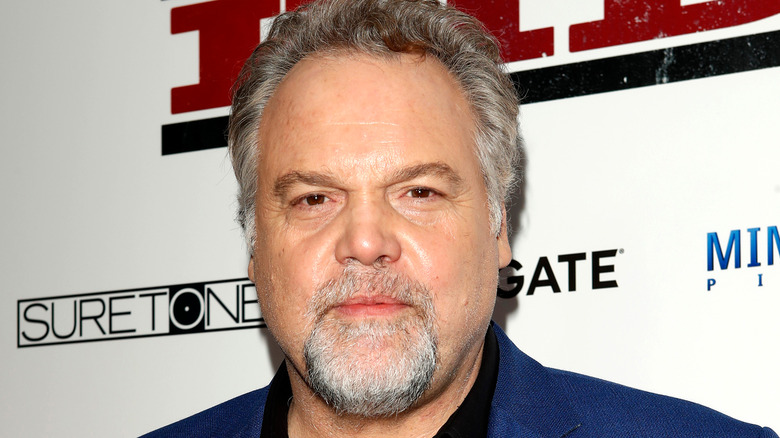 Kathy Hutchins/Shutterstock
A versatile actor who raises the bar on any script he touches, Vincent D'Onofrio has done it all — from "Full Metal Jacket" and "Jurassic World" to "Law & Order: Criminal Intent" and "Daredevil."
D'Onofrio's latest role is as ultra-conservative televangelist Jerry Falwell Sr., who rose to public prominence in the 1980s, in the biopic "The Eyes of Tammy Faye," which will be released in theaters on Friday, Sept. 17.
Based on the documentary of the same name, "The Eyes of Tammy Faye" details the flamboyant rise and dramatic fall of controversial televangelists Jim and Tammy Faye Bakker. Starring Jessica Chastain and Andrew Garfield, the film lays out how the religious power couple built their multimillion-dollar ministry empire — and how it all came crashing down.
As Falwell, D'Onofrio plays a small but pivotal role that's brimming with debatable world views. The actor recently spoke to Looper exclusively about what attracted him to such a role, his personal feelings on Falwell's controversial stance, and what it was like playing a different kind of villain during his time on "Daredevil."
Vincent D'Onofrio says he 'learned a lot' from portraying televangelist Jerry Falwell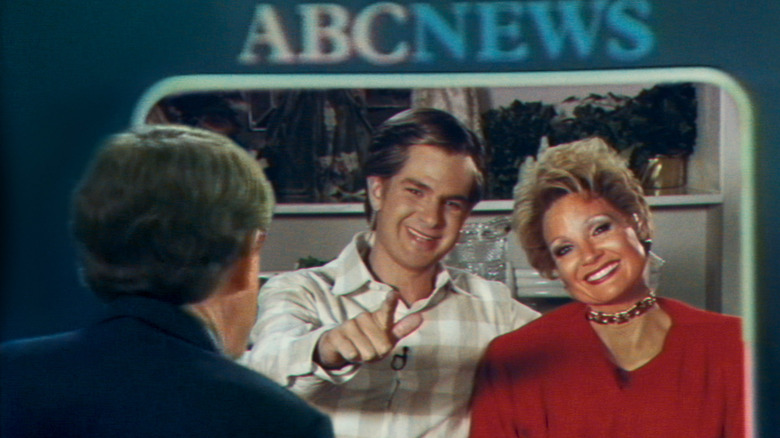 Searchlight Pictures
What was it about this story — or this script — that you found so compelling?
Pretty specific, as specific as I can be about it, it's basically because of the writing. It was written so well. I had seen the documentary and I liked the documentary. I also like Michael [Showalter] as a director. Of course, knowing that Jessica [Chastain] and Andrew [Garfield] would do a great job in those parts, to come on as a supporting actor in something like that is pretty much a no-brainer.
What about playing Jerry Falwell in particular was appealing to you?
Well, the examination of a person and then creating his character was fun. It was interesting to do research, I'd never really researched him. Of course, I knew a lot. I heard a lot about him when I was younger because I lived in the South for a while, but I didn't know much. To find out where he was from and how he was educated, and what he had to do with the whole Tammy Faye Bakker story. I learned a lot about that. His voice and his posture and the way he articulated words. It was all a very interesting kind of examination. I really enjoyed it.
Now, in the film, as Jerry, you kind of swoop in and land on some hot-button issues — like feminism and homosexuality — that are still being publicly debated 40 years later. What kind of social commentary do you hope this film makes?
Well, we live in a very divided country, and so I'm not really going to speak in terms of religion and politics when it comes to the film. I will say that I am myself a liberal and believe in civil liberties and all civil liberties for all people. But as an actor you want to portray the character you're playing the best you can. Falwell had different beliefs than I do as a person. As anybody is aware, I'm aware of the division in the country when it comes to these, I guess you call them, "hot-button issues." But just saying that I'm a liberal must tell you a lot about how I feel about things.
On the lighter side of things, was it fun to be in such a perky period film? It's very colorful and bubbly, and just plain fun to revisit the 1970s and '80s, despite the darker undertones of the storyline.
It was really fun, especially watching Andrew and Jessica do their parts, and being with them in scenes and the way we all just kind of slid into that vibe. It's always nice as an actor to kind of do a different era of time or a different genre. It's up to us when the camera's rolling to make that work, and up to production design to make it look great, and feel like that time. It's always so much fun, and picking the clothes and working with the wardrobe and the costume designer, all that stuff is just, you don't always get to do that. When you do it, you're right, it's really fun.
Vincent D'Onofrio reveals how he really feels about his role on Daredevil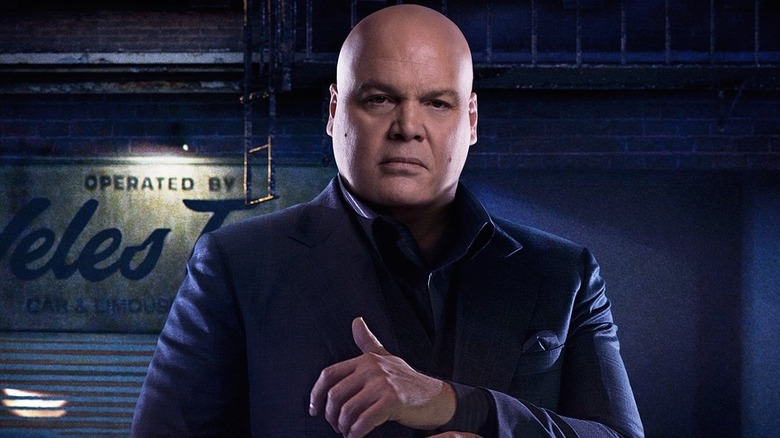 Netflix
What was it like working with Andrew Garfield on "The Eyes of Tammy Faye"? Any funny or memorable moments with him on the set?
Andrew and I got along very well. We have friends in common, but we hadn't met before. We were able to improvise before scenes would start. We would mutually get ourselves into the right place, where once we started the actual dialogue, it was seamless — very different from just the director saying "Action" and us jumping straight into the dialogue. Michael was enjoying it as well. Michael would say "Action" and Andrew and I would just start improvising and get ourselves mutually connected and in the right place. One of us, whoever had the first line, would start the dialogue. Jessica as well, they're both very intuitive actors and very bright actors. Open to anything. This makes it all the more fun.
You and Andrew share something in common aside from "The Eyes of Tammy Faye": You're both part of the Marvel Cinematic Universe. He played Spider-Man and you played Wilson Fisk in "Daredevil," obviously. What was it like playing such a villain, and what's it like forever being part of the MCU now?
Well, it's great. I mean, I've made it no secret that it was a really fun part to play and that I hope to play it again sometime. For this day and age, it's a good job to have. Marvel and Disney are a very cool company. The people at Marvel, when I was involved, were very inventive and very creative. It's a pretty spectacular time I had on "Daredevil." The character was my kind of character that they created a long time ago, but I was able to just freely ... Jeph Loeb, who used to run Marvel Television at the time, was very open to me bringing what I thought was needed to the character. It's great. Andrew and I spoke about that, actually, because in the Marvel canon, when it comes to the comics, Spider-Man and Fisk were in the same comics. That was funny.
Do you hope to get tapped again to work on another Marvel project? If so, what would your dream project be?
I hope so. You never know what Marvel's doing, so I can only hope that someday I will. I don't know. I mean, I would love to just explore that character more — he's an interesting character, because he was a really big baddie in the comics. But even in the comics, he had a sort of, they always depicted his life as a very kind of emotional life like anybody had, but yet he was just this giant, iconic bad guy at the same time. I love the duality there, and that's why the part was so interesting to me. I mean, in any story throughout the history of that character, he remains one of the most interesting, to me anyway, bad guys of Marvel. That's just the way I look at it. I don't have dreams about being in this or that or the other thing. I look at, even if it never happens again, we had a great series in "Daredevil" for three seasons. That'll always be good memories.
"The Eyes of Tammy Faye" will be open in theaters on Friday, Sept. 17.