The Character Everyone Forgets BD Wong Played In AHS: Apocalypse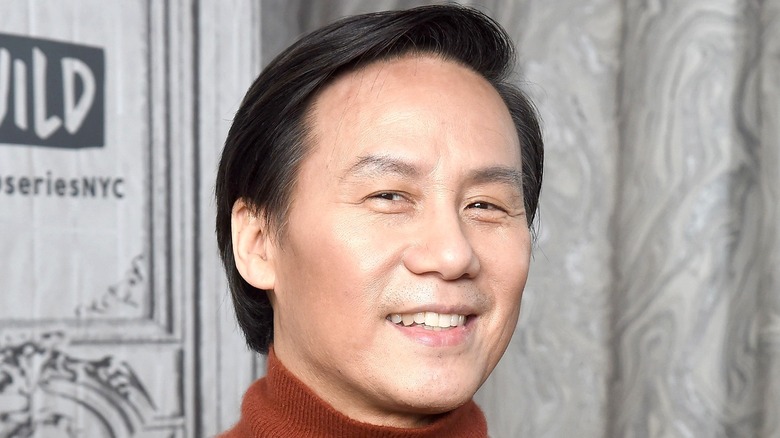 Gary Gershoff/Getty Images
BD Wong is a successful character actor who has appeared in everything from major Hollywood blockbusters to television dramas. From 2001 to 2015, he played forensic psychiatrist and criminal profiler Dr. George Huang on "Law & Order: Special Victims Unit." He had a recurring role on "Gotham" as Dr. Hugo Strange, mad scientist and Chief of Psychiatry at Arkham Asylum. Wong also played the transgender character Whiterose, leader of the Dark Army, on "Mr. Robot." His other TV credits include "The Flash" and "Awkwafina Is Nora from Queens."
Wong's movie roles are no less impressive. He played Howard Weinstein, assistant to over-the-top event planner Franck Eggelhoffer (Martin Short) in the 1991 remake of "Father of the Bride," a role he reprised in the 1995 sequel. In 1993, he appeared as Dr. Wu in Steven Spielberg's "Jurassic Park" (as B.D. Wong), a scientist who plays a pivotal role in cloning the park's dinosaurs. He returned to the role for "Jurassic World," "Jurassic World: Fallen Kingdom," and the upcoming "Jurassic World: Dominion," growing more nefarious with each film.
In 2018, Wong joined the ensemble cast of "American Horror Story: Apocalypse." The season was jam-packed with fan-favorite actors, many of whom played multiple roles due to the season's "Murder House" crossover and the return of Season 3's "Coven" witches. With so many characters dying (only to be resurrected) and a wild time travel twist, fans may have forgotten the intriguing character that Wong played in "Apocalypse."
BD Wong played a scheming warlock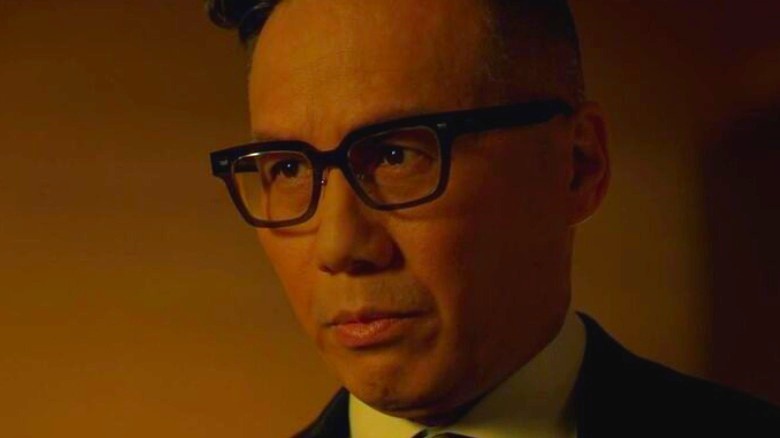 FX
BD Wong played the ambitious warlock Baldwin Pennypacker in "AHS: Apocalypse." Pennypacker makes his first appearance in Episode 4, "Could It Be ... Satan?" Wong's character is a teacher at the Hawthorne School for Exceptional Young Men, the all-male counterpart to Miss Robichaux's witch-filled Academy. 
Pennypacker believes Michael Langdon (Cody Fern) is destined to become the next Supreme. He schemes to take down anyone who stands in Michael's way, even if it means conspiring to kill another warlock or the witches. After discovering his treachery, Cordelia Goode (Sarah Paulson) orders Pennypacker to be burned at the stake in Episode 7, "Traitor." However, due to time travel, BD Wong's character is presumably alive and well at the end of "AHS: Apocalypse."
The introduction of warlocks into Ryan Murphy's "AHS" universe opened the door for two other actors to make their "American Horror Story" debuts: Jon Jon Brionnes (Grand Chancellor Ariel Augustus), and Billy Porter (Behold Chablis). Also new to the cast was Cody Fern, who played Michael Langdon, aka "the Antichrist." While Fern returned for Season 9, "AHS:1984," and "AHS: Double Feature," Brionne, Porter, and Wong's appearances have so far been one-offs, although Porter and Brionne have collaborated with Murphy on other projects.