Does Letitia Wright Voice Shuri In What If...? Episode 6?
Jacopo Raule/Getty Images
Contains spoilers for "What If...?" episode 6
Marvel Studios' "What If...?" offers animated looks on the many strange realities in the Marvel Cinematic Universe, which the animated Disney+ show makes clear is now for all intents and purposes a Multiverse. The mysterious Watcher (voiced by Jeffrey Wright) has introduced viewers to alternate universes where Doctor Strange (Benedict Cumberbatch) becomes a horrifying corrupted version of himself, T'Challa (Chadwick Boseman) becomes Star-Lord, and pretty much everyone becomes a zombie, but the sixth episode of the show takes things to yet another level by intertwining the plots of two of the MCU's most important movies — and bringing back one of its most compelling villains. 
"What if ... Killmonger rescued Tony Stark?" shows you what happens when "Black Panther" antagonist Erik Killmonger (Michael B. Jordan) indeed rescues Stark (Mick Wingert) from the Ten Rings, thus entering the MCU well before his own movie and preventing the events of "Iron Man" kicking off the franchise as you knew it. Unfortunately, Killmonger is still on a quest for revenge against the ruler of Wakanda, and the events that unfold are just about as bloody as you'd assume. Ultimately, it's up to Pepper Potts and Shuri to hopefully stop a major crisis.  
Like other "What If...?" episodes so far, "What if ... Killmonger rescued Tony Stark?" features an eclectic voice cast, with some famed MCU actors returning to provide the voices of their characters, while lesser-known voice actors take care of other roles — like Pepper Potts, who's voiced by Beth Hoyt instead of Gwyneth Paltrow. What, you might wonder, is the case with Shuri? Does Letitia Wright voice her in "What If...?" episode 6?
Ozioma Akagha provides Shuri's voice in What If...? episode 6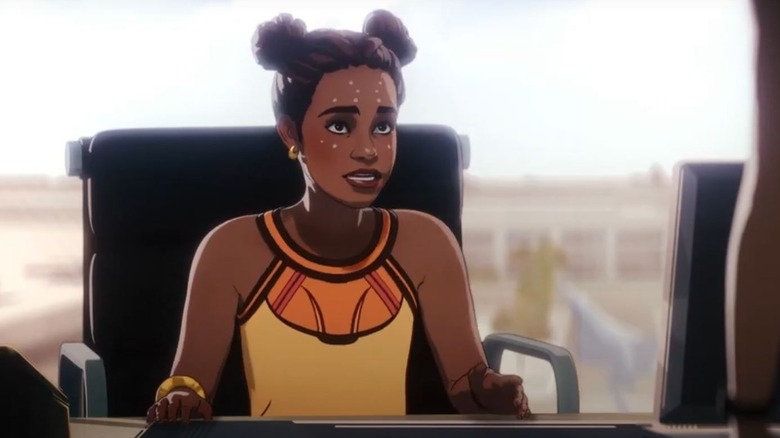 Marvel Studios/Disney+
As Killmonger kills a number of prominent MCU characters, assumes control of Wakanda, becomes the latest Black Panther, and starts picking a fight with the U.S., Shuri's plan to de-escalate the situation is to meet Pepper Potts and explain what the villain has been up to. However, as extremely sharp-eared fans might be able to notice, Letitia Wright doesn't provide the character's voice in the episode. 
The voice of Shuri in "What if ... Killmonger rescued Tony Stark?" is Ozioma Akagha, a prominent voice actress who's known for voicing characters in video games like "Wolfenstein II: The New Colossus," "Half-Life: Alyx," and "Deathloop," as well as Bumblebee in Cartoon Network's "Teen Titans Go!" You might also know her from her live-action roles as Tamar in Hulu's "Marvel's Runaways," and Harper in the OWN drama "Delilah." 
Though some fans might be disappointed to hear that Wright didn't return to reprise her famous role in animation form, Akagha does a fine job with the role — and should Shuri return in the upcoming episodes of "What If...?", we're sure that she'll continue to deliver.